The International Wave Tour and the Professional Windsurfing Association joined forces in 2023. The first event, that would count for the overall ranking, took place in Omaezaki, at the Pacific coast of Japan. 24 men and 8 women competed at this wild windsurfing destination. Back in
the 90's, the SOMETIME World Cup was hosted there. It was one of the
richest windsurfing events in the world. With a motivated and passionate
local windsurfing community, Omaezaki has been finally brought back into
the spotlight. And the women's division has been won by one of their own:
Motoko Sato.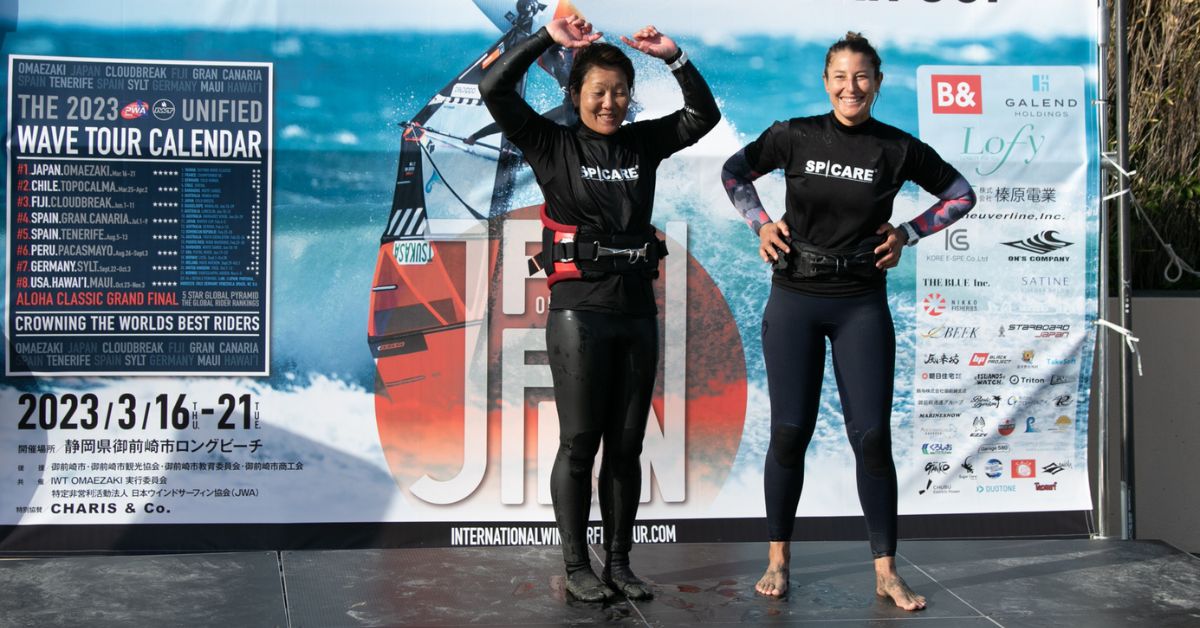 Now 50 years old, Mokoto made her PWA debut in 2004, where she won the PWA Hawaii Pro Wave. In 2016, she came 5th at the Aloha Classic. Motoko Sato has been the Champion of Japan for 13 years. Learn a little bit more about Motoko in the interview below.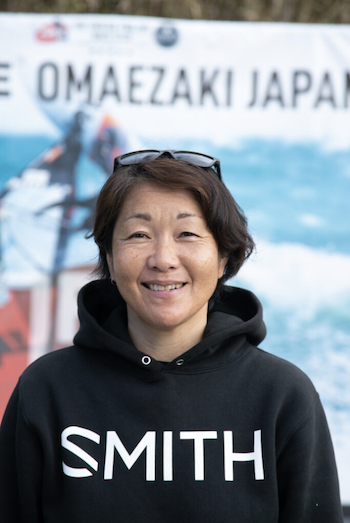 Can you tell us a little bit about yourself?
Motoko Sato: I live in Omaezaki, Japan. My family consists of a 17-years old daughter, a 12 years old son, a husband and two dogs. I am a professional windsurfer and mother.
When and where did you start windsurfing?
Motoko Sato: I started windsurfing at Zushi in Kanagawa, when I was a first year university student.
What / Who was your motivation?
Motoko Sato: Friends who train with me and inspire me.
Can you tell us more about the windsurfing scene in Japan?
Motoko Sato: Young people are growing up and challenging the world, so they are giving energy to the windsurfing scene in Japan.
Can you give us some details about your homespot?
Motoko Sato: Omaezaki has a high probability of very strong winds blowing in winter. Cold and windy, but great conditions.
You just won the IWT / PWA in Omaezaki – how does this feel?
Motoko Sato: I am very grateful to have been given such an opportunity in my home spot.
What are your best tricks?
Motoko Sato: Backloop!
What are your goals for this season? Will we see you compete at other events?
Motoko Sato: To strengthen my mental game and improve my fitness and my performance on the water. I hope to go to the big final in Maui.
Your words to live by?
Motoko Sato: There is no limit to the efforts.
Anything you want to add?
Motoko Sato: I learned a lot from the world's top sailors. I appreciate it very much!