FREE YOUR STYLE
What limits you from landing your next move? Think about it. Need more pop, faster rotation, better sliding? We developed the Ignites to maximise pop and ensure quick rotations. A fast, flat slalom rocker line for acceleration and speed. Extra tail volume for better slides.
THE iGNITE IN DETAIL
Feel that instant acceleration and exciting top speed with no tail kick. Extra tail volume helps you slide through your moves more easily, and allows plenty of time to switch your feet and shift the sail in transitions and jibes. Slightly reduced thickness underneath the back foot gives you a more comfortable stance for switch moves and significantly improves carving. Enjoy the big wind range thanks to the volume redistributed from center to the front, enhancing control in strong wind.
SPEED
ONSHORE WAVES
POWER WAVES
DOWN THE LINE
FREESTYLE
FREERIDE
ROCKERLINE
A fast and efficient rocker gets you moving early, and keeps you powered into every move. Speed demon? You can sense the feeling of our iSonic slalom line while blasting at top speed.
TAIL SHAPE
The maximum thickness point of an Ignite is directly under your back foot. Volume distribution concentrated between your feet gives you total control and boosts pop in all maneuvers.
IGNITE 93
The 2023 Ignite 93 has been developed with our world class Freestyle Dream Team. No more tail kick, slightly thinner under the back foot and improved volume distribution. The result: instant acceleration and higher speed. The stance in switch moves is more natural, with smoother carves – a blast for relaxed freestylers and riders. To the airborns out there: For you, we made this board quicker to rotate. The redesigned volume distribution gives you all the pop for double or even triple moves.
Ignite 78 ProKids
Kids just want to discover their limits and have fun. While traditional freestyle boards may limit our future rippers, the 78 Prokids takes them straight to the next level. Let our youngest team rider, Julian, let you tell what he thinks; "I finally found my Dream Board. Because the board is shorter and lighter, I am able to turn 180 degrees when going for an Air Gybe, which I never could before. Now I'm almost landing this move!" Julian Koldeweid, 10 years
A LOCKED AND COMFORTABLE STANCE
Premium Drake footstraps are made from Yulex eco-foam with the smoothest fabric for a comfortable feel. Under your feet the 10mm thick footpads with a diamond grooving pattern provide positive grip and comfort over extended sessions while being resistant to wear-and-tear.
THICK PADS
The Ignites feature 10mm thick footpads with a diamond grooving pattern that provides grip and comfort over extended sessions while being resistant to wear-and-tear.
THE FLAGSHIP CONSTRUCTION
The Carbon Reflex construction is our lightest, proven flagship construction and has some of the lowest warranty rates in the industry. Using the lightest biaxial carbon provides more feel, more responsiveness and more controlled flex than conventional boards. On the water, this construction will provide you with ultimate performance. It delivers the most direct feedback from the water surface and allows for quicker and more precise movements. With the Carbon Reflex construction you'll start planing earlier and keep more speed through turns and wind holes. For 2023, the Magenta highlighted Carbon Reflex is limited in stock, built to order with a custom delivery lead time.
← Scroll sideways for more sizes →
| Model | IGNITE 78 Julian Pro | IGNITE 87 | IGNITE 93 | IGNITE 103 |
| --- | --- | --- | --- | --- |
| Technologies | Carbon Reflex Sandwich | Carbon Reflex Sandwich | Carbon Reflex Sandwich | Carbon Reflex Sandwich |
| Volume | 78 L | 87 L | 93 L | 103 L |
| Length | 199 cm | 210 cm | 210 cm | 210 cm |
| Width | 56 cm | 60 cm | 63 cm | 66.5 cm |
| Tail Width (at 30 cm) | 37.2 cm | 39.1 cm | 40 cm | 43.1 cm |
| Thickness | 11.4 cm | 11.3 cm | 12.9 cm | 12.9 cm |
| Footstrap Rows | 1 | 1 | 1 | 1 |
| Fins | Drake 17 Ready to FreeStyle by LSD | Drake 19 Ready to FreeStyle by LSD | Drake 20 Ready to FreeStyle by LSD | Drake 21 Ready to FreeStyle by LSD |
| Sail Range | 2.5 - 5.0 m2 | 4.0 - 5.5 m2 | 4.5 - 6.0 m2 | 5.0 - 6.5 m2 |
| Weight Carbon Reflex Sandwich +/-5% | TBA | 5.91 kg | 6.13 kg | 6.93 kg |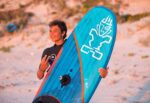 "The Ignite definitely lives up to its name! I feel like the tail gives away pop like never before, so combining that with the speed of the board makes up for a freestyle Maschine, used from Professional all the way to learning your first manoeuvres!"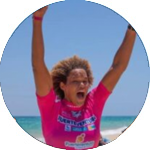 "The Ignite is my all-time favourite freestyle board. It's explosive and still provides me stability. From Vulcan to Double air culos this will be your go-to board. This year I'm also excited to practice more on the 87L for very strong and choppy conditions."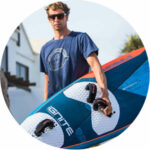 FORMER FREESTYLE WORLD CHAMPION
"93 is my favourite size for all conditions. The new Ignite accelerates faster and switch moves became easier. It's now more reactive for carving and gives more control in stronger wind. The board has a big wind range and I can recommend it for all kind of conditions and every intermediate or better rider."
Get your dose of windsurfing
directly to your inbox
Subscribe to be the first to know about product releases, receive windsurfing tips or read about exclusive insights right in your inbox.
For every board sold, Starboard plants 3 mangrove trees with Worldview International Foundation. Each Mighty Mangrove sinks down 673kg of VCS certified CO2 during its first 25 years.
Together, our 3 mangroves offset the boards Carbon Emissions 10 X over and fund local livelihoods projects in Myanmar.
The Ultra has an average carbon footprint of 78 kg per board.
Buy a board & we pick up 1.1kg of beach/ ocean plastic trash – equivalent to the amount of plastic trash entering the ocean, per person, per year.
The Ultra has an average plastic content of 4 kg per board.