Our Starboard Team Rider Bobbi-Lynn de Jong is currently on Fuerteventura preparing for PWA Slalom World Cup. What are the goals for this big event? At only 13 years old, she already participated in multiple events and enjoys the Slalom discipline the most. From living in the cold Netherlands to tropical Bonaire. We have asked Bobbi-Lynn about life in windsurfing paradise, how is it to be part of the Starboard Dream Team, and how she trains. Check out the whole interview straight from the Fuerteventura World Cup venue.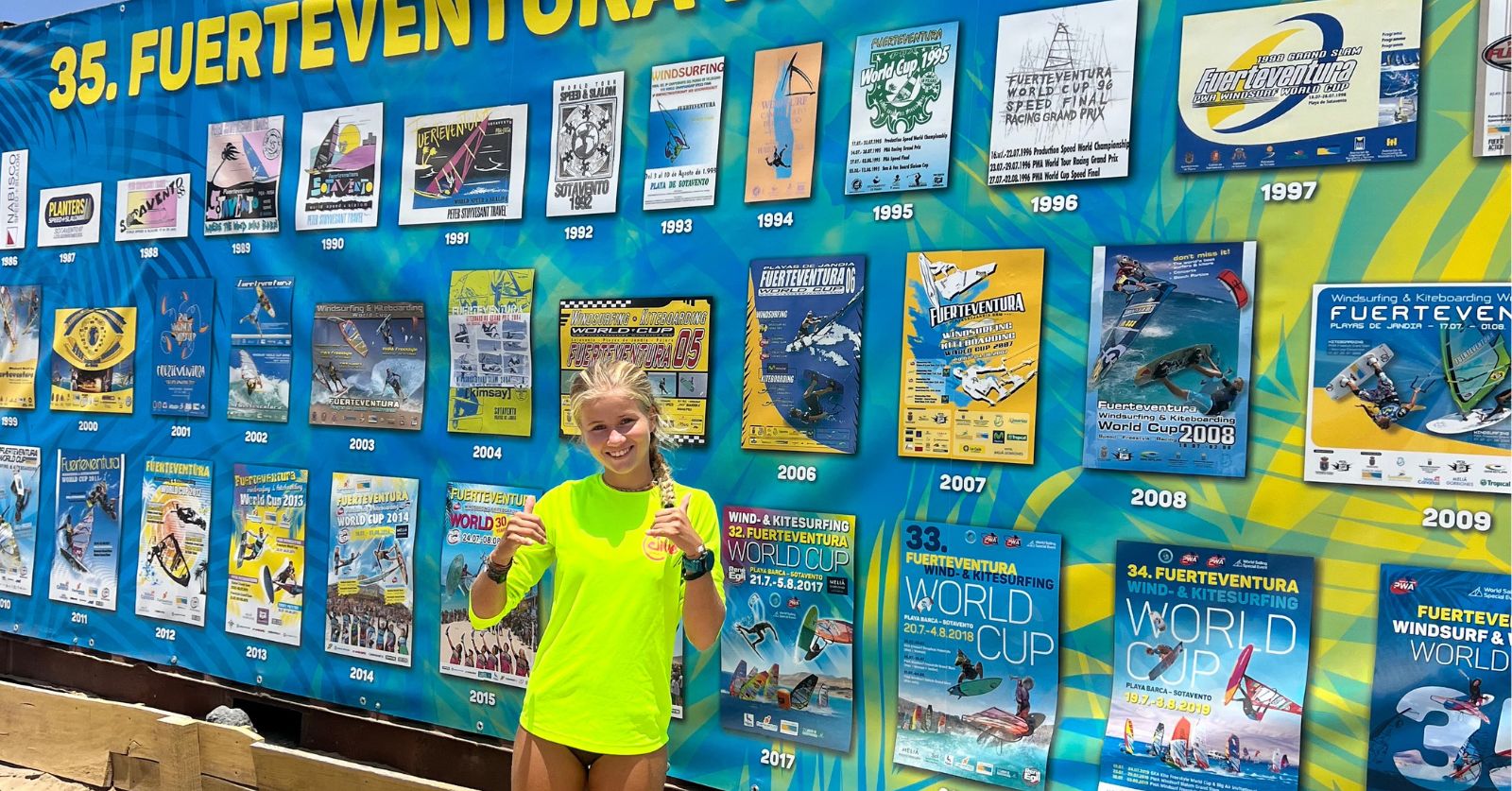 Hi Bobbi-Lynn, can you introduce yourself first, so we get to know you a bit? Your base is in Bonaire, do you live there all year around your whole life?
Hi, Yes! I am Bobbi-Lynn de Jong, 13 years old, born in Amsterdam and living in Bonaire for 3,5 years now. I truly love Bonaire. In The Netherlands I was playing hockey, loved it, I also really enjoyed that it was a team sport. I have never missed the Netherlands, and fortunately maintaining contact with my friends is very easy with Facetime and so on. My father immediately wanted to teach us how to windsurf and gave us a lesson, that was not a success…we all started doing other sports. There is no hockey on Bonaire, that was a pity. The windsurf spot on Bonaire is beautiful, we were there often. We ended up having a lesson with someone else and actually liked it. In the beginning, we only went surfing once a week, later this became more often and now I'm on the water every day.
What kind of windsurfing disciplines do you like the most and why?
I started with freestyle and went to slalom for a year. Preferably with fin, but also with foil. I also do wing foiling now, and I think it's fantastic. But my favorite discipline is slalom. I love the speed and really get a kick out of it. I am using the Starboard iSonic 60L or 67L and Starboard Ignite 78L.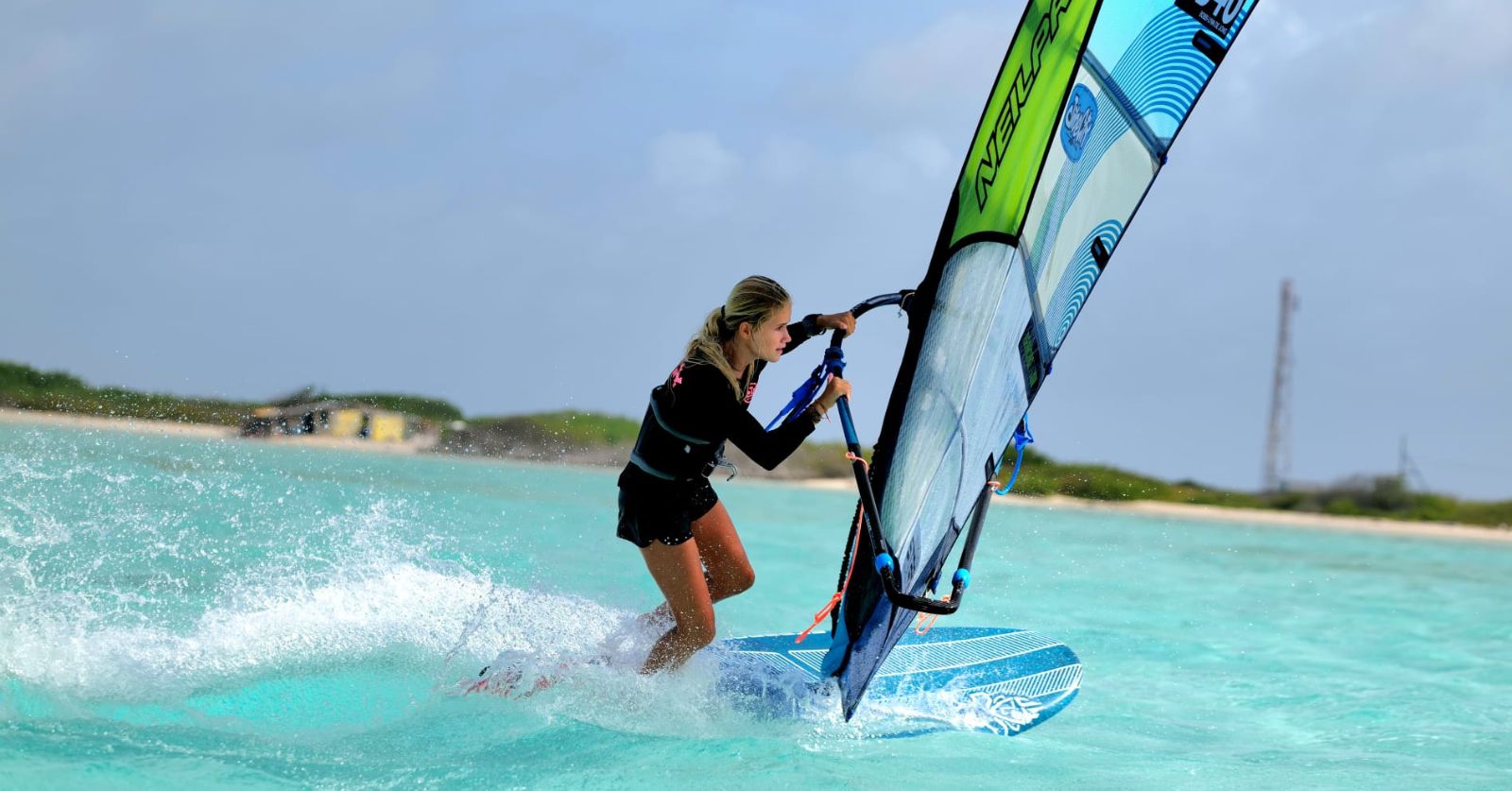 How does it feel to be part of the Starboard Dream Team?
Super cool! I was completely blown away when I was asked to join the Starboard team. I had already met Sarah-Quita and Oda and later during a photo shoot also other team riders and people from Starboard. Of course, I was very nervous to meet all these idols, but everyone was so nice that I immediately felt at ease. Just like hockey, it's nice to be on a team and be super proud of them. During the PWA Pozo, I was able to watch everything online and cheer for everyone.
You plan to participate in the PWA Slalom World Cup at Fuerteventura. Is it your first international event? If yes, what are your goals for the event?
Not my first international, because I was also in Sardinia for the IFCA World Champions slalom youth/junior. Unfortunately, there was no wind and therefore no races. I also joined the IFCA Pan America slalom youth/junior which was in Bonaire. This is my first PWA event Slalom Women and I am really excited! I know Fuerteventura is not the easiest event, the conditions are heavy. My goal is to finish the races, enjoy it to the fullest en learn so much more! It is so cool to join this PWA event, to be here, and meet all the pros. I am only concentrating on the fin; I left my foil gear at home.
To Fuerteventura from Bonaire, it is quite a long trip. Who joins you? Is traveling with all the windsurfing gear something difficult for you?
We are here with the whole family, no one wants to miss this. My sisters want to train here in the waves, of course. The same for me, actually. On Bonaire, the conditions are so very different. My daddy is my caddy and my mother is there for mental support, and so that we occasionally come off the water to eat and sleep and stuff 😉 We make it a nice family holiday. It was quite a long journey and we have 5 boardbags and other surf bags with us because we wanted to be able to wing foil and freestyle here too. A lot of lifting, but there are five of us. And the one-night stopover at Schiphol was also nice because now we could quickly see family.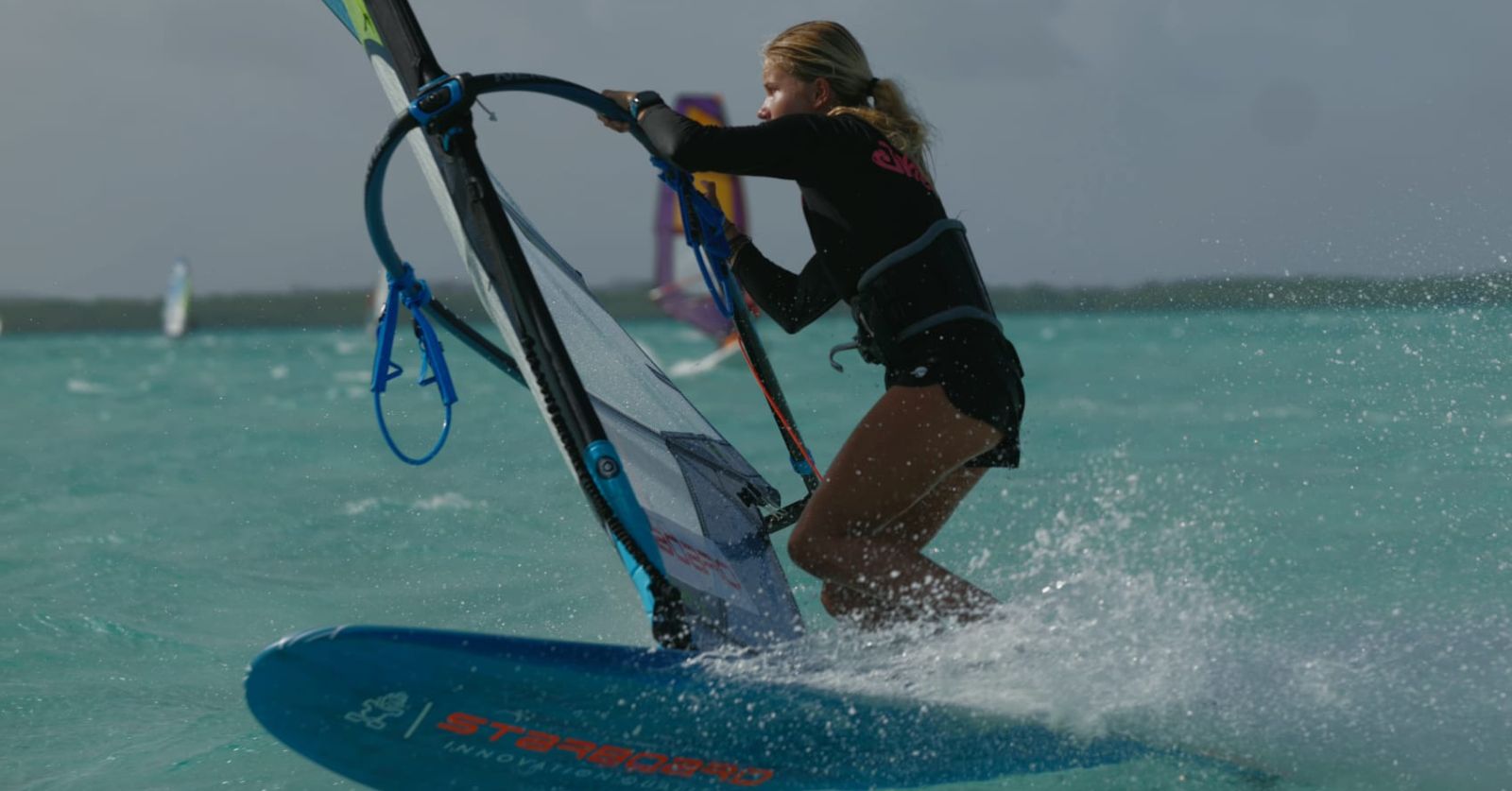 How do you combine school and windsurf training? Who do you usually train with? How is it to train/windsurf with two sisters?
That is so nice on Bonaire. School starts early, at 7.30 am and we finish quite early too, around 1.15 or 2.15 pm. Then we have lunch and then surf directly afterward. There are quite a few kids on Bonaire who surf, and I also train with my sisters. That is of course very nice because all three of us are very fanatical.
What are your plans for the rest of the season 2023?
Train hard, have fun, and hopefully more competitions. In October I would like to participate in the PWA Youth/Junior competition in Turkey. Maybe join a wing foil event as well. Because I'm of school age I can't go to all competitions, unfortunately. I hope the rest of 2023 will be windy!