2024 iSONIC
60 · 63 · 67 · 73 · 77 · 85
THE BEST JUST GOT BETTER.
ENHANCED LOW-END. GREATER CONTROL. HIGHER TOP SPEED. MISSION ACCOMPLISHED.
The evolution continues at an even higher velocity; introducing the new iSonic designs for 2024 – all new iSonic Speed 40, 45 and 52 and race ready iSonics 63 and 73.
Our latest iSonics fly over the water with renowned control and confidence. Calm and composed in rougher conditions, they accelerate relentlessly and freely without sticking, with enhanced performance capability ensuring even more competitive advantage. When it matters most. The 63 features a new rocker line with a 7cm longer flat in the centre, improving control in choppy conditions. Both 67 and 73 have redesigned cut-aways, with the second step to make the board fly more on the fin and give more stability on the race course. And, for 2024 we reintroduce the iconic Starboard Wood Sandwich construction across the iSonic range.
RACING
FREE RACING
FREERIDE
EALRY PLANING
SPEED
RACE JIBE
Arrow Cut Aways
Our new Arrow Cutaway design is featured on the iSonic 63, 67 and 73. Reducing the second step length makes the board fly even more on the fin. To control this extra lift, the extended triangle second step minimises the tail overpowering the rider. The result is a free riding board, ideally trimmed, extending the controlled fin lift range and improving the average speed closer to the maximum speed, with more confidence. And comfort. Perfect for focusing on your racing – rather than on your board.
Speed Focussed Stance
The rear foot straps have a rear stance emphasis, allowing less surface area drag in the water and increased top-end speed. Along with the rear foot straps, the mast track is also centred further back, which makes the board ride more freely.
Double-Step Cutaways
Double Step Cutaways for added release and increased speed. The second step is shorter to make the board fly more on the fin.
Mast track further back
Along with the back footstraps, we moved the mast track, further back which makes the board ride even more free.
Extra volume midsection
With a narrower outline, extra volume is added around the centerline, improving consistency and confidence in marginal conditions. Get planing sooner and maintain momentum and flow in critical situations.
Drake Slick Footstraps
The Drake Slick footstraps are made with FSC-certified, sustainably sourced and plant-based Yulex foam. With 85% natural rubber content, CO² emitted during the manufacturing process is reduced by 80%. The remaining 15% of synthetic neoprene is kept to improve UV resistance. Carefully sourced with the smoothest fabric for a comfortable feel.
THE FLAGSHIP CONSTRUCTION
The iSonic Carbon Reflex is our flagship range. The light weight allows you to get going easier, plane through wind holes and get the best top speed. Carbon Reflex is our stiffest construction, giving you the best control when hitting chop and waves. Decks are built with the lightest grade of biaxial and uni-directional carbon fibre orientated between 45, 30 and 0 degrees for optimized flex and reflex characteristics. The bottom of the boards use an even lighter grade of uni-directional carbon fibre from nose to tail, with an extra 45 degree biaxial carbon layer in the tail area for added torsional stiffness.
Ultralight Weight Combined With New Materials
Developed by Jean Louis Colmas in 1984, Wood Technology became Starboard's trademark construction in 1995. Wood Technology remains a favorite for riders preferring more comfort, more control and the unique crisp feel of an original Starboard. It's time to bring back this technology while reducing our CO2 footprint. Full wood sandwich lamination of 0.6mm Australian Pinewood over modern, recyclable 3mm PET core foam ensures durability and comfort in a good strength-to-weight ratio. Today's wood is more visible in modern graphics; UV protected by fresh blue paint and stickers that compliment the natural grain with a really nice effect. A classy re-edition of a classic Starboard Original.
Flying at high speed, the iSonic 60's tail becomes the only surface touching the water. Our race development focused on refining this area, explicitly aiming to increase control while decreasing resistance. The more comprehensive forward outline provides balance and maintains a perfect, powered racing stance while maximising confidence and control in strong winds. Behind the foot straps, a narrower outline optimises trim while reducing critical drag at maximum velocity. The combined outline improves glide, precision and planing speed through tight turns, ensuring better acceleration back to top speed. The iSonic 60 development involved extensive rough water testing in Tarifa by Matteo Iachino and Blanca Alabau. The result is an absolute open-water high-speed DefiWind weapon. iSonic 60 is ideally matched with performance carbon fins around 32cm.
Development of the new iSonic 63, already renowned for a compelling low end, targeted extending the high-end wind range and enhancing the more confident, locked-in feel. The 2024 evolution maintains the tuck line, whilst a more comprehensive outline and volume at the back foot straps help engage the more powerful leeward rail. Lengthening the centre rocker flat by 7cm extends the limits of control, keeping the iSonic 63 trimmed level and comfortably controlled at full power, even in overpowering conditions. Together with iSonic60, the new 63 was proven in the rough chop of Tarifa by Matteo Iachino and Blanca Alabau—ideal with a 33cm carbon fin.
iSonic 67 stands out as a reference of the best slalom board we have ever made. Adding a 1.5cm wider outline in the tail drastically improved efficiency and speed in lighter winds. The new Arrow tail cutaways, similar to the iSonic 73, allow the board to fly freely over chop. The most exciting feature of this board is its exceptional control. No matter how windy or choppy, the nose will never fly away. You have to try it to experience how good it is. It's the perfect medium size board for light riders and women.
Versatility meets speed. A breakthrough 2024 design, with increased width to 73cm at the widest point and a massive 2cm added at the rear foot straps, while leaving the tuck line untouched. This change gives you more power in lighter winds and critical situations, jibing or overtaking your friends. Or competitors. As the wind picks up, even more release - thanks to the rear focussed stance and our new Arrow cutaway design at the very end of the tail - less surface in the water and higher top-end speeds. You will be blown away by how much control you can have while flying this new board design over any water surface.
Developed in the lighter winds of Thailand together with the 85, the iSonic 77 optimises rider stance and mast track rearwards, freeing the ride while improving fin leverage and easier control. Everyone was simply faster on this version. The hip outline combination ensures more performance in light winds, where the windward side of the board is more in play while also improving competitive jibing. iSonic 77 adds confidence in stronger winds, most especially when harsh chop starts to compromise speed.
With foils becoming a genuine challenger to the big slalom boards, our most notable detail in the iSonic 85 is the increased tail width, enhancing low-end power. The powerful tail section also provides significant control improvement; as the board starts to fly away in strong gusts, the tail section becomes activated, and the nose trim stays lower, ensuring optimal control. And performance. The tuck lines remain unchanged, while tail cutaways in line with the smaller iSonics make this large board feel super loose under your feet.
← Scroll sideways for more sizes →
| Model | iSonic 60 | iSoni 63 | iSonic 67 | iSonic 73 | iSonic 77 | iSonic 85 |
| --- | --- | --- | --- | --- | --- | --- |
| Volume | 87 L | 98 L | 110 L | 123 L | 129 L | 140 L |
| Length | 225 cm | 226 cm | 228 cm | 228 cm | 228 cm | 228 cm |
| Width | 60 cm | 63 cm | 67 cm | 73 cm | 77 cm | 85 cm |
| Tail Width | 39.3 cm | 41.4 cm | 45.7 cm | 50.2 cm | 55.5 cm | 60.3 cm |
| Thickness | 11 cm | 12.2 cm | 13 cm | 13.2 cm | 11.8 cm | 11.7 cm |
| Shape | Flat Vee to Double Concave | Flat Vee to Double Concave | Flat Vee to Double Concave | Flat Vee to Double Concave | Flat Vee to Mono Concave | Flat Vee to Double Concave |
| Fin | Without Fin | Without Fin | Without Fin | Without Fin | Without Fin | Without Fin |
| Sail Range | 5.0 - 6.2 m² | 5.5 - 7.0 m² | 6.2 - 7.8 m² | 7.0 - 8.6 m² | 7.8 - 9.2 m² | 7.8 - 10.0 m² |
| Weight Carbon Reflex | 5.57 Kg | 5.97 Kg | 6.21 Kg | 6.52 Kg | 6.81 Kg | 7.20 Kg |
| Weight Wood Sandwich | 5.8 Kg | 6.0 Kg | 6.4 Kg | 6.9 Kg | 7.2 Kg | 7.8 Kg |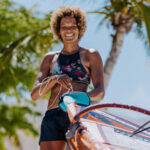 The iSonic is one of my favorite boards to ride on. As usual, it is super comfortable to ride for a racing board! You have a lot of control so you can push the boards all the time. It is very smooth when you enter the gybe, but the acceleration out of the gybe is what surprised me about this new board!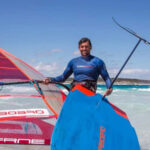 The board is so easy and reliable! You push on the rail as much as you want and it just accelerates! You will feel plenty of control riding the iSonic. My favorite is the iSonic 73 and I use it with sails down to 6.5 and up to 9.0. It's the board with the biggest range I have ever sailed. It gybes really great too! The acceleration is next level! It's awesome to ride on flat water, but when you are in choppy conditions the control is just incredible!
The iSonic is a magical board. You can rail the board super easy! Reaching your top speed fast to make it to the buoy in the front is important in the slalom races, and I can do that with the iSonic under my feet. You just sit, lock the sail and off you go with incredible speed. It's fast but at the same time comfortable. On top of that the board also gybes easily!
Get your dose of windsurfing
directly to your inbox
Subscribe to be the first to know about product releases, receive windsurfing tips or read about exclusive insights right in your inbox.
For every board sold, Starboard plants 3 mangrove trees with Worldview International Foundation. Each Mighty Mangrove sinks down 673kg of VCS certified CO2 during its first 25 years.
Together, our 3 mangroves offset the boards Carbon Emissions 10 X over and fund local livelihoods projects in Myanmar.
Buy a board & we pick up 1.1kg of beach/ ocean plastic trash – equivalent to the amount of plastic trash entering the ocean, per person, per year.