2024 iSONIC SPEED
40 · 45 · 52
BEAT YOUR OWN RECORD!
Go fast or go home! The new iSonic Speed boards are here to simulate you in the crazy speeds of Luderitz in your home spot. Stability, power and accurate navigation is just some of the few features of those new Starboard rockets.
THE iSONiC SPEED IN DETAIL
V for Victory and iSonic Speed!
Do you want to set a new personal speed record or perhaps challenge the World record?
Our all new  Speed  iSonics fly over the water with more control and confidence due to their V shaped hull. Calm and composed in rougher conditions, they accelerate relentlessly and freely without sticking, with enhanced performance capability ensuring even more competitive advantage. When it matters most.
Speed 40, Speed 45 and Speed 52.
RACING
FREE RACING
FREERIDE
EALRY PLANING
SPEED
RACE JIBE
Mast track further back
Along with the back footstraps, we moved the mast track, further back which makes the board ride even more free.
Single Step Cutaways
Single Step Cutaways for added release and increased speed on the 45 and 52 Speed.
Back Footstraps
The rear foot straps are further towards the back. This allows for less surface in the water and thus increases top end speed.
Increased Stiffness Bottom Construction
The new iSonic Speeds provide increase bottom stiffness in order to get faster response and better rocker durability from 0 to 80 cm by adding an extra layer of UD Carbon.
Drake Slick Footstraps
The Drake Slick footstraps are made with FSC-certified, sustainably sourced and plant-based Yulex foam. With 85% natural rubber content, CO² emitted during the manufacturing process is reduced by 80%. The remaining 15% of synthetic neoprene is kept to improve UV resistance. Carefully sourced with the smoothest fabric for a comfortable feel.
THE FLAGSHIP CONSTRUCTION
The iSonic Speed Carbon Reflex is our flagship range. The light weight allows you to get going easier, plane through wind holes and get the best top speed. Carbon Reflex is our stiffest construction, giving you the best control when hitting chop and waves. Decks are built with the lightest grade of biaxial and uni-directional carbon fiber orientated between 45, 30, and 0 degrees for optimized flex and reflex characteristics. The bottom of the boards use an even lighter grade of uni-directional carbon fiber from nose to tail plus an extra UD Carbon layer from 0cm to 80cm to increase stiffness response and durability of the rocker with an extra 45-degree biaxial carbon layer in the tail area.
Outright Vmax. Proven performance. In a practical, powerful package. Developed at the Lüderitz speed channel, and dedicated to the most extreme speed sailing conditions, the new iSonic Speed 40 is the new weapon of choice for challenging the 50 knot threshold. Built for sustained rocker precision, we added a customised double layer of UD 80 carbon on the bottom, from the tail to 90 cm from the the front, to avoid rocker deformation under extreme usage. Revision of the rear Vee provides even more control. Without question or peer, this board has the highest outright velocity potential of any in our range.
Versatile Vmax. The board most likely to give more riders more top speed in more conditions, more often. Stepping away from pure speed channel conditions, Remi Vila developed this open water speed machine with the help of Matteo Iachino at the famous La Palme speed spot in the south of France. With 65 litres of volume, a double concave entry ensures confidence at speed, while the efficient flat Vee tail is reinforced in the rear section with double layer UD80 carbon to minimise high load deformation. The iSonic Speed 45 ensures performance at every open water speed spot and is the versatile choice for your next GPS personal best.
Practical Vmax. 74 litres of volume, and optimised for sails in the 5.0 to 7.0m range, the 52 is the biggest in our speed board lineup, and brings real speed potential in moderate conditions from as little as 20kts of wind. A 31.3cm wide Vee'd tail provides control and efficiency, while a capable, secure double concave front underside ensures lighter winds or larger sails don't restrict your performance. Also featuring the customised UD80 carbon underside reinforcement layup in the final two thirds of the board to avoid high load deformation, while retaining the responsive Reflex layup in the front to calm chop impacts. The ideal choice for the everyday speedster, in everyday speed conditions.
← Scroll sideways for more sizes →
| Model | iSonic Speed 40 | iSonic Speed 45 | iSonic Speed 52 |
| --- | --- | --- | --- |
| Volume | 55 L | 65 L | 74 L |
| Length | 227 cm | 227 cm | 227 cm |
| Width | 40 cm | 45 cm | 52 cm |
| Tail Width | 22.2 cm | 27.5 cm | 31.3 cm |
| Thickness | 10.9 cm | 11 cm | 11 cm |
| Shape | Flat Vee to Double Concave | Flat Vee to Double Concave | Flat Vee to Double Concave |
| Recommended Fin | 18 - 24 cm | 18 - 24 cm | 20 - 26 cm |
| Fin | Without Fin | Without Fin | Without Fin |
| Sail Range | 4.0 - 5.6 m² | 4.5 - 5.6 m² | 5.0 - 6.2 m² |
| Weight Carbon Reflex | 4.3 Kg | 4.63 Kg | 5.2 Kg |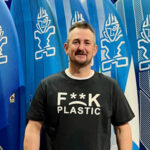 iSonic Speed 52: When I unwrapped this board, I was surprised about the clean shape with a rounded, aerodynamic nose, lower centred mast track and fantastic design. On the water, the iSonic Speed 52 gives a lot of control. I could use it on flat water already in very low winds with 20 knots. I was blasting around, and it carried a sail size of up to 7.0m2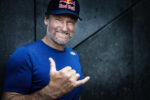 The iSonic Speed boards are fast planing and you have incredible control while pushing your limits to the max! Try one and you want one! The Speed 40, 45 and 52 are easy to sail, which is very important at any speed especially over 40-50 knots = 80-90 km/h! If you love to sail fast, you have to ride the iSonic Speed!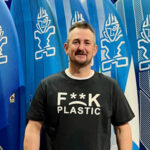 The iSonic Speed 45 is a very easy board to start with as the volume is quite centered in the middle. Once you go downwind, the acceleration doesn't stop. The boards give a lot of stability when blasting down over choppy water without any problems. When you are looking for an all-round speed board that you can use on flat water on lakes or past a shoreline on the open sea, the iSonic speed 45 will be the best choice!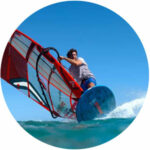 The new iSonic Speed board range is definitely the best choice you have on the market! With the sizes we have you can cover any kind of conditions on the speed course. They are insanely easy to ride making you go super fast with almost no effort and a comfortable stance.
Get your dose of windsurfing
directly to your inbox
Subscribe to be the first to know about product releases, receive windsurfing tips or read about exclusive insights right in your inbox.
For every board sold, Starboard plants 3 mangrove trees with Worldview International Foundation. Each Mighty Mangrove sinks down 673kg of VCS certified CO2 during its first 25 years.
Together, our 3 mangroves offset the boards Carbon Emissions 10 X over and fund local livelihoods projects in Myanmar.
Buy a board & we pick up 1.1kg of beach/ ocean plastic trash – equivalent to the amount of plastic trash entering the ocean, per person, per year.