2024 Ultra
72 · 78 · 82 · 86 · 93 · 100 · 110
ULTRA VERSATILITY. SURFBOARD STYLE RIDE. ULTRA LIGHT. BUILT TO LAST.
With verified improvements in both wave riding and early planing, Remi Vila's ULTRA concept invites you to turn more over the front foot, while maintaining speed and enjoying unrestricted freedom throughout bottom and top turns.
Delivering ULTRA snappy off-the-top manoeuvres and smooth bottom turns, the innovative ULTRA concept thrives in real world wave conditions. Fast acceleration gets you quickly into the line-up, keeps you moving in critical sections and allows extra jumps on the way out. The ULTRA features centred volume and thinner rail, improving turns and control. The innovative recessed deck is a design feature Starboard introduced in 1994.
SPEED
ONSHORE WAVES
POWER WAVES
DOWN THE LINE
FREESTYLE
FREERIDE
Radical Rockerline
A strong scoop starting from the center and increasing towards the nose. This helps to avoid nose dives in steep waves and allows for aggressive front foot riding, while the rocker towards the tail is very modest, providing easy planing and good top speed.
Narrow Body
The magic combination is the fast rocker with the narrow outline. Aggressive turns with a super adaptable radius in any situation. The modest tail kick gives great planing power and speed for such a narrow board. A perfect combination.
Swallow Tail Shape
The swallow tail shape is featured on all sizes. Compared to a rounded or pin tail it makes the board more compact and allows for tight turns. It keeps the board more connected to the wave and improves the grip so you can push your carving game to the next level.
Thin Rails
Super thin rails in the tail section with a smooth transition to the center make for effortless turning and plenty of grip.
Mono to Double Concave
A classic mono concave nose feeds into an innovative double concave in mono concave mid section, before blending smoothly into a solidly vee'd mild double concave tail.
Narrow Outline
With a narrower outline, extra volume is added around the centerline, improving consistency and confidence in marginal conditions. Get planing sooner and maintain momentum and flow in critical situations.
Starbox: Less Weight, faster set up
Featuring two lightweight Starboxes and one US-Box reduces critical swing weight from the tail. More reactivity.
The Starbox system allows you to fit Slot Box fins within five seconds each, while retaining your last settings. Get back on the water faster. It is also compatible with US box fins.
Locked and comfortable stance
The Drake footstraps are made from Yulex foam with the smoothest fabric for a comfortable feel. Under your feet the 10mm thick footpads with a diamond grooving pattern provide essential grip and comfort over extended sessions while being resistant to wear-and-tear.
Kicker Pad
The rear pad is equipped with a kicker ramp, which allows better lock in the rear strap by twisting the foot when needed.
A pure Thruster
The Vee in the tail is a bottom shape, which is designed to work perfectly with the Thruster fin set-up. If you're looking for a Quad set-up, you'll find it on the HYPER, paired with a mono-concave in the tail section.
THE FLAGSHIP CONSTRUCTION
The Carbon Reflex construction is our lightest, proven flagship construction and has some of the lowest warranty rates in the industry. Using the lightest biaxial carbon provides more feel, more responsiveness and more controlled flex than conventional boards. On the water, this construction will provide you with ultimate performance. It delivers the most direct feedback from the water surface and allows for quicker and more precise movements. With the Carbon Reflex construction you'll start planing earlier and keep more speed through turns and wind holes. For 2024, the highlighted Carbon Reflex is limited in stock, built to order with a custom delivery lead time.
LIGHTWEIGHT BOARDS DESIGNED FROM THE GROUND UP AS OUR LOWEST CARBON FOOTPRINT
Developed by Jean Louis Colmas in 1984, Wood Technology became Starboard's trademark construction in 1995. Wood Technology remains a favourite for riders preferring more comfort, more control and the unique crisp feel of an original Starboard. It's time to bring back this technology while reducing our CO2 footprint. Full wood sandwich lamination of 0.6mm Australian Pinewood over modern, recyclable 3mm PET core foam ensures durability and comfort in a good strength to weight ratio. Today's wood is less visible in modern graphics; UV protected by fresh blue paint and stickers that compliment the natural grain with a really nice effect. A classy re-edition of a classic Starboard Original.
← Scroll sideways for more sizes →
| Model | Ultra 72 | Ultra 78 | Ultra 82 | Ultra 86 | Ultra 93 | Ultra 100 | Ultra 110 |
| --- | --- | --- | --- | --- | --- | --- | --- |
| Volume | 72 L | 78 L | 82 L | 86 L | 93 L | 100 L | 110 L |
| Length | 220 cm | 222 cm | 222 cm | 223 cm | 225 cm | 227 cm | 229 cm |
| Width | 54.5 cm | 56.5 cm | 58 cm | 58.5 cm | 59.5 cm | 60.5 cm | 61 cm |
| Tail Width | 35.5 cm | 37.2 cm | 38 cm | 38.5 cm | 39 cm | 39.7 cm | 39.6 cm |
| Thickness | 11.7 cm | 12.2 cm | 12.4 cm | 12.8 cm | 14 cm | 14.4 cm | 15.2 cm |
| Shape | Vee Double Concave to Double Concave in Mono Concave | Vee Double Concave to Double Concave in Mono Concave | Vee Double Concave to Double Concave in Mono Concave | Vee Double Concave to Double Concave in Mono Concave | Vee Double Concave to Double Concave in Mono Concave | Vee Double Concave to Double Concave in Mono Concave | Vee Double Concave to Double Concave in Mono Concave |
| Fins | 2 x Stone Surf 11 + Stone Surf 18 | 2 x Stone Surf 11 + Stone Surf 18 | 2 x Stone Surf 11 + Stone Surf 18 | 2 x Stone Surf 11 + Stone Surf 19 | 2 x Stone Surf 11 + Stone Surf 19 | 2 x Stone Surf 11 + Stone Surf 20 | 2 x Stone Surf 11 + Stone Surf 21 |
| Sail Range | 3.0 - 5.0 m² | 3.3 - 5.3 m² | 3.5 - 5.5 m² | 3.5 - 5.5 m² | 4.5 - 6.5 m² | 5.0 - 7.0 m² | 5.0 - 7.0 m² |
| Weight Carbon Reflex | 5.61 kg | 5.74 kg | 5.99 kg | 6.06 kg | 6.35 kg | 6.41 kg | 6.54 kg |
| Weight Wood Sandwich | 6.0 kg | 6.2 kg | 6.5 kg | 6.6 kg | 6.8 kg | 7.0 kg | 7.2 kg |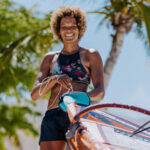 Above all, the Ultra is a very comfortable ride and I feel in control both flying over the chop while searching for a ramp in Pozo, or engaging the rail with full confidence in a bottom turn so I can do the top turn in the critical section. I love the Ultra we have now and I am excited to push my level further with this board!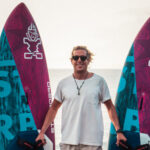 In side-onshore conditions the Ultra has been my board of choice. It has incredible early planing and its wide tail permits me to keep high speed during onshore riding. The board is also really stable, which helps during the tack and gybe.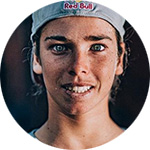 The Ultra is the ultimate wave board, I can use it in all conditions! The performance of the board is just awesome!
Get your dose of windsurfing
directly to your inbox
Subscribe to be the first to know about product releases, receive windsurfing tips or read about exclusive insights right in your inbox.
For every board sold, Starboard plants 3 mangrove trees with Worldview International Foundation. Each Mighty Mangrove sinks down 673kg of VCS certified CO2 during its first 25 years.
Together, our 3 mangroves offset the boards Carbon Emissions 10 X over and fund local livelihoods projects in Myanmar.
The Ultra has an average carbon footprint of 78 kg per board.
Buy a board & we pick up 1.1kg of beach/ ocean plastic trash – equivalent to the amount of plastic trash entering the ocean, per person, per year.
The Ultra has an average plastic content of 4 kg per board.