Futura
100 · 105 · 110 · 120 · 135
IMPOSSIBLE ENGINEERING
Contemporary evolution of the test-winning board that really started the freerace craze for technical windsurfers seeking the impossible: maximum speed combined with comfort, control and jibing precision. The Futuras deliver maximum average speed with total confidence and comfort.
Perfect for long distance – or simply drag racing at your local beach, the Futura concept is built around iSonic DNA with wide, moderately thin and compact body. Width gives you wind range and power. Reasonable thickness in the rails provides power and enhances controlled leverage over the fin. A thinner profile at the mast track lowers the centre of gravity for added control. Optimised stance for longer and more confident fast runs. The Futura allows you to reach maximum potential in a more accessible and user friendly package. Save energy, maintain a high average speed for miles and make sporty jibes.
RACING
FREE RACING
FREERIDE
EALRY PLANING
JIBING
SPEED
DOUBLE STEP CUT AWAYS
Double Step Cutaways for added release and increased speed.
READY TO FOIL
The Futura 105, 110, 120 and 135 are fitted with Foil-Ready fin boxes.
BOTTOM SHAPE
The Futuras have a more pronounced Vee across the bottom for improved control and comfort through harsh chop, smooth flowing jibes and a more lively ride. Power on.
THIN RAILS
The rails are rounder and thinner than the iSonic rails. Easier in the rough. Smoother in the turns.
DRAKE SLALOM DW READY TO RACE
Each Futura is supplied with a selected Drake Slalom DW fin. These top-end Ready to Race production fins bring out the best in the Futuras. The Slalom DW model combines impressive amounts of speed and acceleration with great jibing abilities.
DRAKE SLICK FOOTSTRAPS
The Drake Slick footstraps are made with FSC-certified, sustainably sourced and plant-based Yulex foam. With 85% natural rubber content, CO² emitted during the manufacturing process is reduced by 80%. The remaining 15% of synthetic neoprene is kept to improve UV resistance. Carefully sourced with the smoothest fabric for a comfortable feel.
LIGHTWEIGHT PADS
The Futuras feature 6mm thick footpads in the tail and 4mm in the front. This combination delivers a highly reactive yet comfortable feel while minimizing weight. The thermoformed diamond grooved pattern provides grip and comfort over extended sessions, while being resistant to wear-and-tear.
CARBON SANDWICH
Ultralight weight with an emphasis on performance value, while using more environmentally friendly materials. The bottom is built in full T700 uni-directional flat-woven carbon for maximum stiffness, while the deck is 60% carbon, alternating between uni-directional and bi-axial carbon layers for optimized flex. The composite sandwich layers include the use of ultra-high density PET and PVC foam.
WOOD SANDWICH - OUR MOST DURABLE CONSTRUCTION
Jean Louis Colmas started the development of wood sandwich boards in 1985 and by 1994 we introduced his technology in our production. This collaboration led to multiple world championships titles across all disciplines in Windsurfing and it remains a Starboard original. 0.6 mm Australian pine laminated deck increases impact strength while natural unidirectional fibres create awesome reflex sensations. With 500 kg/m3 density, the Pinewood absorbs minimal resin leading to a light board and crisp ride feel. The entire board is wrapped in a 3mm PVC sandwich for long term durability and that classic feel under foot. A protective film covers the wood to hinder the sun's UV impact over time.
ULTRALIGHT WEIGHT COMBINED WITH NEW MATERIALS
Ultralightweight at a reasonable price. The bottom is built in full T700 uni-directional flat-woven carbon for maximum stiffness while the deck is 60% UD carbon arranged in three-axis for optimized flex. The composite sandwich layers include the use of ultra-high-density PET for enhanced durability.
Available exclusively on iSonics and Futuras
LIGHTWEIGHT BOARDS DESIGNED FROM THE GROUND UP AS OUR LOWEST CARBON FOOTPRINT
Developed by Jean Louis Colmas in 1984, Wood Technology became Starboard's trademark construction in 1995. Wood Technology remains a favourite for riders preferring more comfort, more control and the unique crisp feel of an original Starboard. It's time to bring back this technology while reducing our CO2 footprint. Full wood sandwich lamination of 0.6mm Australian Pinewood over modern, recyclable 3mm PET core foam ensures durability and comfort in a good strength to weight ratio. Today's wood is less visible in modern graphics; UV protected by fresh blue paint and stickers that compliment the natural grain with a really nice effect. A classy re-edition of a classic Starboard Original.
← Scroll sideways for more sizes →
| Model | FUTURA 100 | FUTURA 105 | FUTURA 110 | FUTURA 120 | FUTURA 135 |
| --- | --- | --- | --- | --- | --- |
| Technologies | Carbon Sandwich | Carbon Sandwich | Carbon Sandwich | Carbon Sandwich | Carbon Sandwich |
| Technologies | Wood Sandwich | Wood Sandwich | Wood Sandwich | Wood Sandwich | Wood Sandwich |
| Volume | 100 L | 105 L | 110 L | 120 L | 135 L |
| Length | 225 cm | 229 cm | 229 cm | 230 cm | 234 cm |
| Width | 63 cm | 67 cm | 71 cm | 76 cm | 83 cm |
| Tail Width | 40.9 cm | 44.7 cm | 46.6 cm | 48.7 cm | 52.5 cm |
| Thickness | 12.8 cm | 11.5 cm | 11.5 cm | 11.6 cm | 11.9 cm |
| Bottom Shape (Tail To Nose) | Flat Vee to Double Concave | Flat Vee to Double Concave | Flat Vee to Double Concave | Flat Vee to Double Concave | Flat Vee to Double Concave |
| Fins | Drake Slalom DW 32 Ready To Race | Drake Slalom DW 36 Ready To Race | Drake Slalom DW 38 Ready To Race | Drake Slalom DW 42 Ready To Race | Drake Slalom DW 44 Ready To Race |
| Finbox | Tuttle Box | Foil Box | Foil Box | Foil Box | Foil Box |
| Fin Range | 30 - 34 cm | 34 - 38 cm | 36 - 40 cm | 40 - 44 cm | 42 - 46 cm |
| Sail Range | 4.5 - 7.5 m² | 5.0 - 8.0 m² | 5.5 - 8.5 m² | 6.0 - 9.5 m² | 6.5 - 10.0 m² |
| Weight Carbon Sandwich +/-5% | 6.61 kg | 6.91 kg | 7.18 kg | 7.63 kg | 8.15 kg |
| Weight Wood Sandwich +/-5% | 6.57 kg | 6.99 kg | 7.20 kg | 7.67 kg | 8.36 kg |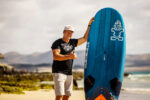 "The line of Futura windsurf boards is the perfect combination between comfort, speed and easy jibing. The boards are a bit longer and more narrow in the tail. This helps to uphaul the sail if necessary and also makes it easier to get into the footstraps."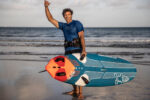 "I love the Futura because it makes you go fast with no effort. The board is incredibly easy in all kinds of conditions, no matter if it s flat and gusty or rough and really windy. It s a slalom board for everyone with any kind of windsurfing experience."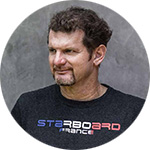 "The Futura will be the perfect board for long distances such as Défi Wind as they don't have the explosiveness of the iSonic for slalom in acceleration."
Get your dose of windsurfing
directly to your inbox
Subscribe to be the first to know about product releases, receive windsurfing tips or read about exclusive insights right in your inbox.
For every board sold, Starboard plants 3 mangrove trees with Worldview International Foundation. Each Mighty Mangrove sinks down 673kg of VCS certified CO2 during its first 25 years.
Together, our 3 mangroves offset the boards Carbon Emissions 10 X over and fund local livelihoods projects in Myanmar.
The Ultra has an average carbon footprint of 78 kg per board.
Buy a board & we pick up 1.1kg of beach/ ocean plastic trash – equivalent to the amount of plastic trash entering the ocean, per person, per year.
The Ultra has an average plastic content of 4 kg per board.