Australian Foil Racing Nationals
Foil Racing might still be a discipline in its infancy, but it has grown extremely fast. This can be seen in the amazing turn up of racers at the Australian foil racing nationals in Queensland last week. While Europe is still in wintersports mode or chasing storms, Australia's foil racing scene produces heated racing. At Starboard we love foiling and are more than excited to see this new discipline gather in participation numbers and grow roots especially on national levels.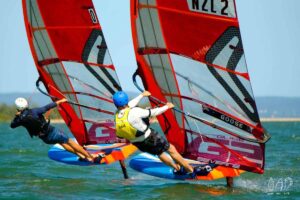 The Low Down of the Down Under Pro
A total of 29 Competitors competed at the 'The Downunder Pro 2020' in Queensland. During 3 days of racing, they completed 15 rounds. A mix of courses also included a marathon across the bay, with the added challenge of avoiding all the shallow obstacles known to exist in these waters. At the end of the 2020 Australian foil racing nationals,  the local Julien Savina was crowned Champion. Fellow locals Julien Ventalon and Leo Sharpe filled the remaining podium places in the Men's division. Sammie Costin took first place in the Women's division.  The Downunder Pro overall winner is New Zealand's young gun Lloyd Perratt, who not only won twelve out of the fifteen races but also did an extra "victory lap" during the marathon round!

Have you caught the foiling bug yet or are you still watching the spectacle from a safe distance?
The iQFoil is the new Olympic equipment for 2024 and the interest in foil racing has grown immensely. A new generation of young windsurfers coming through the Bic Class is extremely excited to launch themselves into this new discipline. Foiling is now also fully integrated into the PWA slalom discipline. While the more freeride oriented foils have opened up a whole new world of light wind windsurf spots. It is clear that foiling is here to stay. New technologies have made foiling into more than just the latest trend. At Starboard we are proud to be at the forefront of foil board and foil development.  You can find out all about the different foil board models Starboard has on offer here. Also, have a look at our newest foil models here and find what best suits your style of riding.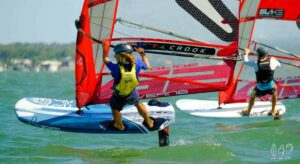 Photos by: Mitch Pearson  www.surfsailkite.com.au