Freeride windsurfing is for everyone!
We handed former British Champion and coach Peter Hart a Carve 159 to get his feedback. We were surprised to hear how much our technique guru enjoyed this bigger freeride board. He points out what advantages the Carve offers him over foil boards or faster more technical boards like the iSonic. We are stoked to share his praise for our favourite freeride classic with you.  
Thank you, Carve 159L, for re-introducing me to the simple joys of freeriding!
It's no secret that foiling has stolen the thunder from good old classic freeriding over the last five years. Foiling gave our sport a much-needed shot in the arm and is here to stay. However, it's not for everyone nor for everywhere. Where I live is a tidal harbour full of foil-munching sandbanks and mud flats, which become ever more menacing as the tide drops. On the Carve, I can sail on a given tide and get to places I never could by foil. For example, I sneak up narrow, shallow channels, sometimes off the plane to access another beautiful area. I'd forgotten how fun long-distance cruising is on a summer's day in a marginal breeze.
The 159L is the perfect vehicle. I'd forgotten the joys of a good blast.
My favourite was, and probably will always be, the power (carve) gybe. The first piece of advice I offer is to do more! You'll put in twice as many gybe attempts by halving the length of the reaches. "But we love blasting!" they moan. Until I hopped on the 159, I'd forgotten how much fun 'blasting' is. If you're after the ultimate speed thrill, the obvious choice is an iSonic. It's amazing, but it's also a full-on, hammer-down, flying over the chop, on edge, fully powered up type experience. It's hardly relaxing.
In contrast, the Carve 159 offers a more mellow 'blast.' You can get away with a smaller fin. The extended rocker flat allows you to ride it less powered up, get planing with less effort, and cruise with less stress. Yet it also has the higher gears. If you hear someone coming up behind, you can drive harder and feel it rising up onto the cutaways, just like the iSonic. It's got a wicked turn speed if you want to go there.
Big in volume, small in behaviour – feels more like a 130l than 159l!
Many proficient sailors would avoid buying a board as big as 159 L. Well, it's a beginner's board, isn't it? They assume it to be heavy, sluggish and not very exciting. If the 159 had no markings, I would initially have said it was maybe 135 L. It's incredibly nimble. The volume is so subtly hidden that you only get a sense of its size when you stop and find yourself floating, stable and with dry feet.
It's gybing made easy
.
One guy I've been coaching for years has been struggling with the carve gybe, committing the typical sins of sitting back, over-rotating and stalling at the end. I put him on the 159L, and he did his first proper one in that first session. At 90 kg, his 120L offered him no room for error and made him defensive. It wasn't just the extra volume that helped him. The Carve has impeccable gybing manners and yields easily to rail pressure. You don't feel like you're fighting the volume as on so many other big boards where the rail keeps popping out. It holds the curve beautifully and, thanks to that extended flat, maintains its momentum. Feeling that the board was helping, not hindering, encouraged him to relax and take a more committed position. The board does what it says in the title: It carves!
It's also a great beginners board
.
Research reveals that most people get into windsurfing not through an official school but through a friend who lent them some kit and coached them through the first steps. The health of our sport has always relied on that word-of-mouth transmission of enthusiasm. These days I encounter many people who have "given it a go on holiday" but never planed – the sensation that hooks us all.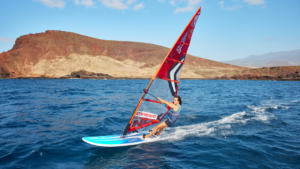 The 159L is the perfect board for helping a friend get to that next level.
With straps set inboard and forward, it has enough volume to absorb clumsy feet and still rises gently and predictably into that semi-planing state. It's also a great light wind platform for practising tacks, gybes, and key skills.
Words by Peter Hart  / Photos by Peter Hart Photography and Starboard Windsurfing
Do you want to know more about Peter Hart and find our about coaching opportunities with him? Click Here
Interested to find out more about our Carve Boards? Click Here