STARBOARD STEPS UP TO MAKE THE TRAVEL EMISSIONS OF THE 20TH EDITION OF DEFIWIND 10X CLIMATE POSITIVE
Windsurfing's biggest event becomes a driving force toward fighting against climate change.
Windsurfing, albeit powered by natural elements, usually involves driving to find the best conditions or escaping cold temperatures. Perhaps, in this case, it's going to the 20th edition of the iconic DefiWind to face the famous Tramontana wind together with 1000 other crazy windsurfers who share your passion. Starboard is sponsoring the carbon footprint offsetting of DEFIWIND'S participants' travel by X10. This means our passion for windsurfing and this epic event reduces its price towards nature. We can enjoy it even more knowing action is taken to absorb the event's emissions. And while we will be windsurfing in Gruissan, we will have a positive impact on the planet. WOW, actually, we were not sure it could get better, but we think that DEFIWIND did just get better, at least for the planet ;).
Now it's up to you to make the most of your epic Defi adventure. May the Tramontana be with you.
In 2021, for the Defi Wind Superstars Event, 1880 mangrove trees were planted to absorb the estimated emissions per person.
This year we are increasing our accuracy and asking every person to share their travel details. With travel accounting for 16.2% of CO2 emissions worldwide and the Paris
Agreement's 2030 deadline to reduce CO2 emissions approaching rapidly, our efforts to action CO2 offsetting and reduction are more important than ever.
.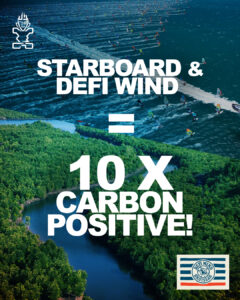 Mangroves are blue carbon stores, meaning they absorb and store more CO2 than terrestrial forests. Also, the saltwater and the way the soil surrounding the mangroves traps sediment stops the organic matter from decaying and releasing CO2. These rapid CO2 absorbers are our key to reducing the amount of CO2 in the atmosphere, our key to limiting the warming of the planet due to the imbalance of CO2.
Did you know Starboard has a dedicated DEFIWIND Board? Our Futura is specifically designed to give you more comfort over long distances while providing high average top speeds!
Check out the FUTURA here
Find out more about Defi Wind here.