Starboard's Exclusive Tiki Camp Youngster Edition is here
Do you love to blast along full speed, or have just attempted your first vulcans, spocks, or loops? Then our Tiki Camp Youngster Edition is for you!  Starboard and Rene Egli have put together an exclusive Windsurfing Camp coached by former PWA Freestyle competitors Phil Richards and Danielle Lucas and have invited Youth Star Lennart Neubauer along to share all his tips and experiences with you throughout the camp. So, young rippers, don't miss your chance to take your windsurfing to the next level!
This is your opportunity to meet other youngsters just as crazy as you about windsurfing, while you improve through professional land and water coaching especially designed for you by GetWindurfing. Let's have fun on the water and discover the next generation of young rippers together.
If this is you, make sure to join our Tiki Camp in Fuerteventura this Summer.
For Bookings and more information e-mail: marketing@rene-egli.com 

Our Tiki Camp at a Glance:
Starboard Tiki Camp Youngster Edition with Guest Star Lennart Neubauer coached by Getwindsurfing's Phil and Danielle.
Who is it for?
For youngsters who want to step up their windsurfing game and learn or improve their freestyle game.
What to expect:
5 days of top-class professional coaching by Youtube's favourite windsurfing coaches Phil Richards and Danielle Lucas. On land and water coaching and Video analysis to make progress a Childs game. Meanwhile, Starboard Dream Teams Youngest members and PWA youth star Lennart Neubauer will join the young rippers on the water sharing his experiences and giving inside on what it takes to take their windsurfing to the next level.
Date: 14.-18. July with Meet and Greet at 5pm on the 13th
Location: Rene Egli Centre Fuerteventura
Age: Between 11-17 years old
Level: Planing with Harness
Spaces: Limited to 12 Exclusive Spots
Price: Starting at 299€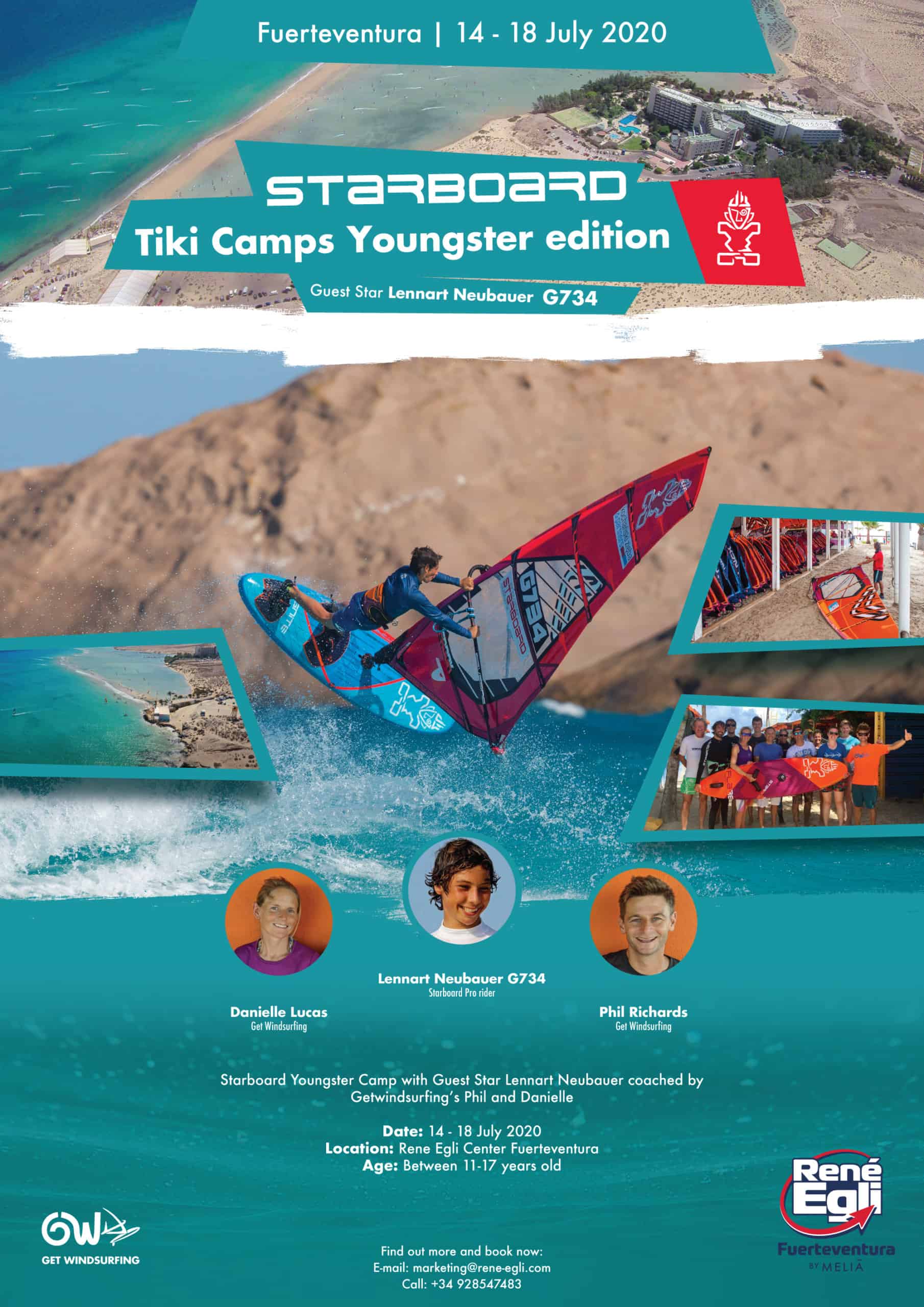 At Starboard we can't wait to see all the young rippers who will attend our first ever Tiki Camp Youngster edition in Fuerteventura this summer. If you want some more inspiration to get you through the winter days, you can read our Interview with Lennart, Guilio and Liam to find out more about the big goals of our youngest Dream Team Members or check out their favourite boards here.