The first foiling tack has just been completed by a 15-year-old. The performance gap between youth and senior sailors has never been smaller. 
iQFOiL history was written by 15-year-old Harry Joyner from Australia as he foiled through the first-ever tack on his iQFOiL equipment live in front of his coach's camera. Since the beginning of windsurf foiling, the first foiling tack has been highly anticipated; seeing it come to life is a massive motivation for all athletes to improve their tacking skills and has huge implications for the future of tactical upwind racing.
THE PERFORMANCE GAP IS CLOSING RAPIDLY
The fact that Harry Joyner made the first foiling tack (not by lack of trying from the more experienced Olympic sailors) exemplifies once more that the performance gap between young and experienced sailors has never been smaller in Olympic Windsurfing. Historically the change from youth to senior has been extremely tough in most sailing classes. The experience of the older sailors often became the dominant factor for success. But with iQFOiL's arrival as a new Olympic class, we have witnessed sailors from other sailing classes migrate towards windsurfing successfully and see a clear trend toward the younger sailors being competitive and successful early on. 
While the Junior and Youth iQFOiL circuit is booming, many young sailors also choose to compete on the senior equipment and against seniors at the classic class events. At only 15 years old, Harry Joyner has been competing in Hyeres and now will be competing at the European Championships in Garda alongside the top riders in the sport. For young sailors to have the opportunity to compete against the best in the discipline is almost unequalled in sports. 
TIME ON THE FOIL IS A DECISIVE FACTOR

Looking at the most recent event results, 'time on the foil' seems to be the crucial factor for success. Since most riders joining the class started more or less simultaneously, we now see the performance level distributed more evenly than ever before. Age and sailing experience appear to be lesser factors in the equation for success, as time on the foil proves to pay dividends. Just imagine the energy youngsters have to transform into hours on the foil, and you might get a hint at the future.
FOILING AS A GAME CHANGER
Besides Kitefoiling, the first ever foiling tack in sailing was seen during the America's Cup in 2016; it was a breakthrough for competitive sailing. The iQFOiL class now joins ranks, and we are left wondering how quickly sailors can adapt to this new reality. Two weeks ahead of the 2022 iQFOiL European Championships on Lake Garda, training priorities could change drastically as all athletes now see that
 IT IS POSSIBLE
 and not having it in your skill-set could be detrimental to performance! Every second you're in the water, you're losing about 9 meters. Therefore, mastering the foiling tack could potentially lead to massive gains during each race. 
With 255 competitors from 40 nations registered, will we see more athletes unlock the foiling tack within the following weeks, or will Joyner be able to bank in some gains at the Europeans while the rest of the fleet is playing catch up? 
Kiran Badloe,  Olympic gold medalist comments upon hearing the news about the first foiling tack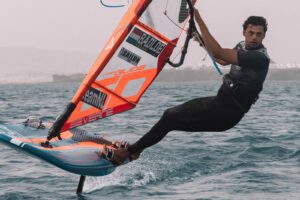 " Ridiculous! It's crazy and so cool to see the next generation of the sport pushing the limits and showing us that there are no limits! We've been extremely fast around the course so far, and it feels like the only part where we have been slow is the tack. Slow tacks have been limiting our strategies to some extent as we would have to consider a significant loss of meters on each tack. Foiling tacks will be a game changer. The future for the class is looking bright with the level of sailing rising fast. 

 

I have been practising foiling tacks myself, but it was not a big priority since no one else could foil through them so far. Simple, fast tacks were getting the job done. Now that I see it done, I will surely put some extra hours into practising this skill! "
Who is Harry Joyner? We couldn't wait to find out and ask him some questions.
A 15 year old kid from Freo that loves windsurfing (Freo: Fremantle, Perth, Western Australia)
How does it feel to be the first to perform a foiling tack?
It is pretty exciting that windfoiling is developing into a fully foiling sport. It is great to be able to explore the boundaries and beyond…
How long have you been trying prior to completing it? 
The foiling tack has been ticking over in my mind for about a year of brainstorming ideas of ways to do it !!
What's your sailing/windsurfing background prior to joining the iQFOiL Class? And what was your biggest success?
I sailed single and double handed dinghy classes. I moved to the ocean to sail out of Fremantle Sailing Club to develop my racing skills that I then could transfer to windsurfing. My biggest success was coming 4th in the Australian Youth Nationals in the 29er class.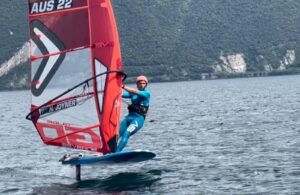 How did you get into iQFOiLing? 
After seeing the windsurfing Olympic class move from RSX to foiling, it seemed like a great idea to broaden my skill range to move into a foiling class. The Western Australian Institute of Sport was forming an iQFOiL program that provided coaching that would facilitate my development needs.
What are your goals and which events are you preparing for at the moment? 
Obviously, I want to go as far as I can. Developing my skills and going as far as I can in the sport of windfoiling is my dream. Events that I am working up towards are Youth Worlds, Europeans and Worlds. Look, I am just a kid having fun and learning as much as possible !!
You are still a Junior sailor but are competing in the senior European Championships as well, how does it feel to race against Senior sailors twice your age?
I love lining up against the heroes of our sport. There shouldn't be any difference because of my age. I like to be treated as an equal and compete the best way possible.
What's the new name for this exciting move?
The Harrack? (Harry-tack)
Useful Links:
The iQFOiL European Championships  are just around the corner to stay up to date visit: THE CLASS WEBPAGE 
You can also follow the iQFOiL Class on Instagram HERE