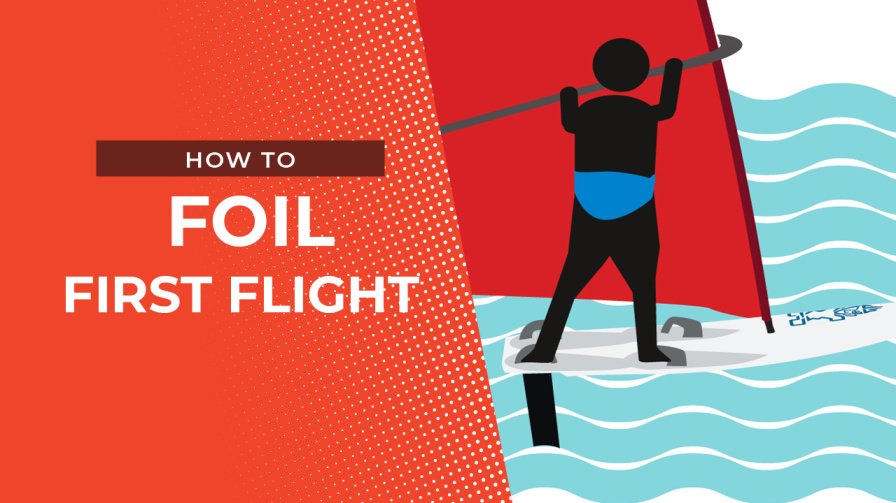 Learn how to foil – basic. There are several different ways we can get our first flight on the foil.

 Here are some easy steps to get started!
TRY WITHOUT USING THE HARNESS LINES ON YOUR FIRST ATTEMPTS
It can be smart to try your first flight without being hooked into the harness lines in the beginning. After you have tried it a few times and can control the foil, you can start using the harness lines. 
GET SPEED TO POP UP ON THE FOIL
To start with sail along and look for enough wind. Sheet in the sail, look downwind and start to accelerate. This can feel close to how you will speed up when you are using a normal windsurfing fin. When you start to get some speed it's time to work your front foot into the front foot strap. If the wind is lighter or you want to start flying as fast as possible it helps to place your back foot on top of the foil or closer to the back strap. Then you will put extra pressure on the foil. When the wind is super low, you will also get up easier if you have both feet in the straps and use a great sail pump technique. 
GET THE LIFT AND KEEP THE CONTROL
As soon as the board starts to lift, look upwind to make sure you keep enough control on your first flight. Keep your body upright and still. If the foil gets too high, it will fly out of the water and you will lose control. So the stiller your body, the more successful. And you can also put less pressure on the foil to make it fly lower if you lean your body weight forward on the board. 
For more control, you can place your back foot into the back strap. If you feel too much lift and power when you have both feet in the straps it can help to foil more upwind for more control.

HOW TO STOP FOILING 
To come down and get the board to touch the water surface, move your weight forward on the board. Move your head forward, take your feet out of the straps and place the front foot closer to the mast mase. 
SAFETY – ALWAYS HOLD ON TO THE BOOM
For your first flight and all the future flights, remember rule number one: always hold on to the boom when you crash. This will make sure your body stays away from the foil. Some foils can be sharp, so make sure you don't kick them with your feet when you lay in the water when you for example are doing water starts.
FOR MORE DETAILS, TAKE A LOOK AT THE VIDEO BELOW.