Words by Phil Soltysiak:
OBX-Wind – North Americas biggest, and fastest growing windsurfing competition once again delivered the goods!
With 300 people registered for long distance racing, Slalom racing, freestyle, and clinics, it was a busy week.
I flew in from Hood River, Oregon, to Raleigh, North Carolina with my girlfriend Kelsey. We rented a car and drove 4 hours to the Outer Banks, where the annual event takes place.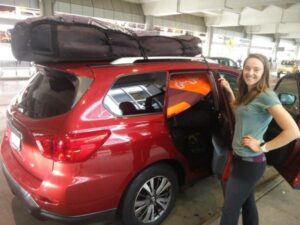 The Sunday was registration and the first day of my clinic which I was running throughout the week. I quickly registered,l and set up footstraps and gear for the week. I was taking part in all disciplines and holding a freestyle clinic, while Kelsey was doing both the Slalom and long distance races. With all kinds of wind forecast I had to have all gear ready.
Monday was day 1 and the organizers immediately got the 2 planned long distance races off. Each long distance race consists of a rabbit start where all racers are lined up in waist deep water across from a boat channel. If you cross the line it's too deep to stand. The jetski drives at full speed from downwind to upwind and the racers jump on their boards and sail away 3 miles to jibe around a catamaran and return to the starting line. The race consists of 2 laps, so after 12 miles of holding on and 3 jibes you finally cross the finish line. It feels like a windsurfing marathon.
Race 1 was extremely windy so I raced on my smallest Slalom gear. My Starboard Isonic 97 and Sailworks NX 6.2. It was a fight for survival out there, so I slammed the mast base as far forwards as I could, dropped my boom low and extended my lines as long as possible. I somehow stayed on the gear and finished in 9th place.
Race 2 was looking the same on the start and I opted for the same gear. This time around the wind backed off a bit at the outside mark and I took advantage of the low end capabilities of my gear to move up and finish the race in 5th position.
That put me in 4th overall for long distance behind Aaron Etmon, Keith McCulloch, and Casey Treichler.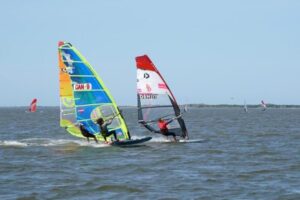 On day 3 and 4 we completed the Slalom races. There were 65 competitors split into 4 groups. Each race consisted of 2 groups racing at once. The pairings were rotated in a way such that each group competed against all the others an equal number of times. I mostly raced on my 8.6 Sailworks NX Slalom and Starboard Isonic 77 cm wide with a 40cm fin. I had some excellent starts on the first day managing to score a few second places, and a first. On the 2nd day of racing my starts were slightly off, and with such a competitive fleet I ended up scoring a 2nd place and two 3rds which ended up being my discards.
Day 4 wasn't over yet, it was freestyle time! We had a really high level fleet of riders competing for the US National title. Youp Schmidt came from Bonaire directly after taking moving up to 2nd place on the PWA World Tour rankings. Aaron Etmon was ready to show his own PWA freestyle experience after taking 2nd in the Slalom races. Graham Fedderson flew in from San Francisco to strut his latest moves. Mike Burns was not only running an excellent event week, but obviously ready to impress his home crowd with his latest refined tricks. Toronto freestyler Max Robinson has been raising his game, Andy Brandt had some moves, a few young Bonaireans looked dangerous, and the Chris and Jonathan were pushing hard. We ran 12 heats of round robin where all heat results would be combined to see which 4 riders would qualify for the final.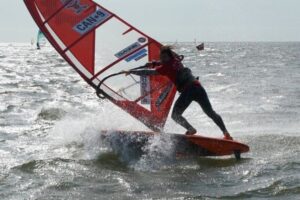 By the end of this round, my arms and legs felt like jello, but I was happy to have qualified for the final.
In the final heat, I found a second wind and managed to up my game. I landed nearly every move I could for the conditions and really found my flow for the heat. Although they only announced me as the winner the following day at the closing party, I was still stoked with how I sailed. Obviously, I was even more happy to hear that my sailing was good enough to take the win.