PWA Report: 
The 2019 Marignane PWA Slalom World Cup proved to be a true test of patience and mental resolve for the world's best sailors as they were forced to wait much of the week for the wind to finally play ball.
Reigning world champion – Delphine Cousin Questel – made absolutely no mistakes in the opening event of the year as the 27-year-old won every heat during the one elimination completed in Marignane. Cousin Questel has now won the last 5 world tour events and looks as though she will be tough to beat after making such a confident and impressive start.
There was a new face completing the podium in the opening event of the season with Oda Brødholt earning her first top 3 result in the Slalom. The Norwegian, who earned a podium place in Bonaire the week before in Freestyle, is developing into one of the best all round female sailors in the world. However, we won't see her on the race course until September now as she won't be racing in either Japan or South Korea.
Lena Erdil, who is only just back on the water after suffering a lisfranc fracture last summer made a decent start with a 5th place in Marignane. The 30-year-old did well to make the winners' final as she showed a tremendous turn of pace to overtake Fulya Ünlü in the semi-finals to secure a place in the final.
Sebastian Kördel broke into the overall top ten for the first time in his career in 2017, but then endured a torrid time in 2018 with just one top 10 finish leaving him in a lowly 23rd by the end of the year. However, the German bounced back in style during the season opener here with Kördel earning his second Slalom podium of his career in France – 3rd. The 28-year-old was obviously delighted with the result and will no doubt gain a big confidence boost heading into Japan and South Korea.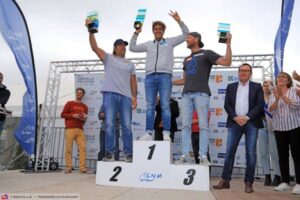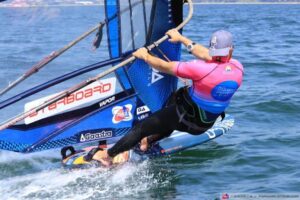 Sebastian Kördel:
"Marignane was treating me good! I made it to the podium and I'm super happy about it!
The whole week was very exhausting for me. Not so much physically but it took a lot of mental energy to stay focused with all those days of waiting. Every day I came to the beach, rigged my gear and was ready to deliver. However, only on the last day I really had to. The conditions were tricky with the offshore winds and I was glad to have Ross Williams as a caddy sailing another set of my equipment down to the start line. That way I could have the right gear for the right conditions. Just before the final, the wind kicked in properly and I jumped down to my 7.9 and my iSonic 72. With the smaller gear, I could fight my way back to 3rd position after a weak start. I really love this setup. It combines great speed and control in strong winds with amazing glide in the light. Just the tools I needed to get on that PWA Podium."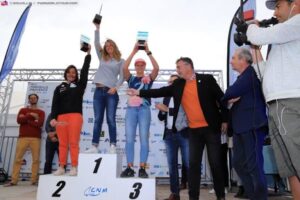 Delphine Cousin Questel:
"This event was quite stressful especially on the last day when the wind was very unstable. The biggest challenge was to choose the right equipment and luckily I could count on Armand's help on the water who was my caddy! I finally decided to use my biggest equipment with a 7,7 sail and iSonic 77. It was the right choice! I had a good start down the line and after gybing at the first mark I was leading the final. I kept the lead during the whole race until the end. I´m really happy to win the first race of the year and even more amazing that it was in my home country France!
I can not wait to be on the start line in Japan in a couple of weeks."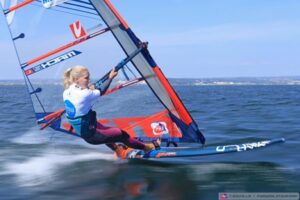 Oda Johanne Stokstad Brødholt:
"After finishing the freestyle world cup on Bonaire in the Caribbean, I went on the first flight back home to Norway. I knew it was a race against the time to manage to get myself to France in time. I had 10 hours to get from the airport, back home, repack my bags from freestyle to slalom gear before my flight to France. Some of the slalom gear I had with me on Bonaire so I really needed my bags from the plane, to make it to France. Unluckily my bags did not show up, but luckily they came 3 hours later with another flight. Packing in a rush I finally made it to France. The whole event was a long waiting game. An unusual wind direction made the racing tricky. As I have been in a total freestyle mode due to the freestyle world cup, I took every opportunity to get out on the water to train slalom. I was sailing every single day, but many of the days it was not enough for racing. Still super fun slalom training. After qualifying to the semi-final I told my self to give it all! I had no pressure and nothing to lose. In the semi-final I had a great start and was leading the race from the beginning to the end. I could not believe how good my gear felt in those tricky conditions. The wind had really picked up, but I had a lot of control and stoked to win the race. Going into the winners final I had a good start being 4th at the first mark. I managed to do a smart inside gybe to get myself in 3rd place. I kept my position rest of the race and sailed into my best result in slalom ever. Very happy with the 3rd place in slalom, and glad to represent a freestyler on the slalom podium as Sarah-Quita Offringa was not competing in this event."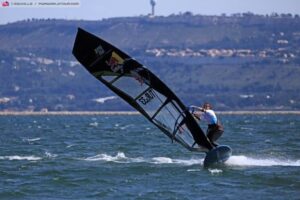 Lena Erdil:
"Super stoked to be able to compete in France on short notice and still within recovery.
We had super tricky conditions with strong gusts and big wind holes, this made equipment choices super difficult and sailing extremely physical!
In the end, the best combo for these conditions for me was the 7.0 and iSonic 77. I love my big board! Even though it is the perfect light wind option for me, it´s easy to handle with a lot of wind too!
In the end, I could feel the lack of training with such a strong girls fleet, but I was stoked to be able to make it all the way to the final and get a chance to race with all the best girls again! Can't wait to be 100% again and push the limits to the max. I was happy with my speed and excited to see my Starboard team mate Oda Johanne make her first podium! Always great to see new faces on the podium.
Feeling very grateful to have had my physio at this event to support me, and my boyfriend for great caddy work. It really made all the difference 🙂
Now it´s time to get some more windsurf training and make sure my foot stays in good shape, and then we are all crossing our fingers for a lot of wind in Japan in a couple of weeks."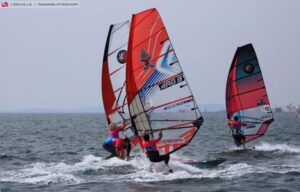 Gonzalo Costa Hoevel:
"It was a tough event with not much wind. I used my 7.8 Mach2 and iSonic 72 to win my first heat. Unfortunately on my second heat another rider fell in front of me blocking the way at the first gybe, both on qualifying position. I was sailing on my 8.6 and iSonic 85 on that one. Not further chances to race due to lack of wind, so a bit disappointed. I am looking forward to Japan where we will have Foil and Slalom, so a lot of racing expected!"
Results:
Women:
1st Delphine Cousin Questel
2nd Marion Mortefon
3rd Oda Johanne Stokstad Brødholt
Men:
1st Pierre Mortefon
2nd Antoine Albeau
3rd Sebastian Koerdel