"Sarah-Quita Offringa was pushed all the way by vice-world champion – Maaike Huvermann, who became the first woman in 11 years to win a heat against Offringa on the PWA Freestyle World Tour, but eventually it was still the 11-time Freestyle World Champion who would walk away from Bonaire as the event champion. Having not faced in defeat in so long, many people wondered how Offringa would cope in the Super Final, but she barely put a foot wrong as she posted the second highest scoring heat of the contest with 140.7 points." 
– PWA Event Report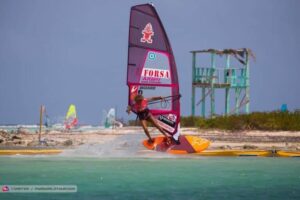 Sarah-Quita Offringa:
"What an action-packed start to the year!
I had a blast during the freestyle world cup in Bonaire.
The level was explosive in both the men and women's division and with the new format with only 2 riders on the water, it made the heats easy to follow and very exciting to watch the riders trying to up each other every time.
I'm happy I spent 2,5 weeks in Bonaire before the event so I could get used to the lighter winds and understand how the chop works in the competition area. I had a lot of fun training on and off the water with Oda. And every day more and more international riders showed up, so the level on the water was exploding day by day. Bonaire is really a freestyle paradise!
For the competition, I only used my 93L Flare and sailed my 5,1 mostly. I was quite confident in all my heats and am very happy about my performance.
In the double elimination, I was leading and even though I had a good heat, Maaike also had a good heat and managed to force a super final against me by landing a nice chachoo right on the buzzer. And by doing so she also ended my 11-year streak of not losing a single heat on the PWA since I first won the title in 2008.  I never thought about it too much, but losing that heat I realized how much effort and consistency I have put in over the years. And actually, it felt quite good.. like I didn't have to keep the streak up anymore and I could relax. For the first time in a long time, I felt this fire broiling again where I just want to put down a good heat. I succeeded in doing so and was really excited to take the win in the end!
Massive congrats to my team mates Maaike and Oda for 2nd and 3rd. And a big thank you to them as well for all the fun we have on and off the water. I'm looking forward to our next freestyle competition in Fuerteventura already! Let's get it!"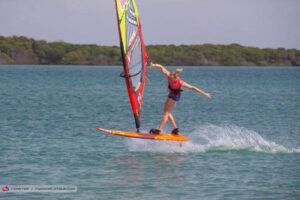 Maaike Huvermann:
"What a way to start the year! The event on Bonaire was so nice! We had great conditions the whole week. The level was insane from everyone! Super stoked as well with the performance I put on. Crazy to win a final for the first time ever! Couldn't quite manage to get on Sarah's level in the super final though. She was sailing amazing, well-deserved win for her! Can't wait for more this year! Thanks to everyone involved for all the fun times!"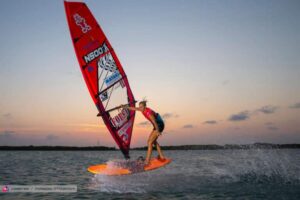 Oda Johanne Stokstad Brødholt:
"It´s been a dream to have the freestyle world cup back on Bonaire since 2014. It´s a special place for me as this is where I really started freestyling. Sorobon Beach is just a dream for a windsurfer. We had great conditions with stable wind. I was competing on my Flare 93 and 5.2 most of the heats. The wind was not as strong as I was praying for, but on the other hand really consistent. I loved it and I was sad to leave Bonaire after the contest. Had a great time training with Sarah-Quita every day the weeks before the world cup started, and most of all having a pro comedian as Sarah-Quita to entertain you 24/7 made my stay even more fun! I´m happy to see the women´s level going up every year. Big congrats to my team mates Sarah-Quita and Maaike for 1st and 2nd place. The final and super final really made me proud to see how the sport has improved so much the last years. In general, I am glad that I managed to sail consistently in lighter wind. I was really enjoying my time on the water here. Can´t wait to be back next year! I want to say a big thank you to everyone who made this event possible."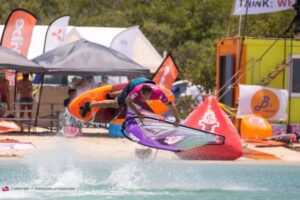 Steven Van Broeckhoven:
"The competition was very good. My first heat was the best heat actually. I also won the next heat, but in the 3rd heat, I was sailing against Yentel Cears. The wind was a bit up and down and I did not sail my best. Later I also saw that Yentel was not performing his best, so the heat was really close loosing with 1 point. In the double, I lost against Adrian Bosson who was having a great heat. I was sailing on the Flare 103 the whole contest and it was working really well! Overall happy with my freestyle tricks and ended up on a 9th place."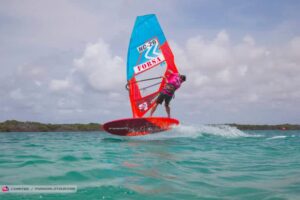 Corto Dumond:
"PWA Bonaire had a very good atmosphere! It´s was in a beautiful spot and the organization was amazing. With the new rule with only 32 competitors, we could compete with only 2 riders on the water which made it very good for the live stream. I am very satisfied with my performance. My best heat was the one where I only lost with 2 points against a very good windsurfer. That was very motivating and shows that I going in the right direction. Now I'm going home to New Caledonia and will train for the next two freestyle world cups.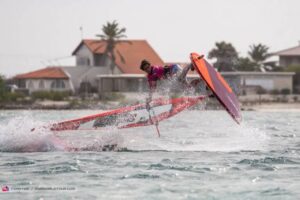 Lennart Neubauer:
"The event was really well organized. With only 32 men competing I was super happy to get a wild card as I´m only 15 years old. I did not win a heat, but I sailed a really close heat against Davy Scheffers, which I am proud of. So happy about my performance. I had a lot of fun with all the guys! Now I will stay 2 more weeks on Bonaire to train for the next event in Fuerteventura. Wind looks good so I will be training every day."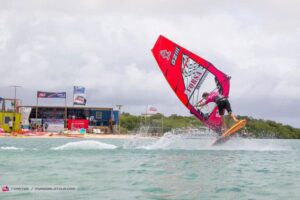 Julian Wiemar:
"This was my first top 10 result in the PWA Freestyle. I am more than happy with that. In general, I am super happy how things are going at the moment. Since last year in Fuerteventura, I kept improving my results from a 25th place to 13th place and now a strong 9th place. I hope I can keep this flow and get better and better results. I am very excited for the rest of the season. I was sailing ever heat on my Flare 103 liter. Just a perfect board for the lighter wind on Bonaire."
Photos: PWA/John Carter