16 X (Sarah-Quita + Starboard) = 17 PWA World Titles, 130 Starboards and Endless Hours On The Water!
Pro Kid to Windsurfing Legend, looking back at 16 years together. Looking forwards to many more years to come! Is the partnership between Sarah-Quita and Starboard the most successful partnership in windsurfing history? We leave you to judge.

Total Years Together: 16
Total World Titles Titles Won: 17
Titles In Each Discipline: 12 Freestyle, 4 Slalom, 1 Wave
Total Amount Of Starboards:  130
Freestyle Boards: 63
Slalom Boards: 37
Wave Boards: 30
We know success can't just be measured in numbers, so let's take a look back and remember some of our favourite moments together!
It all started when Sarah-Quita was 13 and Starboard was 11 years old. In 2005 Sarah-Quita and Svein Rasmussen met at the King of the Caribbean PWA freestyle event in Bonaire. Svein was there with his young and innovative brand looking to share the stoke with as many future Pro Kids as possible. When he saw Sarah-Quita freestyling at such young age he was immediately impressed with her talent and gifted her a brand new 60L Prokids Flare (our freestyle board at the time). He also offered to buy Sarah a ticket to compete at the Lanzarote PWA freestyle events  2 months later. So she was only 13 years old when she travelled to her first PWA event and immediately made it onto the podium in 3rd place at this event! The rest is history!
But let's take a closer look at some of the milestones in Sarah's career!!!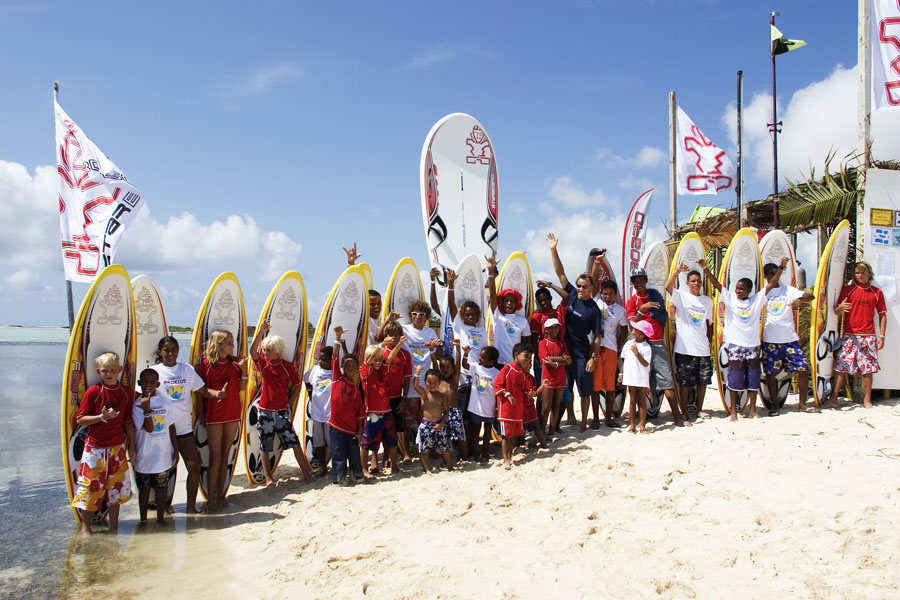 Sarah-Quita at her first Starboard photoshoot in 2006, would you like to read an old blog post from that trip?

"On the 1st of April 2006, I had my first Maui sunrise. It was a dream come true!

After an exhausting 18 hours flight from Aruba, I was finally on Maui. Ian Fox from the Starboard Team was already waiting at the airport to pick up my brother, parents and me. We stayed at the Kuau Plaza in Paia, which is located very close to Ho'okipa. My first day on the island was so exciting, as soon as I woke up, I was ready to go sailing. Unfortunately it was only 6:00 am and nobody sails before 11:00 am. So I decided to take a walk up the hill and check out the conditions. There were some waves and a bit of wind. During that walk, I also met Phillip Koster and Eduardo Diaz from Vargas and Nayra Alonso and John Skye. Unfortunately, I couldn't stay with them because I had to go back at the apartment until noon… I had some homework to finish. Then after that, I couldn't wait any longer to go to Ho'okipa! I told my brother that we had to go, and then we left….

It was great to finally be there because I think it's the most famous windsurfing spot on earth and I finally would get to see it. It was really crowded, especially because there was a competition going on: "The Maui Kokua classic" for the juniors. The day before was for the men's and women's divisions. Ian encouraged me to compete, so I did. He helped me at rigging my stuff, and I had one test run before my heat. When my heat started I was really excited because I never actually sailed in waves. In my heat, I had some nice wave rides and did some freestyle in between the waves also. When I got back on the beach, a lot of people congratulated me and told me I did a good job! They didn't expect me to do well in waves (me either). At night they had a barbecue where they also announced the winners. I was first place and so did Jeager Stone. That same day, I met a lot of pros and people that I have seen several times during my 15 days journey on Maui. I met Keith Baxter, Connor, Ashley, Karen and Kai Lenny and his Dad as well as many others!"  
Read the rest of the story from 14-year-old Sarah here.

Sarah-Quita and Ashley Baxter riding Starboards infamous tandem board the Gemini (left). Sarah-Quita fearlessly riding waves at Hookipa aged 14 (right).
Sarah-Quita takes her first PWA podium finish in Lanzarote aged 14. It's her first PWA event abroad and we can see her here celebrating sitting between the legendary Moreno Twins. 
The Big First: In 2008 Sarah-Quita Wins Her First Freestyle Event in Fuerteventura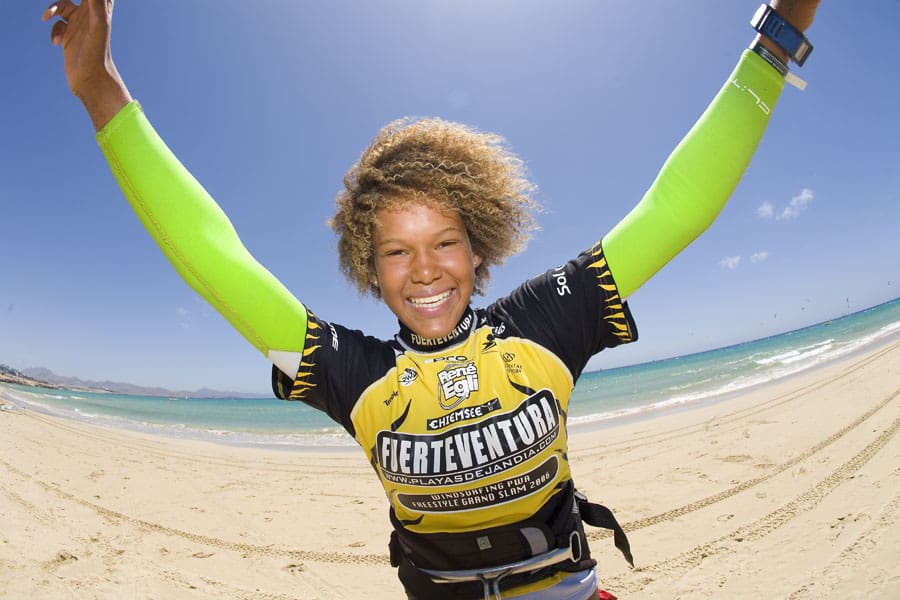 At only 15 years old Sarah becomes one of the youngest ever windsurfers to claim a World Cup Event Win.
The Moreno Twins Daida and Iballa had, next to their success in the waves, also been dominating the freestyle discipline since the beginning, having Sarah-Quita join the freestyle scene at such a young age and winning, caused a big steer. Did you know that Sarah hasn't lost a single freestyle event win since her first win in Fuerteventura? She now has 12 Freestyle World Titles and shows no signs of slowing down, freestyle is part of her DNA and she keeps pushing the boundaries of the sport by stepping up her level each year!

2 Years Later in 2008 Sarah-Quita Wins Her First PWA World Title aged 17
'I won my first title at 17 years old in 2008. The only thing I do remember is that the year before, I lost the title by a very little margin. So even at 15 this hit a bit hard.
But I think that "loss" was necessary for me to come back stronger next year and take the win. I do think that because I was so young it didn't really dawn on me that I was actually world champion. I was definitely happy I won it, but I have to say that the appreciation for that title has come over the years looking back at it. I didn't understand the meaning of it back then.'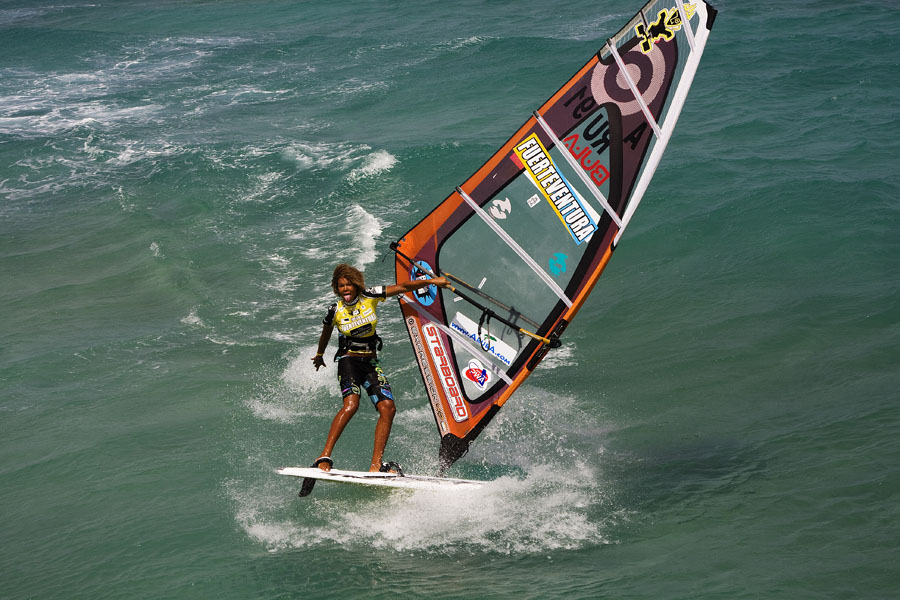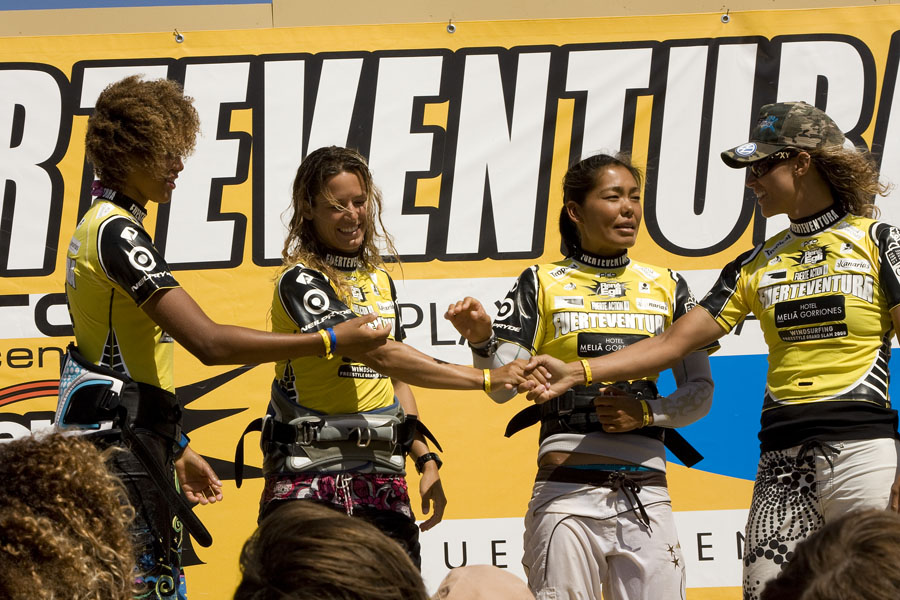 Sarah-Quita Wins Her First PWA Slalom World Title in

2011

Seemingly with ease Sarah-Quita makes the transition from freestyle to slalom and manages to beat yet another 2 legends of the sport. Karin Jaggi and Valerie Arighetti had been fighting it out for the top two places for several years now, only to be stopped by Sarah-Quita's title hunt.
What did it feel like to win a slalom world title? what do you love about slalom?
I love all the disciplines in windsurfing, but hitting the start line on zero and speeding to the first mark with 8 other girls is an adrenaline rush like no other.
I won my first slalom title in 2011. I actually won it with one competition to go in Aruba. That was a cool one because I won the both the freestyle and slalom right at home. I calculated that morning that if I won the event that I would secure the title before the last event in Turkey.

So after the last race and winning the event I came back to the beach, my mom was the first person to come and meet me in the water. I remember whispering to her in disbelief:  "Ma, I am slalom WORLD champion!"
It was awesome to have the PWA come to Aruba, win both disciplines AND secure the title.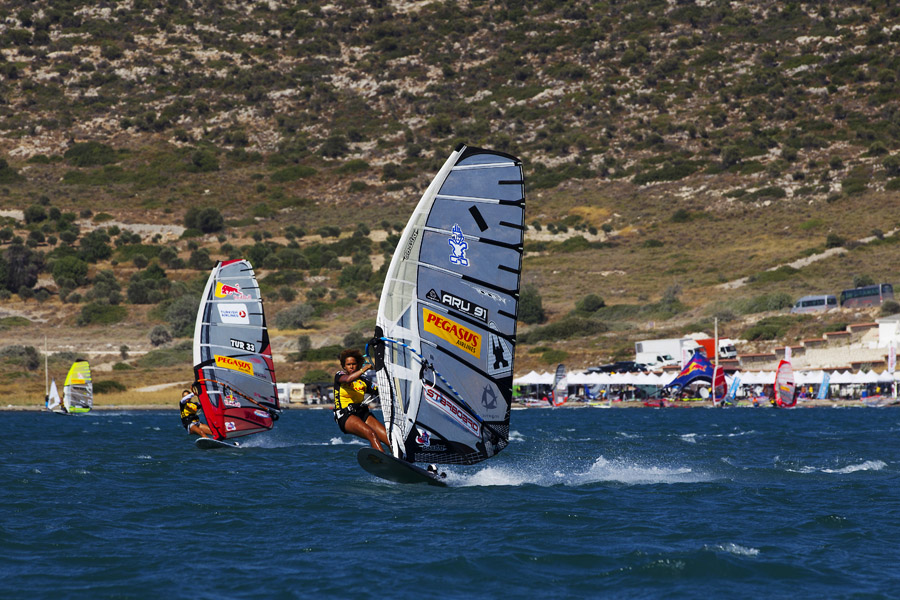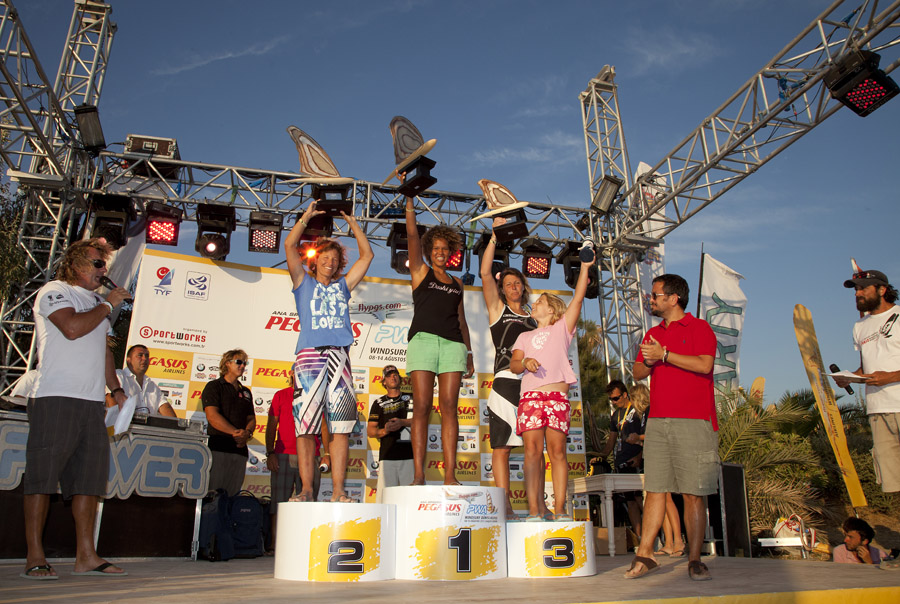 The PWA Interviews Sarah After Her Big Slalom Victory:
PWA: How do you feel to have won the slalom and freestyle titles this season?
Offringa: Because I didn't train as much as I would have liked to this year, I was a bit nervous about the competitions. I didn't know what to expect. For slalom, I didn't have anything to lose so I didn't have any pressure, but on the other hand, I really wanted to keep the freestyle title. In the end, I managed to win both and it's just an incredibly good feeling to know that you're still up there!
PWA: How have you found balancing competing in both disciplines?
Offringa: Well it's not too hard because it is still windsurfing. The hardest is when it's an event with both disciplines and you need to switch from slalom gear where you use big sails, big fins and have a lot of speed to a freestyle set-up where you get many spin-outs and you forget that it's possible to even plane with a small sail like a 4.8m. But it doesn't take long to make that switch.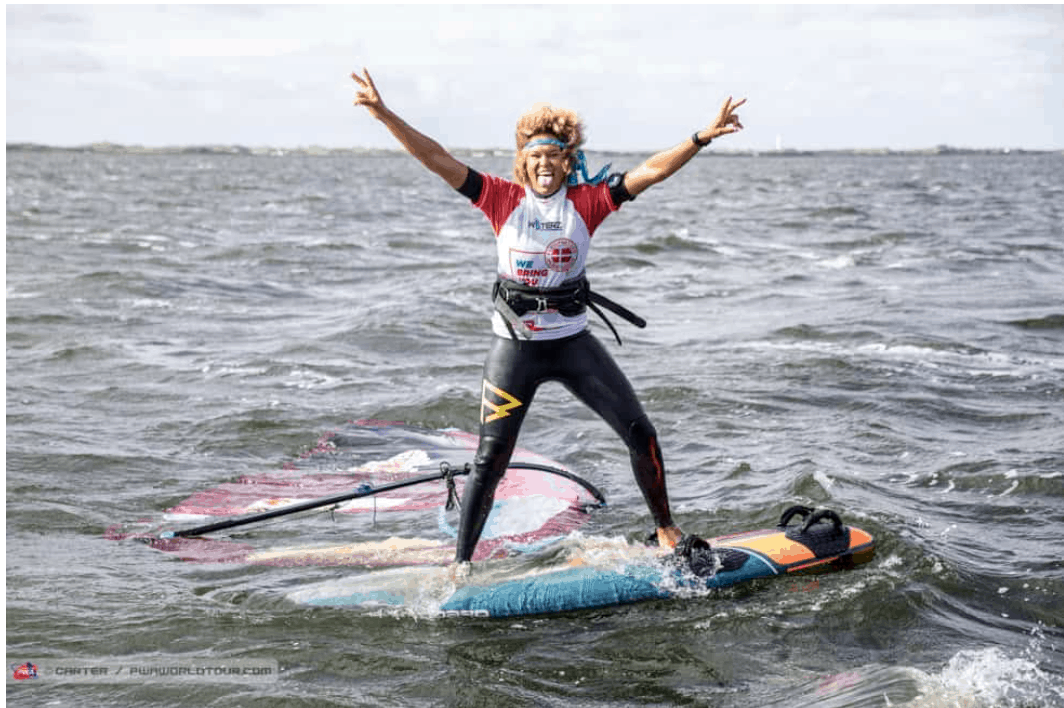 Sarah-Quita about her Partnership with Starboard
I've been with Starboard for pretty much my whole professional career.
It's been amazing to have them support me all these years from my endeavours in freestyle, to slalom and also wave now.
I feel with Starboard there are no limits. Anything I wanted to do, they have given me the freedom to do so and supported me in that.
And I think this support also resembles starboard's mindset. They are the most innovative company in the windsurf market and are continuously pushing the boundaries with better products and always coming up with completely new and out of the box designs.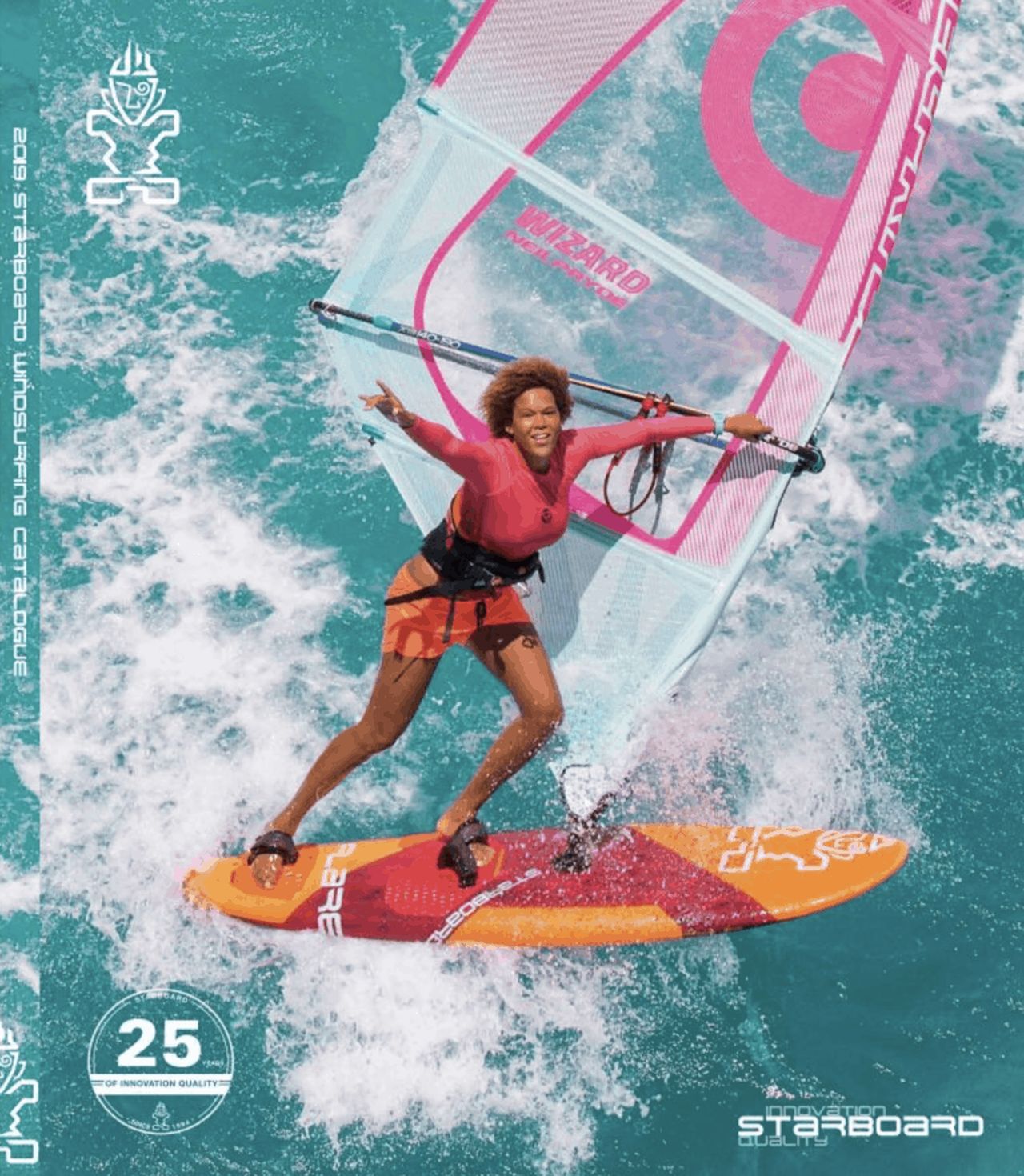 In 2015 Sarah-Quita Releases Her First Full-length Windsurfing Movie: "Cabeibusha – the Curly Gem" a portrait of her life.
The movie was produced by the German filmmaker Julian Robinet in 2015. Together they travelled halfway around the globe. They set out in search of the highest waves in Australia, visited Aruba, the home of Sarah-Quita, explored unknown territories in Iceland and travelled to Europe to document Sarah-Quita's fight for the world championship title.
The movie shows a warmhearted and strong woman and affords an insight into the life of Sarah-Quita Offringa. She quickly becomes everybody's darling because of her Caribbean serenity and her sunny nature.
However, the movie also shows the windsurfer in quiet moments lost in her own thoughts, where being alone can mean pleasure or burden. Moments in which life between competitions, training, travelling, stress and loneliness challenges, but for Sarah-Quita it is the only right way.
"Many people underestimate me, but Julian is one of the few, who probably overestimated me. All the time, especially in Iceland, I got pushed to new limits. I grew up in the Caribbean, with 25°C warm water. I really dislike the cold and it was one of the biggest challenges to get into my wetsuit and jump into the ice cold Icelandic waters! And in Australia: I travelled for several weeks through Australia with only men, in a country, which is almost 50.000 times the size of my home Aruba." (Sarah-Quita Offringa)
In 2019 Sarah Wins Her First Wave Title 
Having won PWA world Titles in Wave and Freestyle Sarah Quita set herself a new challenge: A Wave World title. Unlike the 2 other Titles, this Title did come harder than perhaps expected. But like most great champions Sarah didn't give up and secured her first wave title in 2019. Watch the Video below to see the condition in Hookipa and hear her interview.
"Honestly, this one feels totally different from any other title I've previously won. Wave sailing was a challenge, still is a challenge and this year we've had so many different conditions with completely different conditions. The race for the title has been really tight, so that makes it so much sweeter to win this title. Actually, I didn't really expect it to happen this year so I'm super happy!"
Do you want to know more about how Sarah-Quita won this title? You can read our news story here.
Interested in Sarah's winning secrets? Make sure you check out this article: Winning Secrets Of Our Dream Team Champions
Sarah-Quita Wins Her 12th Freestlye Trophy
Did your 12th Title feel any different then your first?

"Ha! I think I've been appreciating it more every year.
Every year is a new challenge. And the competition has only gotten tougher so then the win is also sweeter. Winning a title is not the end of the road. It is an end goal at the end of the year, but since my main motivation is to become a better windsurfer in general, then if I do win a title I compare to myself the year before. And I think that's where the satisfaction comes from in the end. whether I've become a better windsurfer or not."
Svein Rasmussen, Starboard Ceo and one of Sarah-Quita's biggest fans: 
"I have always thought of Sarah Quita as the best spokesperson for Windsurfing. She has an open mindset and intense focus at the same time.

She was her best 10 years ago, she is her best today and I believe she will blow us away with where she will be in 10 years.

I am thinking and talking about Sarah Quita, not the fact that she also happens to be a windsurfer."
At Starboard windsurfing we are extremely proud of Sarah-Quita's achievements and are even more stoked to have been a part of her success story since day one.
Would you like to find out more about Sarah-Quita?  We recommend checking out her webpage.
Would you like to find out more about Sarah-Quita's favourite Starboard the iGnite? Click here.