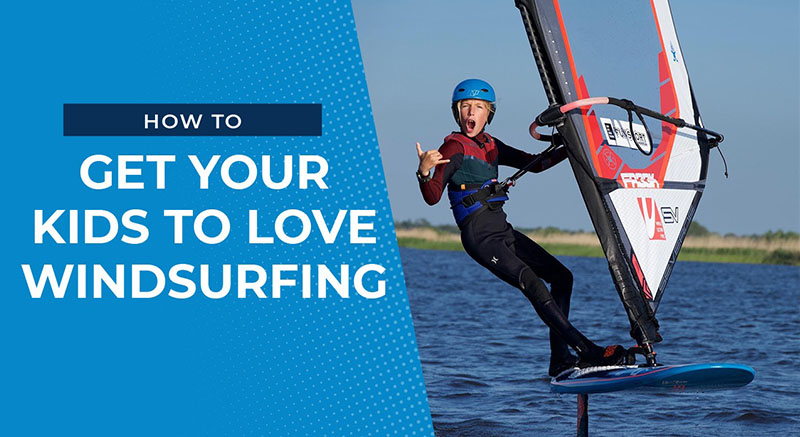 The Best Part?! When your kids love windsurfing, it probably means more hours on the water for you!
Nothing is more beautiful than sharing your passion with your kids. But it may sound easier than it is, as there are certainly a lot of factors that figure into whether or not windsurfing becomes their new favourite hobby.
What is the right age to start teaching them? What gear should you use, and how can you keep them interested and enjoying it? 
We have collected the best tips from our community of successful windsurfer parents to make sure you know exactly how to get your kids to love windsurfing. As with all things, you can only make a first impression once, so it's essential to do it right from the start. So let's dig into it. 
Tip Number One: Björn Dunkerbeck "Kids need other kids"
Kids need other kids, so the easiest way for parents to create this kind of social environment is to make sure you sign them up to a good Windsurfing centre where they have and can make friends. On Gran Canaria, we have special after school programs and weekend training, and on top of that, I always made sure we had Holliday plans with lots of windsurfing fun planned. This seems to have been the key to quick learning and progression for Liam.
My other top tip is to make sure that they have good wetsuits as kids don't like to be cold; it's also essential that the teachers like working with kids; sometimes it's hard to get the first kids together in one group with the right teacher, but ones you do it becomes easier, and they'll most likely get hooked 😉
For me but also for Liam competition has been a great source of motivation too!  The rivalry between kids of the same age can really ignite a passion that will help take things to the next level.
Tip Number Two: Ron Koldeweid "The right gear is key"
First and most important: get them the right gear at the right time. Kids are flexible, light and learn fast. But only with equipment that suits them. Kids can sail in the harness plane with the right gear and keep upwind before you know it. 
What's the right age?
I tried to teach Julian at 6, 7 and 8. Although he could sail a little, there was no real commitment. After 5 minutes of trying, he wanted to play with the board instead of sailing on it, which was okay too! Kids need to be kids. At the age of 9, things changed a little. He wanted to learn windsurfing to join me on my windsurfing adventures. I tried a lot of equipment with him, but the best thing I did was invest a little money in some decent up-to-date gear. I will explain what brought us the most progress and why.
The right gear for us was a small freestyle board
One board will do it all. From the first gliding to the first freestyle move or the first speed record, one board should and can do it all. The best board for kids is a small freestyle board. Because of the big volume in the tail, kids can sail in the straps almost immediately. Furthermore, the board should be light so that they will plane quickly, and once they start to learn to jump, it is easier. And they can carry the board by themselves 😉 The board should ideally also be shorter, making it possible for them to manoeuvre the board with less power. And it fits easily in the car! And last but not least, there should be enough footstrap positions so they can experiment with the perfect stance.
Did you know Starboard designed a board, especially for Julian Koldeweid and other small rippers?
Check out the 78l iGNITE
Fin
I noticed it doesn't matter a lot for kids which fin they use. They are happy as long as it works and is not sharp (to protect them from injuring themselves) and can handle contact with the bottom without breaking. The lightweight and lower kids' speeds make fins not so crucial as they are for grown-ups. Spinouts are rare because they are light and put less pressure on the fin. Any material, except carbon, is perfect.
A light sail for light persons
A light sail is very important. Try to find the sails produced for light riders and not the sails produced for kids only. Julian started making progress when he got the Severne XS-3 in 4.1. The sail is light, has a very light thin mast of carbon and a light aluminium boom. This sail made it possible to concentrate on learning to windsurf, instead of doing your best to keep the gear in control and out of the water. Also, these new type of sails make it easier to go upwind. Nothing is as frustrating to have to walk or swim every time you make some meters on the water. Many parents are afraid that the gear won't last. But that is not true. Although Julian upgraded his sails to the Severne freestyle Freek, he still uses the boom and the mast of the XS-3 4.1. Just because they are super light and strong too. If you want to start, start with a sail around 4.0. Kids can use this size from 0 – 20 knots in the beginning. While they progress, you can add more sizes to the quiver. After almost 3 years of windsurfing, Julian can be on the water in all conditions with just 4 sails: 2.5 XS-3, 3.3, 4.0 and 4.8 Freek.
Wetsuit, harness & impact vest
Last but not least, buy a good and warm wetsuit for your kid. Julian has tried several. For fall, winter and spring he prefers a 6mm wetsuit with hood from Ion, specifically made for kids (Ion Capture). In the summer he wears a 3mm from Hurley but for this upcoming summer, he will use a 4mm. As a harness, Julian prefers a waist harness with a lot of protection for the back and a lot of control and freedom, the best we could find is a Prolimit Rookie waist. Also buy some good shoes, with some good protection. Julian prefers split toe, as it gives a little more board feeling. Julian mostly likes to wear 5mm shoes, also in the summer. Besides it being warm, they also give some nice protection.
Protection
Talking about protection, finding the right impact vest is advisable. Julian's favourite one is the Ion Amp Junior. It protects against impact and keeps him afloat, which helps with waterstarts too. Besides that, it gives confidence when sailing in deep water. You will notice that kids fall with less impact than adults. This is because they are lighter, more flexible and the average speed is lower. In difficult conditions, foiling or when trying new stuff, Julian wears a helmet.
Final thoughts
For me, windsurfing has always been my biggest passion. And that I am now able to go windsurfing with Julian, is one of the best things that happened in my life. I hope more parents take this advice and spend a little money and start enjoying their passion with their kids. Windsurfing is freedom; windsurfing is connecting with nature, windsurfing is about sharing. Therefore, windsurfing may be the best thing you will ever give to your kids, especially in these times.  If you have questions or need advice, feel free to reach out!
Tip Number 3:  Kristian Oppedal "Kids need to decide that they want to get into windsurfing themselves and ice cream helps too ;)"
Introducing windsurfing to kids can be challenging. I sure made all the mistakes possible when I first introduced my passion to my kids. However we learned a lot from it, and now after I have successfully introduced three of my daughters to windsurfing I know exactly what works, and what does not work.
The most important thing is that the kids decide that they want to get into windsurfing themselves.
It is essential that they are in charge of their own process, they need to feel like it's their project and that they do it because they want to. A lot of parents force their own passions onto their kids, and this tends to not be sustainable at all because they are not doing it for themselves. However, if the passion comes from the inside the chances are high that they will be windsurfing addicts for life!
It is critical that the kids experience mastery.
Windsurfing is difficult to learn, it can be challenging and it can require a lot of hours on the water. So starting with small steps and goals is a very good way to go. If the kids then reach their goals and get the feeling that they're making progress it will lead to good feelings and more motivation for the kids. A very common mistake for people who want to introduce windsurfing to kids is that the goals are way too high. Going into something with too high aims whether it's jibing like a pro or becoming a world champion it can be very damaging for the kids because the feeling of not being good enough will trump the good feeling that windsurfing truly brings.
A good tip to all parents is to not be too concerned about windsurfing yourself. When introducing windsurfing to your kid the most important thing is the time you spend together.
What Kristian's daughters say about their dad's approach:
Thea Oppedal: 
When I was younger I didn't really like to windsurf because it was so cold and scary. However, my dad and my sisters continued showing me all the fun sides of windsurfing without pressuring me to start myself. When I saw how much fun my sisters had together windsurfing, I decided to start myself at age 16. Now I'm a fully committed windsurfer and have competed in both European Championships and World Championships. I'm grateful that everyone was so patient with me and that I got to start with windsurfing when it was right for me!
Tuva Oppedal:
My dad always had a focus on having fun rather than keeping everything so serious all the time. He also made me feel mastery, so I felt that I always made progress. On colder and rainy days we often got ice cream after our sessions to keep me motivated!
Tip Number four Raimondo Gasperini "Take them on windsurfing Holidays with other kids"
Based on my personal experience, I saw that kids just want to do whatever their peers are doing, but finding young guys who windsurf is sometimes not easy! For us, the solution and the winning formula was to take Giulio on vacations with me to Porto Pollo, Garda Lake etc. These spots are frequented by kids of the same age and we saw that it was super encouraging for Giulio to practice together with friends of the same age. Now that he has become passionate I think he will never leave windsurfing. I've already passed this piece of advice on to many of my friends and it has worked well for everyone. So, give it a try 😉
Tip Number five Ian Fox "It's all about having fun"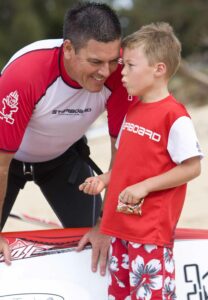 Big kids and small kids all like to play. And the more enjoyment and satisfaction anyone has, the better. That's why we're all doing it, right? Make the effort to keep every step of the way positive. Understand – and optimise for them (not you!) – as many of the variables as possible; equipment (properly scaled small gear makes ALL the difference) conditions (easy, safe, comfortable beach/water access/wind strength) – and super importantly, adult supervision has to focus on fun;  minimise frustration at every opportunity, both student and instructor! Keep their (and your) expectations realistic and achievable. Don't rush it. Give them time. You'll be surprised how fast they progress.
Windsurfing is a challenge, but attaining goals keeps kids (small and big!) coming back. Lots of smaller, progressive steps is a surer (and safer) way to ensure the younger generations get the opportunity to experience and enjoy the satisfaction that windsurfing gives all of us. Celebrate each small success milestone along the way. That reward of progressive success is what captures and develops everyone's self-motivation to keep coming back and advancing. That's a life skill, as well as a windsurfing skill too. And the more fun kids have, the more success will follow. Which is fun for everyone.
Looking for the right board to get your kids started?
Check out our top four recommendations of the best boards to teach your kids on.
The compact freeride shape for kids and adults to share. As a kid's board, the compact outline makes it easy to manoeuvre and handle. The centre fin on the GO 122 helps stay upwind and track in a straight line. For adults, remove the centre fin or retract the daggerboard, adjust the straps to their performance positions and unlock the maximum performance mode of the board. The soft deck is also ideal to make it comfortable to climb on and save your kids from getting scratches from the grip.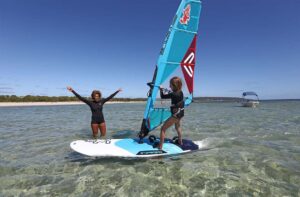 Rolls up in a bag and is easy to take to any beach day. Added benefit? It's also great to sup and play on. Learning on an inflatable adds safety and fun. Beginners and kids of any level just can't break the nose no matter how many times they fall, or maybe jump on it on the beach too! It's our favourite board to teach windsurfing on and enjoy Stand Up Paddling.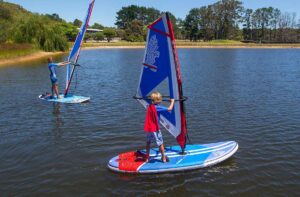 A bit more performance-oriented, the ignite 78L was first developed as a custom board for Julian Koldeweid. It was then tested and approved by Julian and Ron and is now in production for all the young rippers who want to take their windsurfing adventure to the next level! Light, fast and fun, with footstrap positions designed specifically with the needs of shorter legs in mind. The ignite comes with the promise of bringing stoke levels beyond expectations for you kids 😉
The 78 is for kids like me who always want to have fun. And because of the wider tail (39.9cm), it is super easy to get in the straps for the first time. Because it is only 200cm short, it is perfect for learning your first freestyle tricks. Wind or no wind, foil (it has a Foil Box!! 🔥) or fin, small sail or big sail, and even behind the boat, it just rocks!!
– JULIAN KOLDEWEID
For those of you looking for a one board solution and a clear path from entry-level windsurfing all the way up to performance foiling in the official World Sailing Youth & Junior class.
Using the fin option and daggerboard, it becomes the perfect beginner and progression level board. The transition from surface to air is extra easy with extra-large cutaways on the board. Even light riders can easily activate the foil for the smoothest transition into their first foiling flights.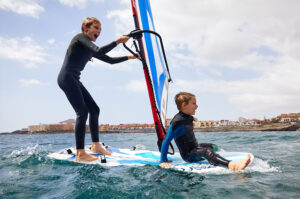 Looking for even more motivation to share your passion with your kids? Then check out this video where our Dream Team Share's the Stoke 😉