Dream Team riders Sarah-Quita Offringa and Oda Johanne is reunited for training in Aruba! Read their update from another Lovely Holiday in Aruba. Again.
Sarah-Quita: 
It's been about 6 months since Oda was stuck in Aruba due to the lockdown in 2020, but she ventured out to the Caribbean again and has been on island since January. Let me tell you, we picked up right where we left off from.
You think you can keep up with us?
A day in the life looks a bit like this:
On long days we go to the gym at 7:00am, we're on the water by 11:00 AM, after that, unless Oda prepared some home made bread, we usually grab some food on the road. Eduardo's hide out has the best mango curry!  And then to not waste time we take turns driving and eating so we can make it to the South Side of the island in time to catch the golden hour for a kite session from 5pm-7pm. 
And just when you think there's no energy left, we'll still join the tennis lesson with Dave, Debbie and Beer to end the day on a high. Neither of us want to miss out on any fun!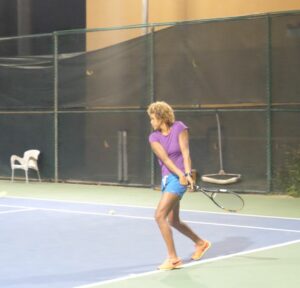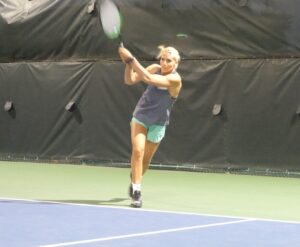 As always the main focus is freestyle but since Oda arrived so early in the season we've also put in a lot of hours into foiling on the lighter days. It's been a lot of fun training with the Dutch and Aruban team learning more about course racing. The down wind runs have become a lot of fun, and breaking our personal speed records is a big goal every time. Having said that we've also had to become better at catapulting. 
Foiling makes me feel like I'm starting from scratch again, which is the beauty of windsurfing, there's always something new to learn, and this new discipline has only been adding to the fun!
The provisional PWA calendar is out, but we're still waiting to see which events will actually happen. In the meantime, Aruba has something different on offer every day! Freestyle, slalom, foil, strapless kiting, surfing, mountain biking, tennis, team volley ball, beach tennis and chasing sunsets. Never a dull moment. Having said that, I hope every one is doing well under the circumstances and that soon we can travel, meet and share sessions again around the world.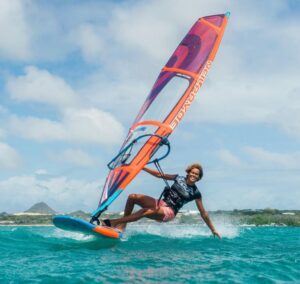 Oda Johanne:
As Sarah-Quita said, I was locked in Aruba last year, and that's when I realized Aruba has everything a windsurfer needs! The lifestyle here works perfectly for me. Combining all the different disciplines of freestyle, slalom and foiling with gym training, kiting and tennis is just what I am looking for. Besides that, I can work remotely from my laptop which is pretty cool!
I am from Norway and winter is great, but not if you are a windsurfer! You simply need to find a place to train with consistent wind! And my timing for Aruba was perfect. I arrived the moment the wind kicked in. I joined the Dutch and Aruba foil team on their last week of foil training here. Sarah had already trained with them for 5 weeks and I could see her great progress. Day one for me was pretty brutal! By a mistake I put a minus 2 shim on the back wing instead of the 0, which means lifting the board up was hard. Halfway into training I started to realized that foiling is ALL about setting up your gear perfectly! Day 2 and 3 I made sure to put the settings correctly and I also got to know my gear a bit more. I could finally start to enjoy and focus on progressing. It was hard to keep up with the team with less experience, but I told myself to stay calm and learn and much as I could from them. The game-changer for me was when we foiled along the whole island of Aruba from the Huts to Baby Beach. It was in total 85 kilometers. The dutch foil champion Huig foiled behind me and shouted some amazing tips for my downwind stance. Thank you Huig! That was all I needed to start pushing my speed. Team Aruba with Hence and Al as coaches kept the foil training routine and that has been amazing to join! Thank you Team Aruba!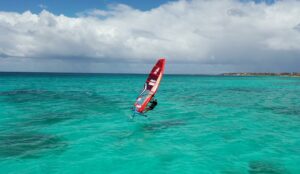 Foiling in light wind is magical, but foiling in high wind is also pretty cool! But also so brutal! As Sarah said, I have lost count of all the catapults. We take them daily when the wind blows perfectly for freestyle 4.4! Being a freestyler, it's hard for your heart to not freestyle when the conditions are great, but with all the days here we will always get enough freestyle sessions too. The main spot at Barcadera was really on fire for weeks! We can look back at a nice water shoot with Artmando Multimedia. Sarah is on the iGnite 93 and I am on the iGnite 87.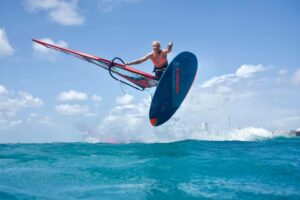 Apart from all the time on the water, I will say that the gym sessions are high lights too. We try to normally leave at 6:45 just to make sure we are done with the workout around 8:30. There is so much more we want to do during the day so we have to start early. 
Some of the best exercises we have done are pull-ups, DU with skipping rope, pump rowing, burpees, wall balls… We will normally do 4 rounds of 8 exercises. We both leave the gym happy every time with the effort we put in. Working out with a mask is the new normal, so you just have to get used to it! I thought I was passing out the first time, but you do get used to it! At this time I am just super grateful to be able to go to a gym!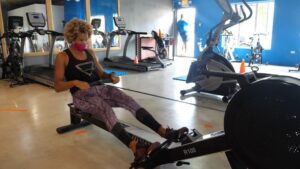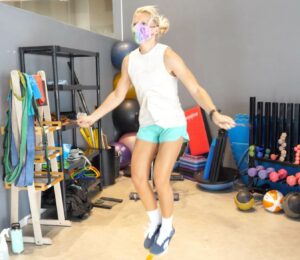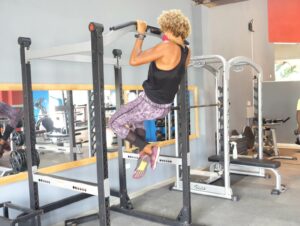 I am looking forward to be back competing on the PWA World Tour, but in the meantime, we keep sailing and training! Can't wait to see more happy windsurfers on the water all around the world soon. Take care!
Photos: Robin Paul Photography and Artmando Multimedia.