After a successful PWA slalom event in Israel, we also witnessed amazing racing in Garda! This time it was up to the youngsters to battle it out on the racecourse. In this article, you will meet the future of our sport! These are the youngsters who are pushing hard to become pro windsurfers, and they are the next generation of slalom racers! It's always exciting to follow Starboard riders from the beginning of their careers and see them on the PWA World Tour and iQFoil class later.
We asked the fast Turkish girl Elif Ercan, French sailor Benoît Merceur, and the Danish ripper Jonas Thyme about their windsurfing life and how it is to be a young and upcoming sailor competing in racing.
Benoît Merceur

BROKEN TENNIS RACKET
My name is Benoît Merceur, I am 19 and I live in France near Bordeaux. I am studying in Brittany, where I train most of the time. I tried a few activities before windsurfing, such as tennis, but as I broke my racket every time I lost a game, I concluded it was not for me.
Then, at eight years old, I tried windsurfing for the first time in Brest as it is a family sport. I immediately liked it and I went on the water every day that summer.
I LOVE TO COMPETE
For the last eleven years now, I am practicing windsurfing as much as I can, especially slalom windsurfing.
However, what I like is competing. I compete in two categories: iQFOiL and slalom. And at the end of June, I did the IFCA slalom youth world championship.
The regatta took place in Torbole, Italia. We had four great days with wind around 10-17 knots. I used the Starboard iSonic 83 and the Severne 8.6 Mach. Lucky me this is my favorite combo for these conditions. It was perfect!
WORLD CHAMPION
On the first day, we did one race in 15 knots, where I ended second. The day after we did three races in lighter wind, maybe 11-13 knots. I won two races out of the three and I ended second at the last one. During the two others days, we did two more races, and I was second. Finally, my consistency paid off as I won the event even though I only won two races.
This year, I will try to do the Youth European championship in Austria and all the stops of the French tour. If I can, I would like to take part in a PWA event in Europe.
For the future, I hope to continue racing at the best level I can. I want to keep riding Starboard and Severne as I have a really good feeling with the gear and the people of the brand.
My goal for the next few years is to do some PWA events, and to continue having fun every day on the water!
Follow Benoît on Instagram, click here.
Jonas Thyme

DREAMING OF A LIFE ON THE ROAD
I'm 20 years old and I've been windsurfing for the past 10 years. When I was about 7 years old, I got into skateboarding, so it felt very natural for me to bring that feeling onto the water. My dad was windsurfing when he was younger and then he picked it up again when I was about 9 years old – and of course, I also had to try! I was immediately hooked on the feeling of flying over the water and windsurfing quickly became my new passion! Everyone at my home spot was slalom racers, so that also became my favorite discipline. I did my first competition one year after I started. I barely made it around the course, but I still remember the happiness I was feeling on the way home. 5 years later I took part in my first international competition, and ever since then I have been dreaming of a life on the road windsurfing around the world, having fun on and off the water and making new friends in the windsurfing community.

FOCUS ON WINDSURF BEFORE UNIVERSITY
My highest goal is to become a professional windsurfer! Last year I finished high school and now I have a few gap years to focus on my windsurfing career before I have to balance windsurfing and university. Therefore, I'm doing as many competitions as possible including the 2021 IFCA youth world slalom championships in Garda. I came to the competition full of excitement. I didn't know what to expect in terms of a result as it has been a long time since we last competed due to the pandemic.
LAKE OF GARDA
I came to Garda four days before the event to train. My 85 iSonic was feeling super-fast combined with my MACH4 8.6. I started to get high expectations for the event. During the four days of racing in Garda, we had some tricky conditions with shifting wind and big holes around the course. This is not my strongest side as I normally would be foiling in those conditions. Luckily it is the same for everyone and I kept on pushing and keeping a positive mindset. My results were steady in the top 10 and I even won an elimination on the second day of the event! WOW – I was happy about that!
PODIUM AND PWA DREAMS
After four days and six eliminations, I finished the event in 3rd place. I'm really happy that I made the podium in my last year in the youth division. Especially after such a long break from racing. It is that kind of result that keeps me motivated because the feeling you get after a long event that ends with a great result is amazing. The next step for me is to keep on training, improve my speed and hopefully establish myself among the pro guys on the PWA world tour during the rest of this season and the seasons to come!
I look forward to meeting the windsurfers of the world during my travels and competitions. Last but not least I would like to thank Starboard for being an incredible brand and sponsor!
Follow Jonas on Instagram – click here!
Elif Ercan

STARTED IN ALACATI
I started windsurfing because of my sister and my cousin. In the summer they wanted to try an extreme sport. Because of our location in Turkey (Alacati), they started windsurfing. At first, they didn't want to accept me to the club because of my age, but then later they accepted me. In the beginning, I thought that windsurfing was just a hobby, but then it became my passion. When I was 8 I said to my trainers that I will be the world champion and they all laughed at me because I wasn't even wearing a harness. I started working hard when I realized I wanted to do this sport as a job. I am training so much because I'm in love with the feeling of my board touching the water. Before I started racing I was on the water every day. In the mornings I came to the club before anyone else and I finish my training after everyone. I spent so much time on the water because I was so ambitious. At the time I started racing I also started windsurfing during winter every weekend and I started doing gym sessions 3 times a week.
TRAINING EVERY DAY
My first official race was also in Lake Garda in 2018. In u15 I finished 3rd when I was 11 years old and all my trainers were shocked. Now my training is so much harder. This year, due to the pandemic and online school, I was in the water every day also in winter. We trained like crazy before the World Championship. We spent so much time and energy, but it's all worth it now. I became the World Champion in u15 and u17 this year.
AN OLYMPIC DREAM
9 years ago I started windsurfing with Starboard and I am still using Starboard. I am so happy with the boards. Now I'm not only doing slalom. I also started racing on iQFOiL and now my goals are so much higher. My plan is to go to the Olympics and taking the Olympic title. This goal will be much harder, but I will do my best!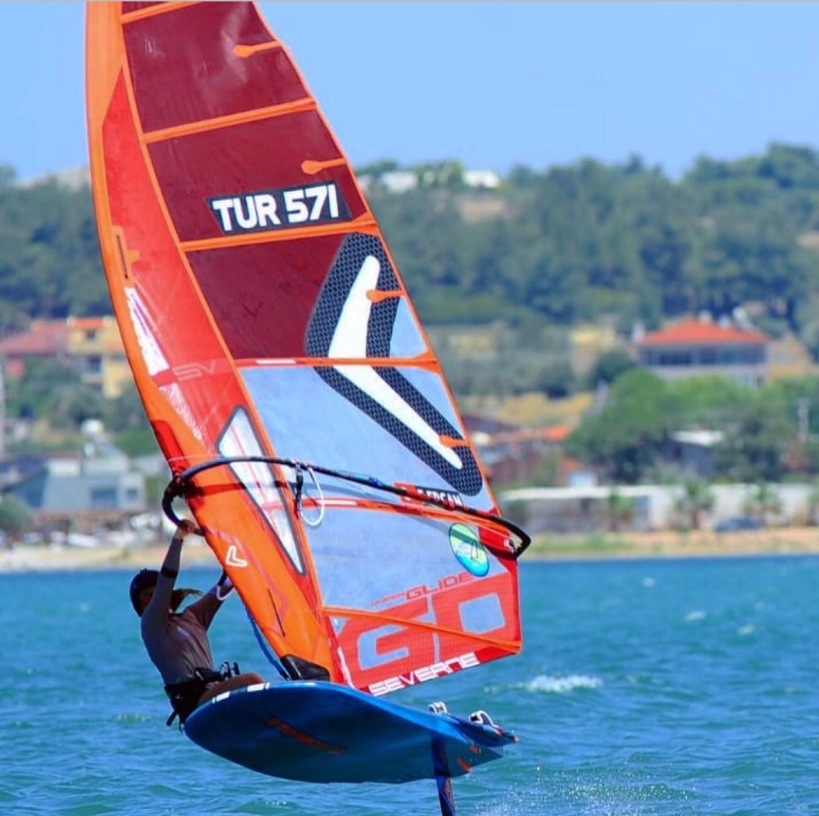 Follow Elif on social media, click here.
Photos by: Jan Nielsen, Circle surf Torbole/IFCA class and Tevfik Goktepe