Back in action
After a long PWA World Cup break of 18 months, we could finally see our Dream Team race again! The PWA event in Slalom and Foil was confirmed some weeks ago and our team headed out to the Sea of Galilee in Tiberias. The riders met up for the skippers meeting at 1 pm and around 2 pm the wind kicked in! The wind machine was on and the riders had to be ready with both foil and fin until 6 pm. Due to the tricky conditions, it was crucial to pick the right equipment. With the fin, you would maybe be faster in the strong gusts, but in the wind holes, the foil had a big advantage.
Fin or Foil?
This was the first event where the men had to make their own decision to use fin or foil, while the women had separate contests, either foil or fin. Out top rider Sarah-Quita Offringa won the Slalom racing ahead of Marion Mortefon and Delphine Cousin Questel. Blanca Alabau took 3rd place in the Foil category. Out best male rider was Matteo Iachino that unfortunately dropped from 3rd place to 7th place on the last day of racing as he gambled on using the fin instead of the foil in the tricky conditions. Keep reading our team riders' event report below.
Blanca Alabau
Overall the organization was amazing! Tricky conditions but luckily I have trained a lot in high wind on my foil gear! My goal was to end up on the podium so happy with that! I know I can do better, but it's a good start with 3rd place. In slalom, I had some amazing fights with the fast girls. I like the feeling of slalom and will train a lot of fin and foil in the future!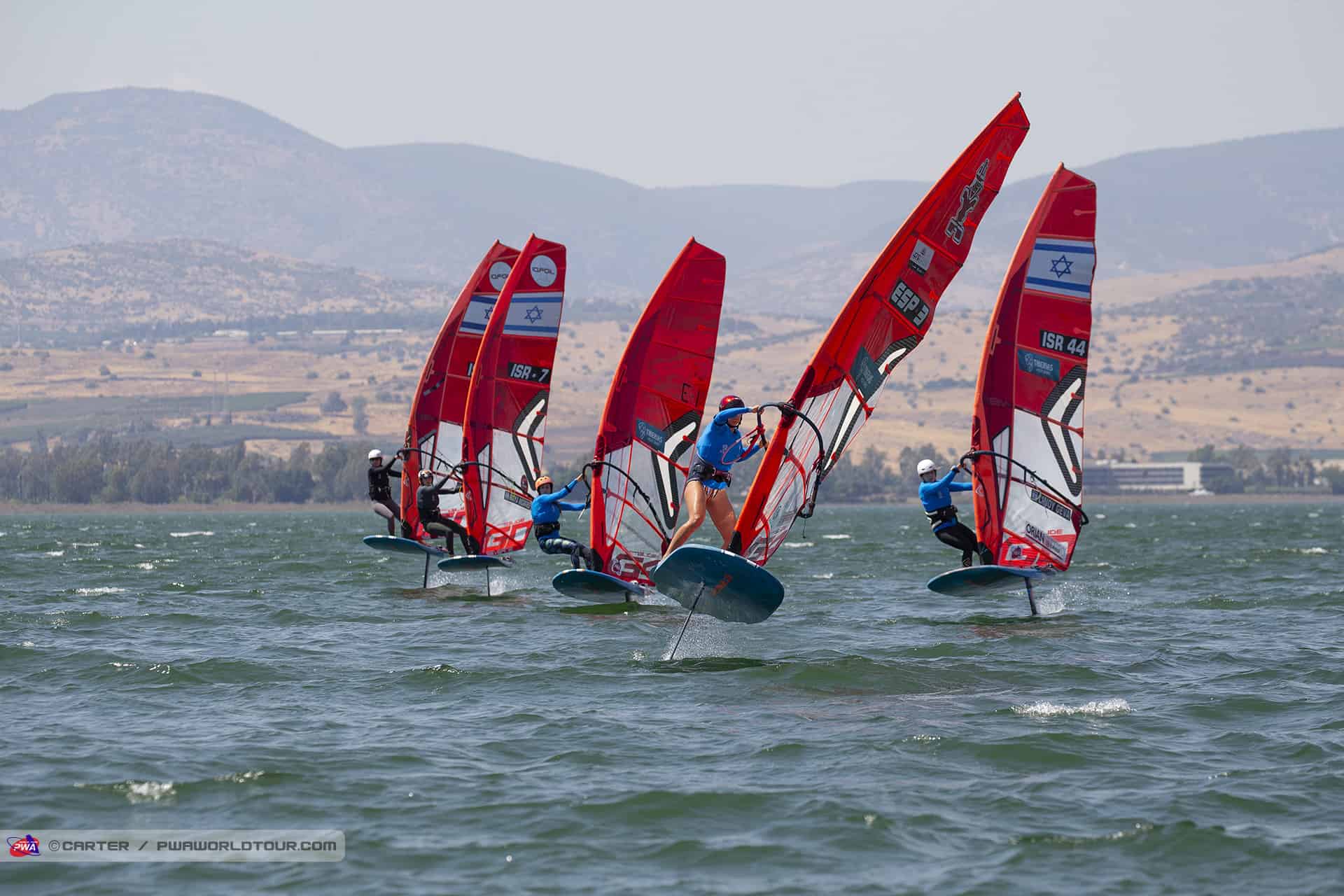 Sarah-Quita Offringa
Finally back on tour! The confirmation of the event in Israel came a bit unexpected, but once I made it there, the adrenaline kicked in. I was so excited to go down the racecourse again with the best women on the planet! For slalom, I sailed my 72 iSonic in every race and for foiling I sailed my iQ foil board. It was a very challenging spot and the wind was very unpredictable. It would pick up in a blink of an eye, so equipment choice was crucial!
The event turned out to be a total rollercoaster ride for me as I started off winning the first two races but then there were 2 crucial moments/mistakes where I had a crash on the foil that left me a bit rattled for the rest of the day and the day after I went over early in the slalom race # 4 which I could have discarded otherwise. So it took some mental power to pick myself up and keep pushing on day 4 where ultimately at the end of the day I bounced back with 2 more race wins. In the end, I won the slalom event which is an amazing feeling. And as for foiling, I feel like I'm getting the hang of it and enjoying it more and more. It was a total highlight winning my first foil slalom race on the final day and jumping from 9th to 4th place because of that. Can't wait to see what the rest of the year has in store for us!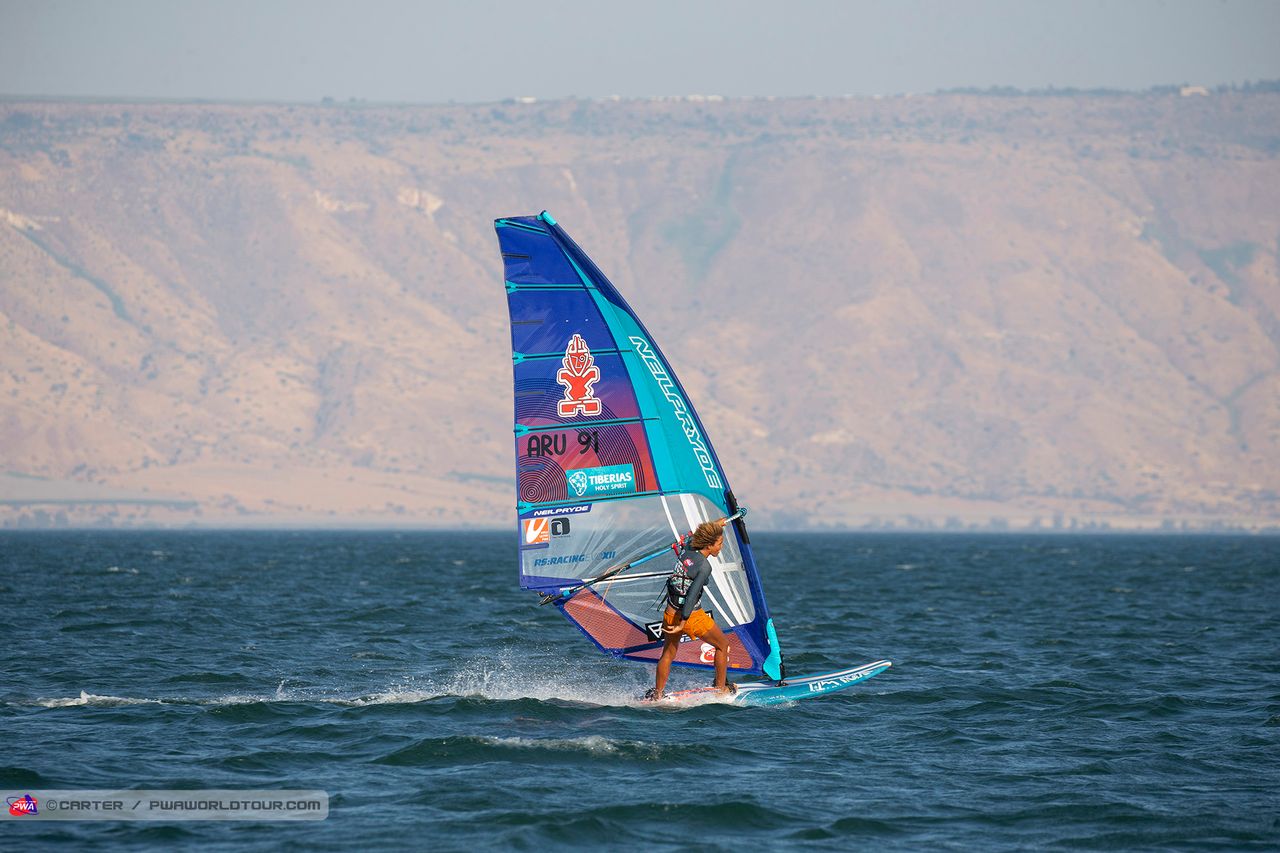 Oda Johanne Stokstad Brødholt
Finally back on tour after a long break! The excitement of training before an event was the main thing I have been missing! The event started okay, but my best heats got canceled and I also got a bit too excited about hitting the start perfectly and went over early. On the 4th day, I did too many mistakes and lost some good races in the end. On the last day, I wanted to try and win a race! But being ahead definitely put pressure on you so at the 3rd mark with a good margin I wanted to save the gybe and went easy into it. But I fell and dropped down to a 3rd in the last final. Overall the event was great with wind every day and my speed was super good! Just too many mistakes here and there had big consequences. Learned a lot and looking forward to seeing what the rest of the tour will look like! I'm ready for more racing for sure!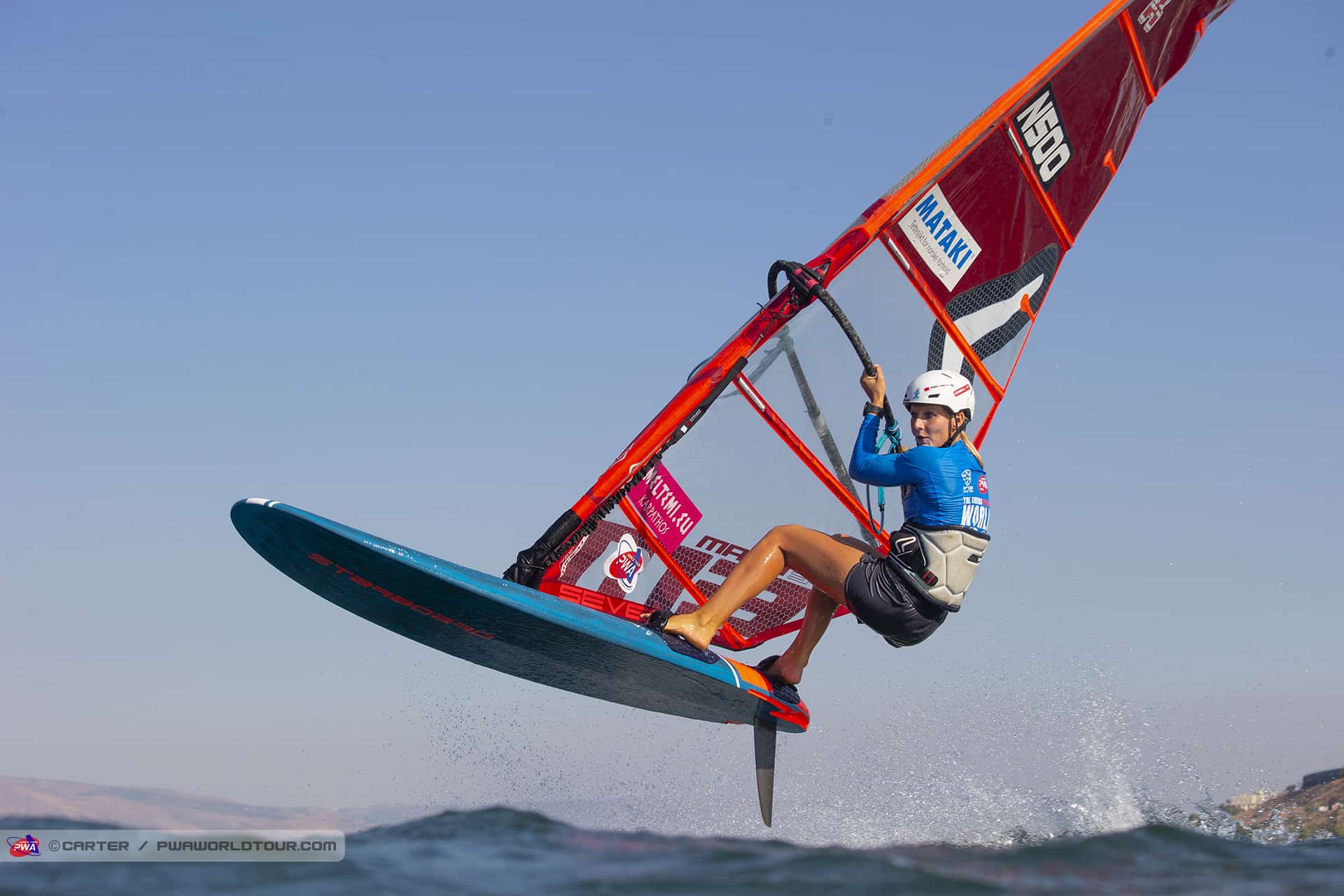 Matteo Iachino
The competition was weird for us as it's the first time we can choose between fin and foil. I expected something different. I was ready to foil in 5-18 knots and then be on the fin in stronger wind. But then I had to try to make the right decision when we competed in 7-27 knots. I was not ready for that for sure. I am still happy to manage to get a 3rd in one final using the foil. I also did a mistake and went on the fin and was in a good position until I was stuck at a mark. And the foilers passed me in the wind holes. I also had some unlucky moments. I hit a piece of wood in the water and catapulted. Also, two riders crashed in front of me and there was no space to get around them. Some bad luck combined with a couple of mistakes was my competition. On the bright side, I am only a few points from the podium. So I feel I am up there and will work on my weaknesses and get stronger for the next World Cup!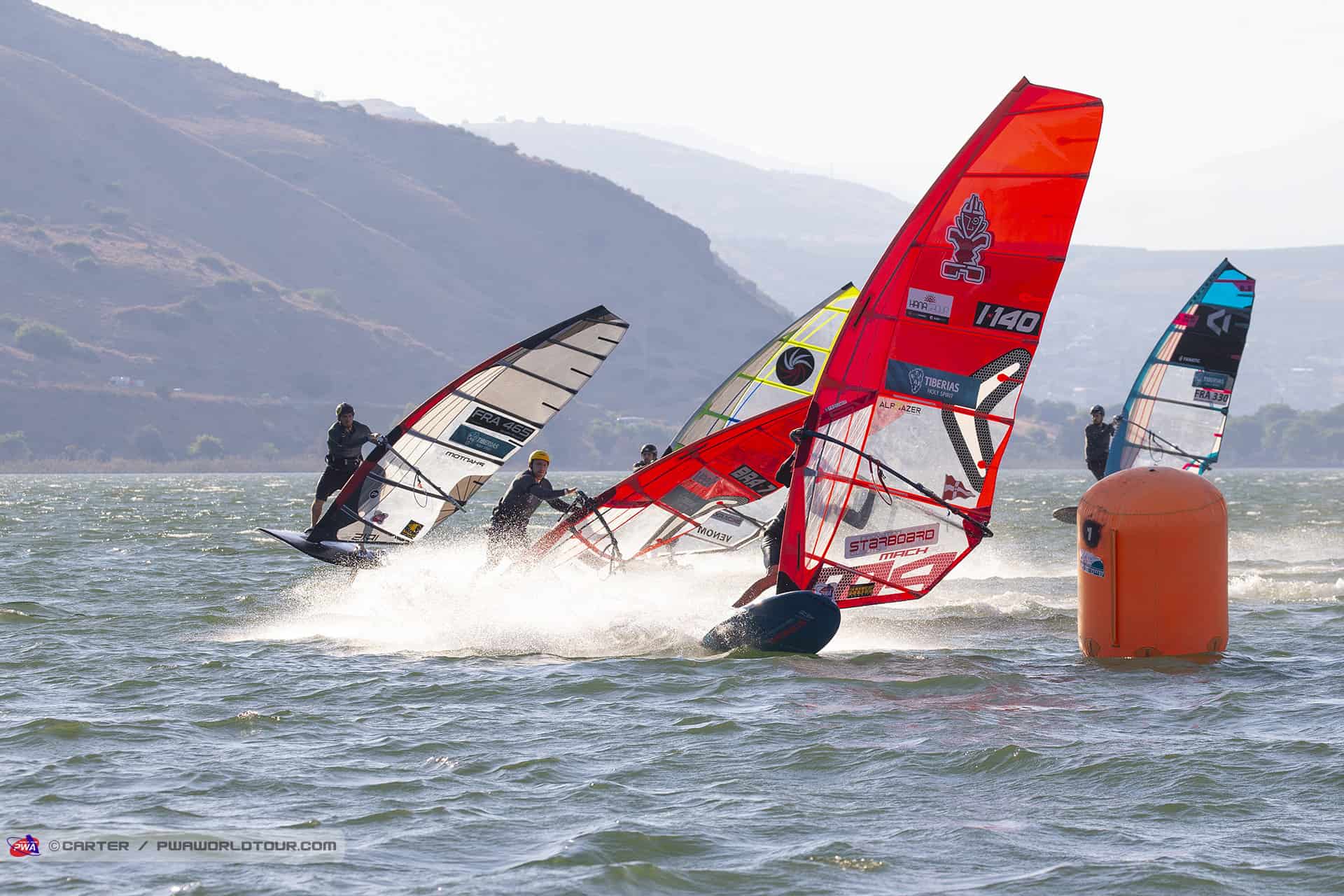 Martin Møller Hovda
For sure not my best performance so far on the tour, but the reason for that can be that I did not expect to be foiling in this strong wind. I was training a lot of foiling in lights wind, but due to the wind holes I had to foil in stronger wind, so lack of preparation for that might took me down a bit. I know what to train and I learned a lot. There are small things to be done. My speed and starts are good! I used the iSonic 72 and the Foil Slalom 91. I used the Starboard Evolution foil – It was super good!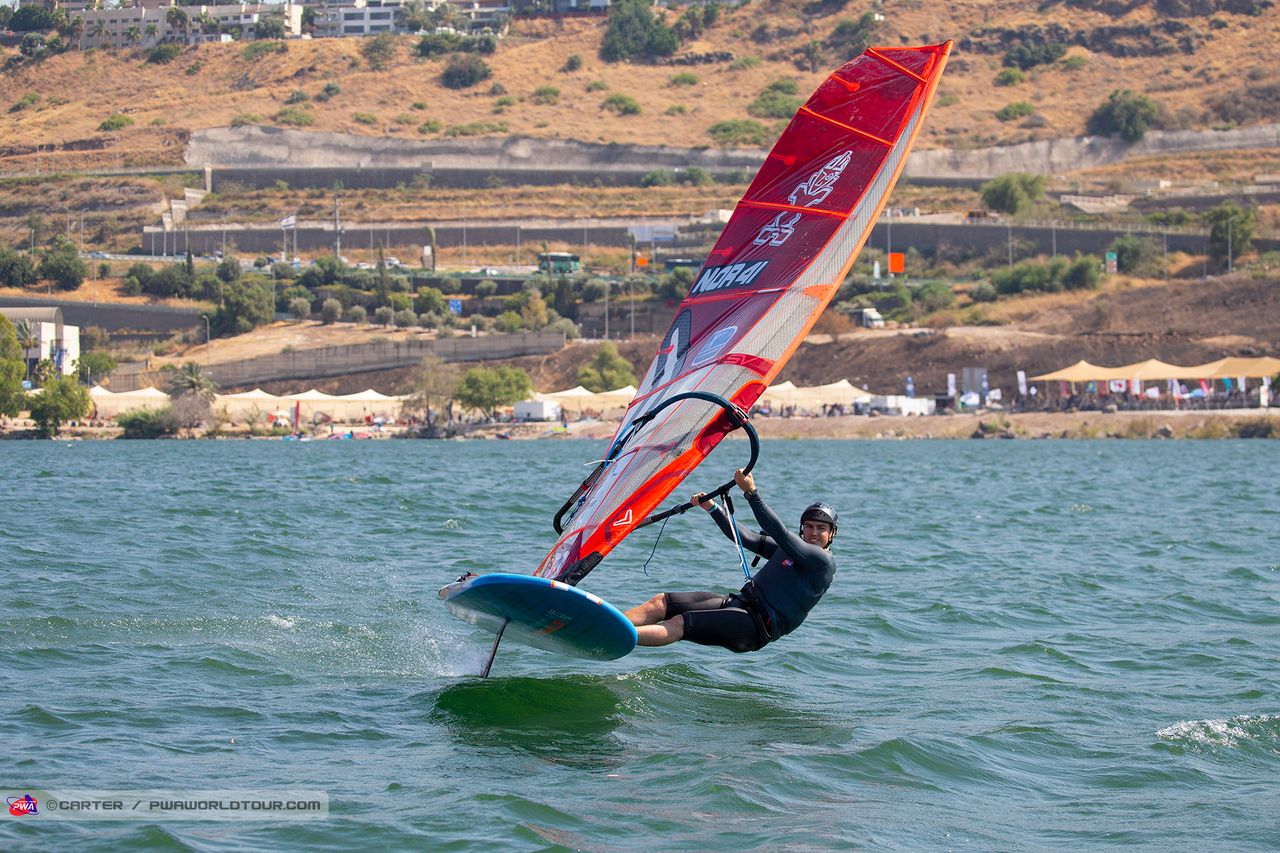 Gunnar Asmussen
I enjoyed the warm temperatures and windsurfing in shorts in Israel. Been there for 10 days and it was always windy every day! That was my first competition after my back surgery, really difficult for me, especially because of the conditions. 5-35 knots was not what I expected and those conditions are even harder for me. Very disappointed about the result, but I know what to do. Big thanks to the organizers and everybody behind the event to makes this possible!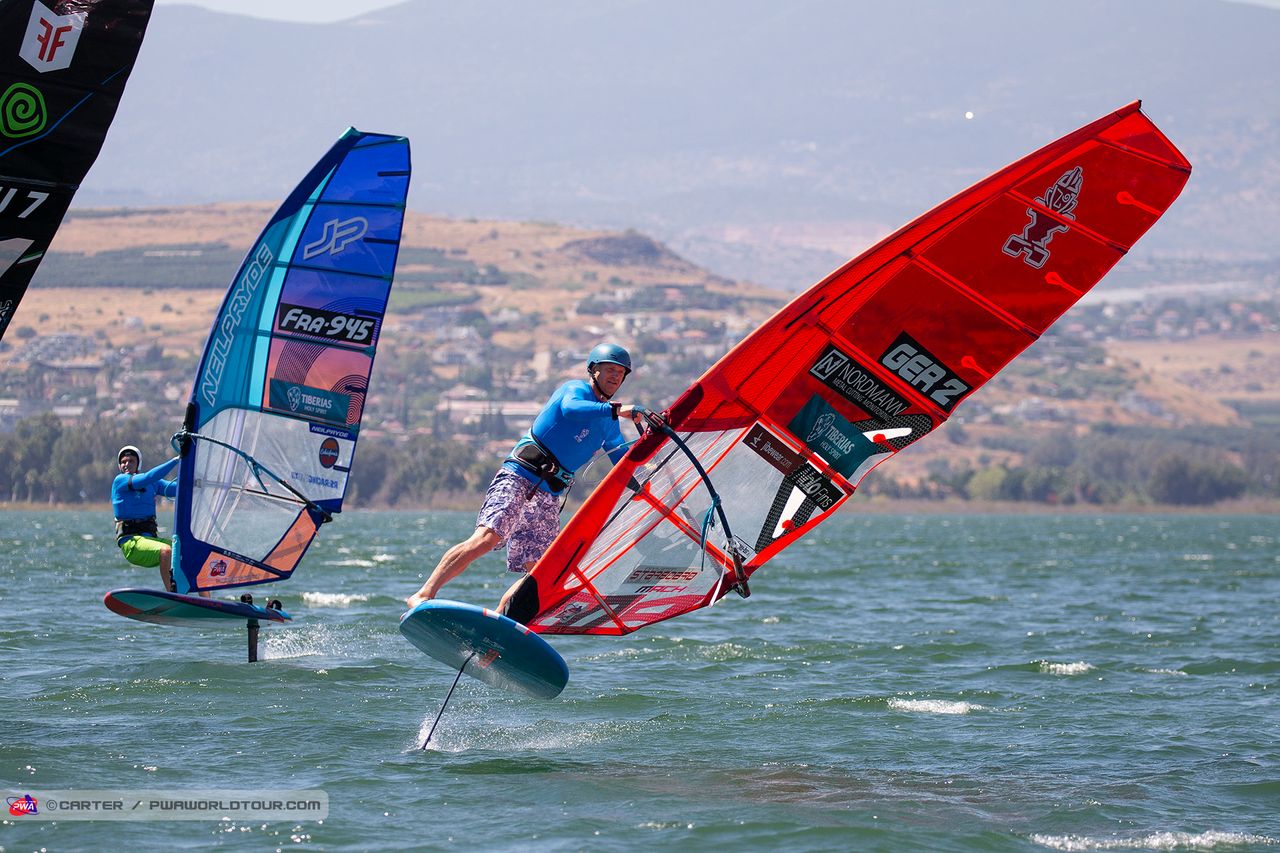 Mateus Isaac
The competition was really good! So happy to compete after so long! It was my first mixed fin and foil contest. Hard to decide what gear to take. I was happy that I had some really good moments, but not happy with my result. So looking forward to the next race contest!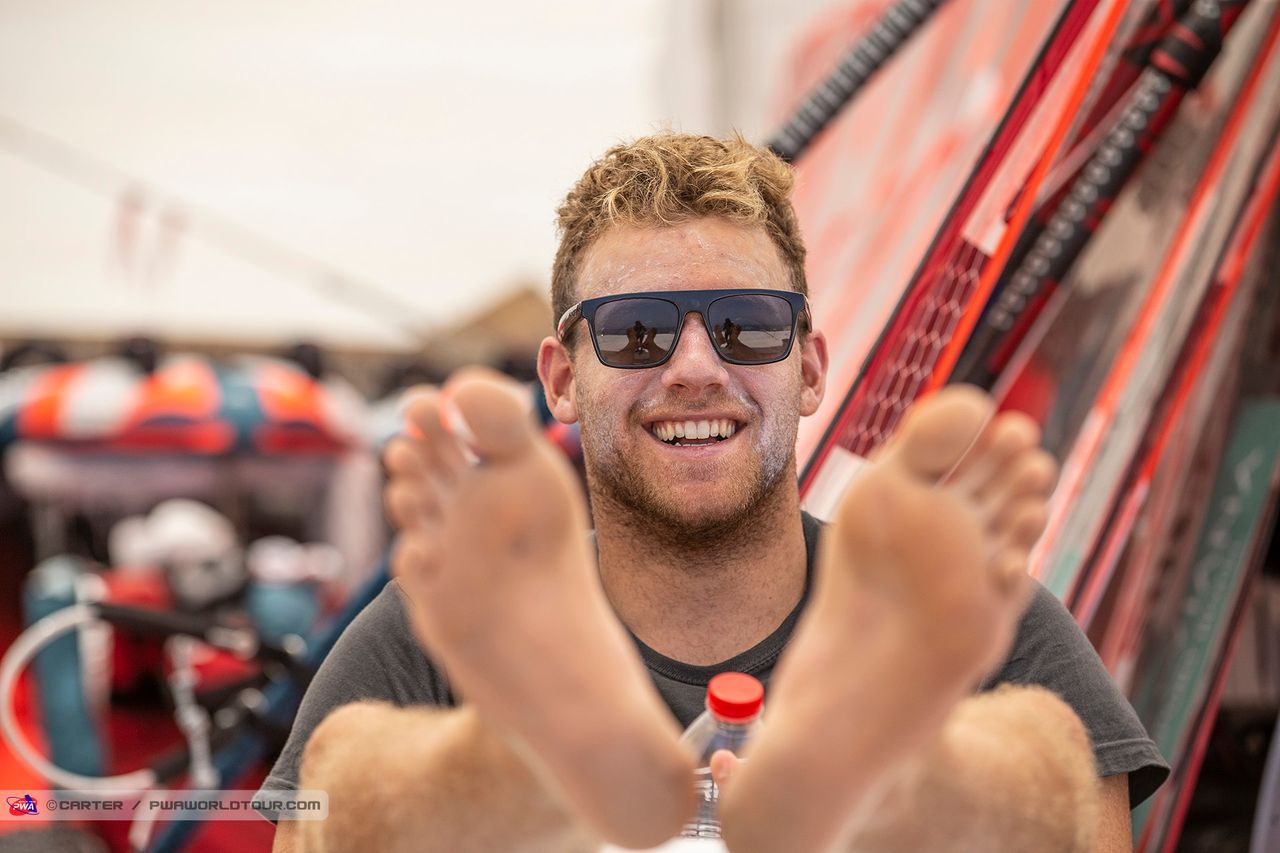 Nico Prien
My best contest so far ending up in 11th position! I made it to 3 winner finals and 2 loser finals. I used the Foil Slalom 91 in all the heats except one heat when I used the iSonic 73. It was a good choice in these conditions. The Starboard foil was working really well for me! It was 34 degrees in the morning and no wind, but at 14:00 the wind kicked in every day. So it was just to be prepared for strong gusts. I decided to foil most so I could get through the wind holes. It was impressive to see how well the foiled worked in these conditions! And that was the reason I only used my fin in one heat.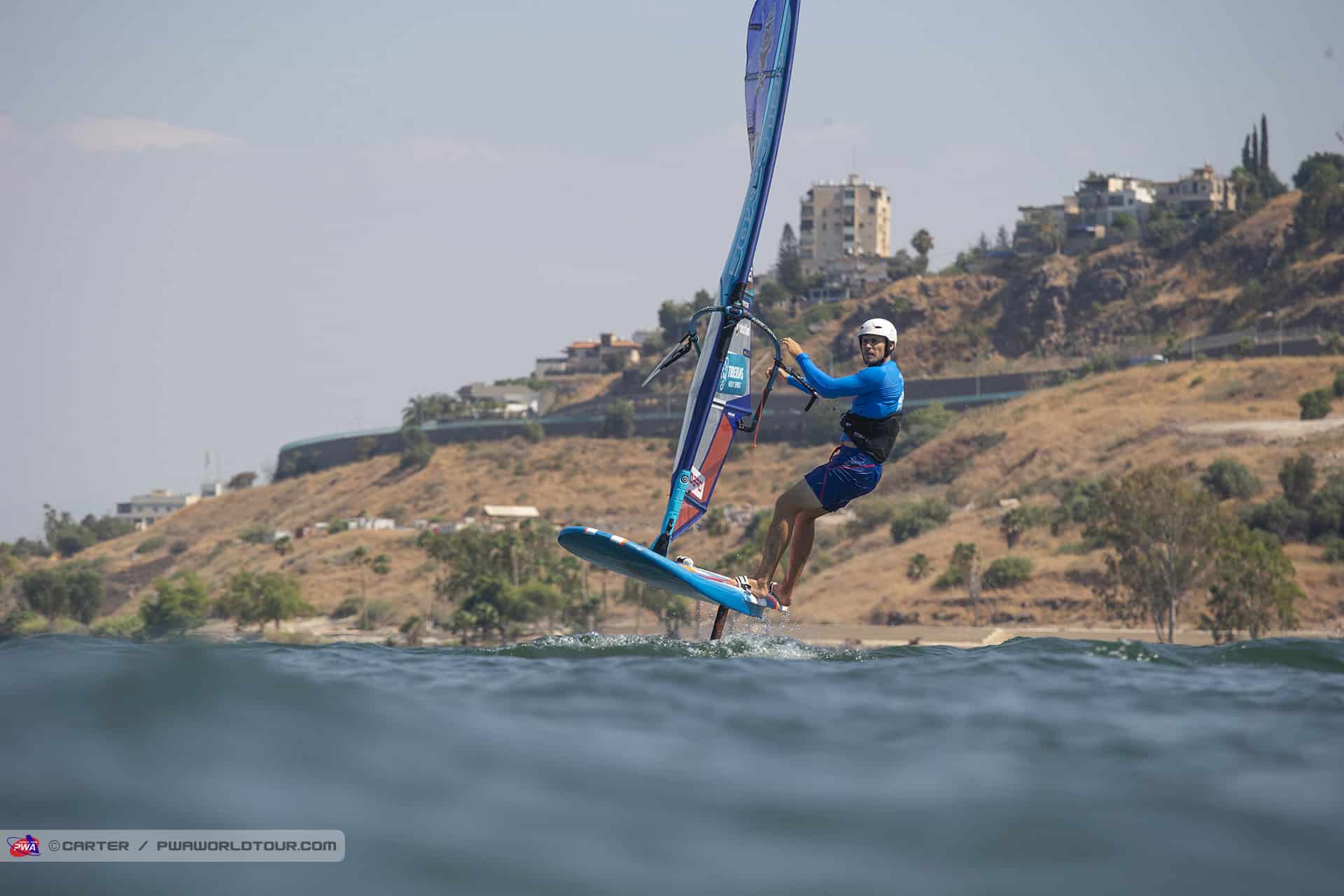 Sebastian Kördel
It was great to race everyone again! To have an event again was a dream. Just to see where the level is! The foiling was dominant in these conditions. The foil has a huge advantage in the wind holes. For me the racing was okay. I got 13th place in the end. I did too many mistakes to get into the top, and I also hurt my knee which was not ideal for racing, but it kind of worked out. I feel I have more to show and I was also not ready to foil in high winds. I have trained more light wind foiling, so I know what I have to work on now. I will do my best to come back stronger to the next event!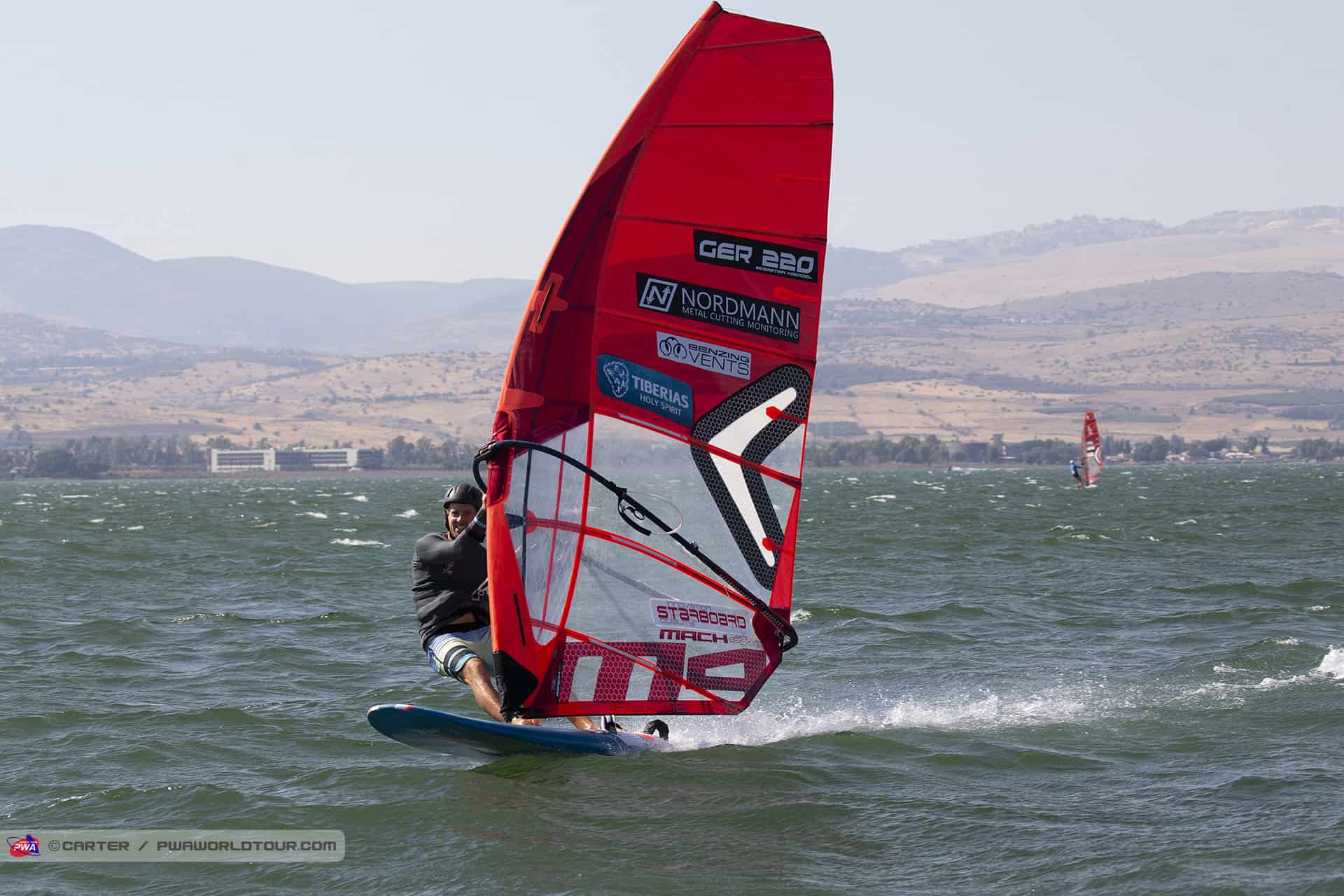 Babou Benjamin Augé
Finally back racing again! About time! It was not the best result with 24th place, but the most important is that I feel I have improved a lot. Especially on the foil! I still have a lot of work to do to be better in high winds. I could not train as much as I wanted before Israel, but the speed is there, but some mistakes placed me outside the top 20 for this time.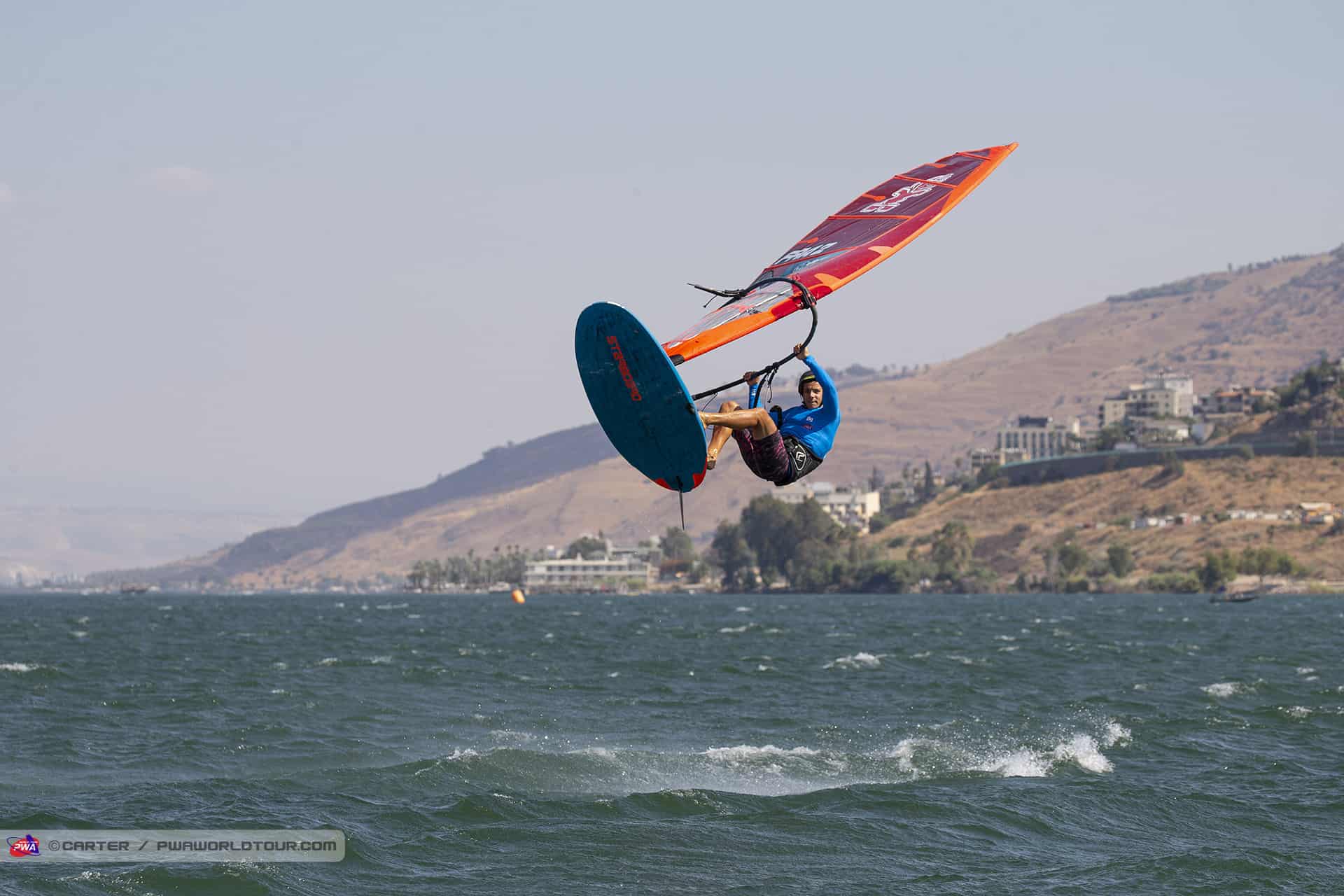 Cyril Moussilmani
Tricky racing! But being back racing was great! I will train more for high wind foiling now as I see the advantage of using the foil in tricky conditions.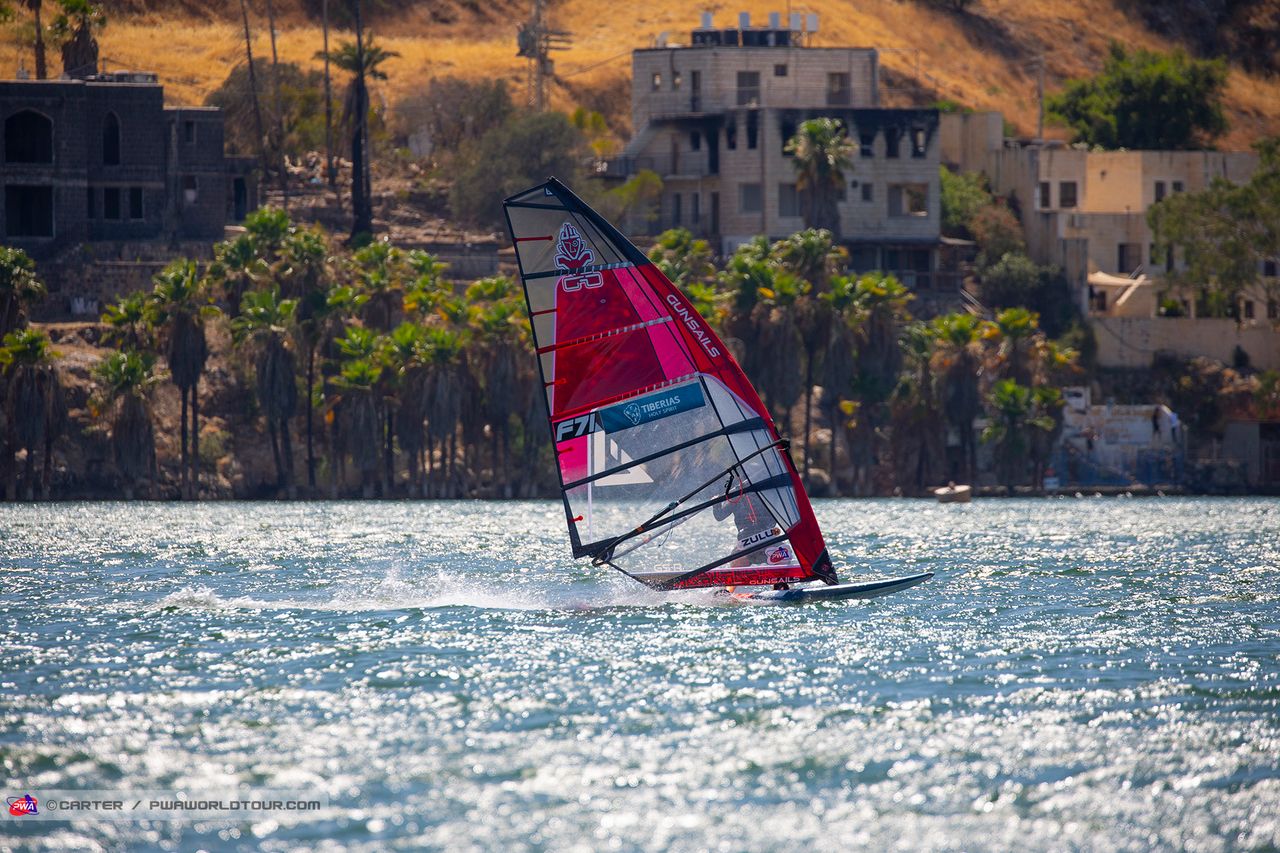 Results:
Women's Slalom
1st Sarah-Quita Offringa
Women's Foil
3rd Blanca Alabau
4th Sarah-Quita Offringa
Men's Slalom
7th Matteo Iachino
Photos by JC/PWA