Jaeger Stone finally won his first world cup on tour, having come so close on a couple of previous occasions. The Australian laid down his highest scoring heat in the winners' final – 23.75 points – which was the second highest of the event to deservedly claim his first win on the world tour. That victory sees Stone climb 3 places in the overall rankings into second place and he is now Ricardo Campello's closest challenger, although Philip Köster is not far behind.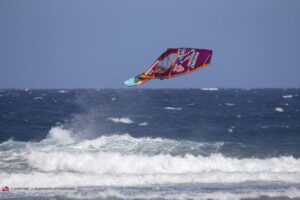 "I'm really happy to win my first PWA event in Tenerife! We were on hold for the majority of the week but thankfully we got the opportunity to compete on the final day of the holding period in fun Cabezo conditions. I used my 5.2 S-1 Pro and 79 AIR in my Round 2 heat and then used my 4.4 S-1 Pro and 2020 76L UltraKode for the remainder of the day. My main priority was to just try and enjoy it because every heat is tough and I knew it was our only chance to finish the competition. It's starting to settle in now but to win is awesome and I'm glad I made the most of all my opportunities!"
-Jaeger Stone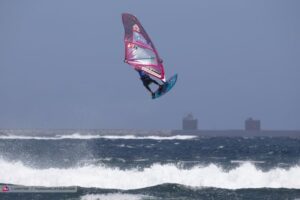 Sarah-Quita Offringa with a massive stalled forward in the last heat to secure 3rd place on the Podium. In the air with her 86L UltraKode.
.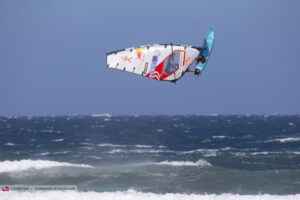 Philip Köster with a double forward loop. Philip ended up in 3rd place in Tenerife and is currently 3rd overall in the Wave World ranking.
Words by PWA and Jaeger Stone. Photos by John Carter/PWA.