We caught up with the French duo Benjamin Auge and Esteban de Cruz in a Starboard interview. Benjamin Auge (24 years old) competes in the PWA slalom world tour and Esteban de Cruz (15 years old) travels the world around with his dad and Benjamin. Together they enjoy time on the water and they both started windsurfing at their home spot: Le Jaï (France) where the first PWA world cup for 2020 will take part. 

Hi Benjamin! The first PWA event of the year will be in France, at your home spot Le Jai. Do you think that is an advantage for you since you know the spot? And which iSonic´s are you using for the upcoming season? 
I am sure the top 20 ranked PWA sailors have already been to Le Jaï to train, so I don't think I have an advantage in that way. But all I can say is to bend your knees at jibes. It can get very windy and choppy here! Le Jaï can be really strong and cold at this period of the year. However, almost every wind direction can be good as well for this spot.
For the upcoming season, I will ride on the iSonic 60-67-77 iSonic. Check out this link to get more info about my iSonic choices. 

You are most known for being a slalom sailor on tour, but do you also sail the other disciplines? 
I am mainly sailing slalom and foil. But when I have time I really love to go wave sailing. Even if my skills are really low in the wave sailing I am really enjoying it! Indeed, wave sailing is something I love because you give up the competition side and the feeling to ride waves is crazy. By the way, I improved this winter with my UltraKode 80L. Also riding with friends and family is always a pleasure with wave sailing, and even better on foil! About the freestyle, I tried the 2020 Starboard iGnite and I was impressed by the board. I landed some vulcans on it!
What do you think of the new PWA Foil slalom rules – Are you ready for that change? 
Everybody should be excited to see what will happen with this new format for sure. I didn't foil too much recently. It will be interesting to see who is capable to beat guys on the fin or not.
 
You sail a lot with the young French windsurfer Esteban de Cruz. Do you help him to improve his windsurfing? 
We met each other in Le Jaï two years ago. I asked Estebans´s dad if I could take his son out on the water on a tandem board while his dad Eric was taking photos of us sailing. After this day we realized that we could do fun trips and windsurfing things together as Eric is a photographer. Since then we have had a lot of fun together!
Of course, I give some advice to Esteban, but once we are sailing in waves he now gives me some tips…hahaha… Together we went to Corse, Israel, and Turkey. And we already planned new trips in 2020! It´s going to be an exciting year!
Doing windsurfing trips like this is something really different from racing in the PWA World Tour. You discover their culture, the local food and much more… And you have fun. While when you are in competition mode you don't t really take your time to enjoy the place in the same way.

Hi Esteban! How did you get introduced to windsurfing?
I started doing motor-cross but then my father introduced me to windsurfing, which brought me just as much adrenalin but without the fear of major injury that came with doing motor-cross.
My introduction to windsurfing was a two-week course at my local club, CNM, in Le Jaï. After this, I was able to start progressing on my own.

How is the forward loop training going?
I started trying forwards in Fuerteventura last year and managed to progress quite well. Once I'd got over the fear of trying them, I just needed to remember all the phases that you need to do in a loop, like turning your head to see where the landing is. I had to spend quite a lot of time before I felt comfortable doing them on both tacks!

You are a young kid who can foil, sail slalom, wave and some freestyle. What is your favorite board and discipline?
I started with slalom sailing, where I had some podiums in the French league. Last year I was ranked second at the regionals before I stopped slalom sailing to focus on wave sailing. Slalom taught me to go fast in all conditions and it helped me in the waves. The speed I am getting helps me to jump really high and turn well.
I love my UltraKode 65 as it really suits my riding style. It's does everything well. It´s super good for surfing, has enough volume to go quickly and gets through the waves easily! I also like to go foiling and spend time doing a few tricks on my iGnite freestyle/freeride board.
I like the versatility of windsurfing and choose the best discipline to suit the conditions, which means I get to sail all the time.

Not everyone has a dad like yours. Your dad takes you on trips around the world so you can train windsurfing. How is that for you and do you bring your school books with you on these trips?
You are right, I am very lucky to have a father who has been totally passionate about windsurfing since he was 16 years old. It also helps that we live near great windsurfing spots in the south of France!
However, you can live your passion and progress without all the help, as this was the case with my father, who started sailing alone on the Lake of Créteil (Paris)!
I see a lot of passionate young people around me who stop attending traditional school and take correspondence courses so they can follow their passion. For me, it's the other way round, my priority is to work hard at school and organize my schedule so I have as much time as possible to sail and go on trips around the world. That´s the deal!

What is your advice to kids who want to start windsurfing?
My advice is to join your local club as they will have good equipment for learning and will be able to help you progress faster so you can begin to enjoy sailing alone also. I am also recommending to try all the windsurfing disciplines so you can choose the ones you like the most. Push yourself to windsurf in lots of different conditions as that really helps you progress. Finally, working hard and doing well at my school work really helps in motivate my parents to pay for my equipment!
What is your biggest windsurfing dream?
Charging Big like Thomas Traversa, and being World Champion!

What is your favorite Starboard board?
My UltraKode 65L and also the whole iSonic range for going fast!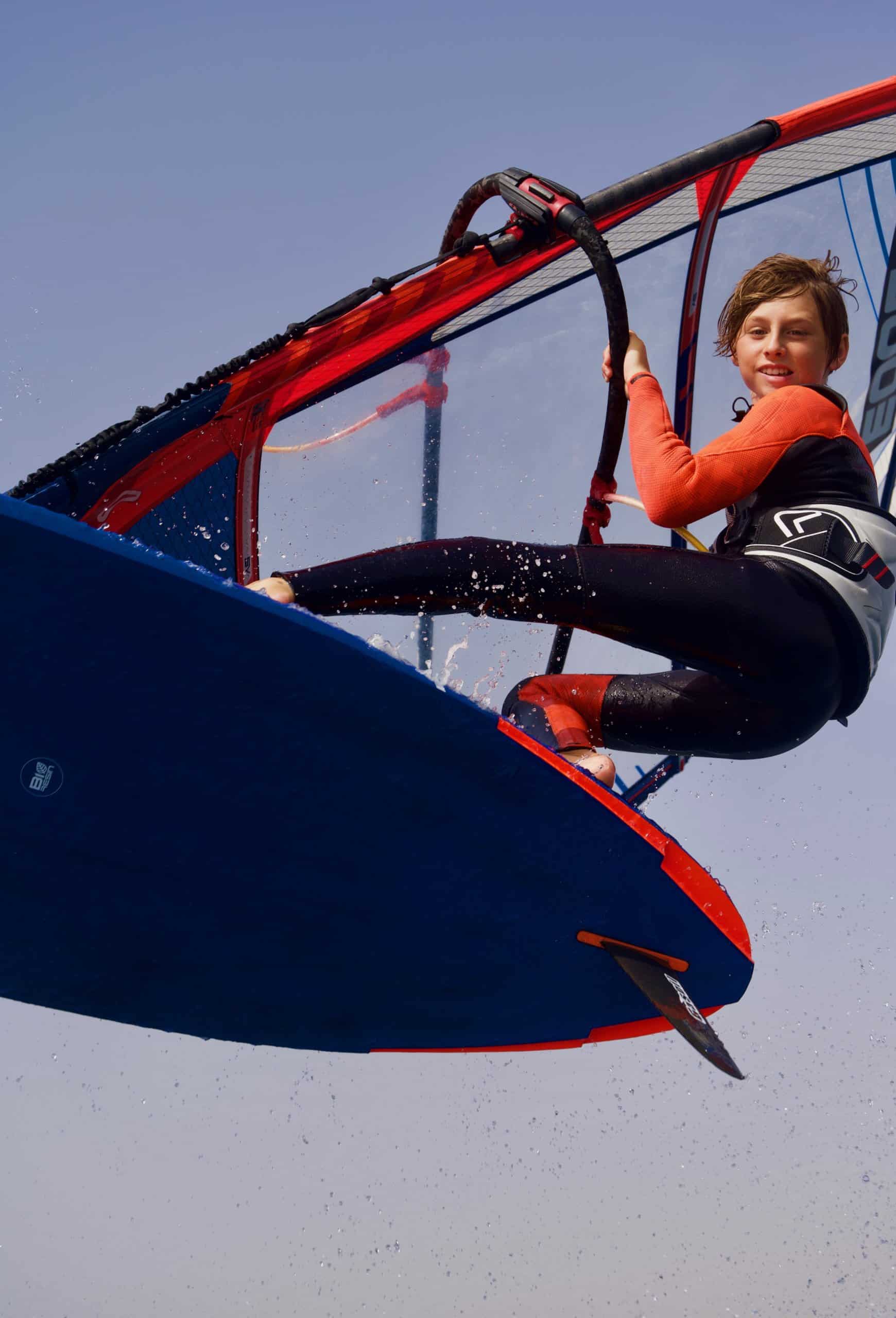 We at Starboard wishes this French duo a lot of wind and success for the upcoming season! If you want to stay up to date with their adventures make sure to follow Esteban and Benjamin.