Our team rider Fiona Wylde is one of the biggest water sports talents on the planet. She finished an impressive 2nd place twice in the Aloha Classic wave event at Hookipa in 2015 and 2014. With her great performance she also became 2014 PWA Wave Youth Windsurfing World Champion. Only two years later she wins the World Title in the SUP Race World Tour. After years of mainly focusing on SUP racing and wave surfing, she has picked up the new Olympic discipline: iQFOiL. Fiona loves a challenge, that's for sure! After talking to her, all we want to know is if she aims for the iQFOiL Olympic Games in 2024? Find out in the interview below. 

HOW FIONA GOT INTO WATER SPORTS
"I grew up playing on the water with my family. Both of my parents were avid sailors and some of their earliest dates involved windsurfing. My mom was a talented Gorge windsurfer who taught my dad how to 'shortboard' windsurf. My dad thought he was cool stuff but had never been on a board smaller than 12ft. He was in for a rude awakening to windsurfing when my Mom took them on a windsurf trip for one of their first dates.
Even though my parents frequented Hood River, Oregon we lived in Port Townsend, Washington. My parents own a marine canvas business making dodgers for sailboats. I grew up playing on the docks and learning about boats from a young age. Wintertime in the Pacific North West did not lend itself to working outdoors on boats, and many times the boats were unable to sail to Port Townsend for my Mom and Dad to fit the dodgers due to bad weather. So, my parents closed shop and we drove to Baja, Mexico, where I went to the local Mexican school and learned how to windsurf."
EVERYDAY I WOULD GO WINDSURFING
"Everyday after school, I would go windsurfing. When I was little, I would play on the beach and watch my parents sail, but after a while I wanted to learn how to sail on my own. It was the most fun time and it is still my favorite thing today to sail with my parents and sharing time on the water with them. Windsurfing was our family sport.
When I was 9, we permanently moved to Hood River from Port Townsend, but we continued to go to Baja in the wintertime.
Living in the Gorge was incredible! The time I was 13, Steve Gates, the owner of Big Winds, the local windsurf, kite and SUP shop in Hood River, Oregon, invited me to join a new SUP Team called Big Winds JET (Junior Elite Team). I was one of four kids that started the JET team. We trained twice a week at 6:30 in the morning learning about paddle technique and race skills. Honestly, none of us kids knew what we were getting into, but Steve had big plans for us. He always taught us how to have fun, work hard, and always be on time… Something I am still working on today! Haha.
Steve introduced us to the SUP World and got me into racing in a way that I will always be thankful for. No words of appreciation will never amount to my gratitude towards Steve. I totally got the bug for SUP Racing. Three years later, I won the Gorge Paddle Challenge, one of the top five international races in the world, at the age of 16. This, plus a few other international podiums skyrocketed me from an excited kid who loved to paddle into a sponsorship with Starboard SUP, which turned my dream of being a professional athlete into reality."
PASSION FOR COMPETING 
"My early introduction to windsurfing budded into a passion for competing. Dad competed in the local Gorge Cup Series, so naturally I wanted to compete as well. I started competing in the Gorge Cup Slalom races and that lead to a few National Windsurf Competitions. When I was 13, the American Windsurfing Tour revamped when Sam Bittner started the tour again. I could not be more excited to try wave sailing. Never had I wave sailed in my life, let alone surfed, but I wanted to give it a go! Wow, did I fall in love with wave sailing. This led me to loving SUP Surfing, which lead me to compete in SUP Surfing and Wave sailing. When I was 17, I competed in my first PWA World Tour Event in Maui at the Aloha Classic. To my complete surprise, I got 2nd to Iballa Moreno. The following year, I placed second for a second time.
I loved windsurfing, but when I got a sponsorship in Stand Up Paddling, it was my intention to continue to compete in both. For the first year I combined in SUP and Windsurf, but then the schedules overlapped too much. It was difficult to train for SUP Racing, SUP Surfing, and Windsurf Wave Sailing all at the same time, not to mention the competition schedules were hectic. So, I decided to focus on SUP Racing and Surfing. I have had an incredible 6 years with SUP. The places I have traveled to, the most incredible friends I have met, and the life I have now is all thanks to Stand Up Paddling. I love paddling and I am dedicated to SUP. This is not the end of my SUP era, but the exciting new beginning in my career, where once again SUP and Windsurf are intertwined."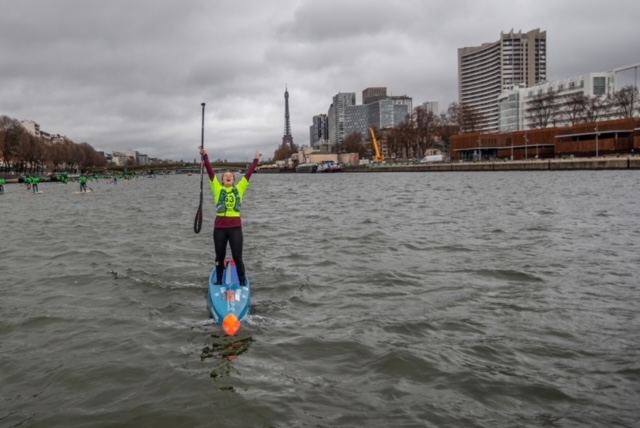 SOME QUESTIONS WITH FIONA
You are one of the most experienced all round SUP athletes. What are the advantages you have as a top SUP competitor that you can take with you into the iQFOiL training?
Being a professional athlete takes discipline, desire, and motivation regardless of what the sport is. From my experience competing at the highest level in SUP, I have a rough idea of what windsurfing will expect from me regarding training, travel, and commitment. However, the thing I try to remind myself every day is that windsurf foiling is a new sport for me, so however hard I imagine the work to be, I need to multiply that by 100.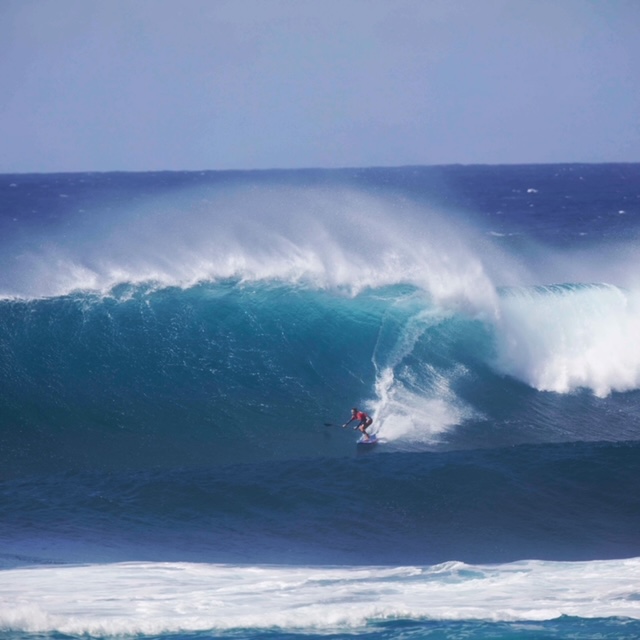 When we heard you were sailing on the iQFOiL gear we were curious if you will go all in and aim for the foil Olympics?
The Olympics has always been a dream of mine since I was a little kid. I have always loved sports and looked up to athletes who have worked hard enough to make sports their lives. When I was 7, my uncle, Peter Wylde, made the USA Equestrian Olympic Team. My entire family went to Athens, Greece, in 2004 to watch him compete. It was the most motivating experiences of my life, even though I did not realize when I was 7 years old. My uncle has worked every single day for his entire life with a passion for horses. He is kind, dedicated, and not afraid to put in hours to improve himself and the horses. At the 2004 Olympics, he and his USA Team Members won the gold medal in Show Jumping.
Stand Up Paddling is still a very young sport and is not an Olympic sport, yet. With the new iQFOiL Windsurf Class replacing RS:X in the Olympics, I could not hold myself back. I have to try, making the Olympic Team is a dream. And what are dreams good for if you don't chase them?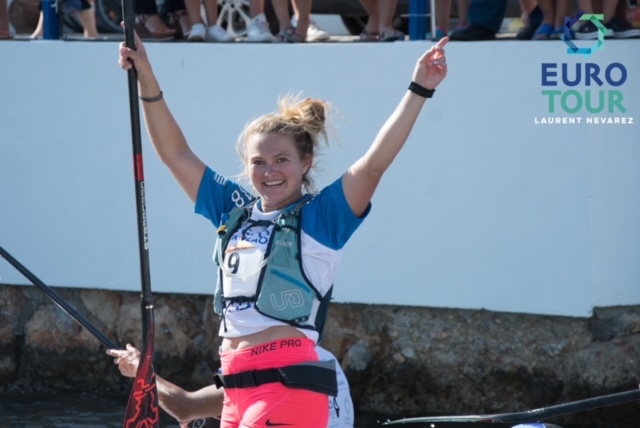 How is your training schedule different now as you have an extra challenge with Diabetes? We can imagine it´s not easy, but you are showing that nothing can stop you!
I was diagnosed with Type 1 Diabetes when I was 18 years old, the day I graduated from High School. Diabetes is an autoimmune disease that causes my pancreas to no longer produce insulin and therefore my body is not able to regulate my blood sugars. I have to administer insulin through injections multiple times a day or wear an insulin pump to do it for me. I also wear a continuous glucose monitor called Dexcom, which takes a blood sugar reading every five minutes. My Dexcom is key for training and daily life.
I have now had Type 1 Diabetes for almost 6 years, and although it has gotten more familiar, it still is not easier. I have to be extremely aware of what my blood sugar is doing before I go training I also have to plan more than I used to. I always make sure I have fast acting glucose with me wherever I go and it is important that I make sure that the people I am with understand that I have Type 1 Diabetes and know what to do in case of an emergency.
The specifics of training change as well. Having Type 1 makes me fatigue faster and means that my recovery time is longer than an athlete without Type 1. I organize my training to include these factors. I normally train three days on and then one active recovery day, then three days on again. This is one little adjustment that I have made that has allowed me to get stronger without fatiguing quickly. This is a balance that I have found that works for me, but everybody and every athlete is different.
The other big factor when managing Type 1 Diabetes is nutrition and hydration. I do my best to eat a clean, gluten free diet and continuously drink water throughout the day.

What is the goal for the Olympics? The experience or a medal?
First things first, I need to make it onto the Olympic Team, then we'll see where I am. But, that being said, I am an athlete and I am hard on myself to strive for the top. IQ Foiling is a completely new discipline to me and it's been about 6 years since I competed in windsurfing at a high level. Even though I remember what it was like competing in windsurfing and I have been competing professionally in SUP, my windsurf skills are not at the top level right now. For me to push myself into a new sport, I have to keep my mind open and learn as much as I can. That is the only way I will grow and improve in this sport and work towards my dreams.
Right now, I am starting the learning process. I am in Florida training and racing with the new IQ Foil Olympic Development Program put on by the US Sailing Team. It has been incredible to be here working with coaches who are talented in the IQ world and who are eager to support ambitious athletes like myself. I am halfway through our training month and it is going well. Unfortunately, we have not had good wind for our regatta days, but we are changing venues later this week and the forecast is more promising.

Being an active athlete in more disciplines you need to plan your days. How does your typical day look like? 
My typical day starts at 6:30am with a coffee…. Yes, cannot skip the coffee! Then, my dog Sharky and I go for a very short run to warm-up. After warm-up I do about an hour of dryland training at my house or at the local track. The goal of dryland training is to work on all the small muscles, not only for strength, but for injury prevention as well. Following dryland, I head down to the water and go for a paddle. Depending on the conditions and the event I am training for, I'll paddle upwind/downwind, distance, or do intervals. By the time all of that is done, it is normally 11am and I am hungry. I head home, make breakfast, and open my computer.
I am studying for my undergrad in Geography and Geospatial Science at Oregon State University through their E-Campus. During my mid-day break I normally work on school and whatever other work I need to get done. In the afternoon, I go IQ foiling, unless it is really windy and then I go winging, down winding or sup foiling! I like to finish every day with a dinner with my family or a get-together with friends. That is my typical training day and also my dream day.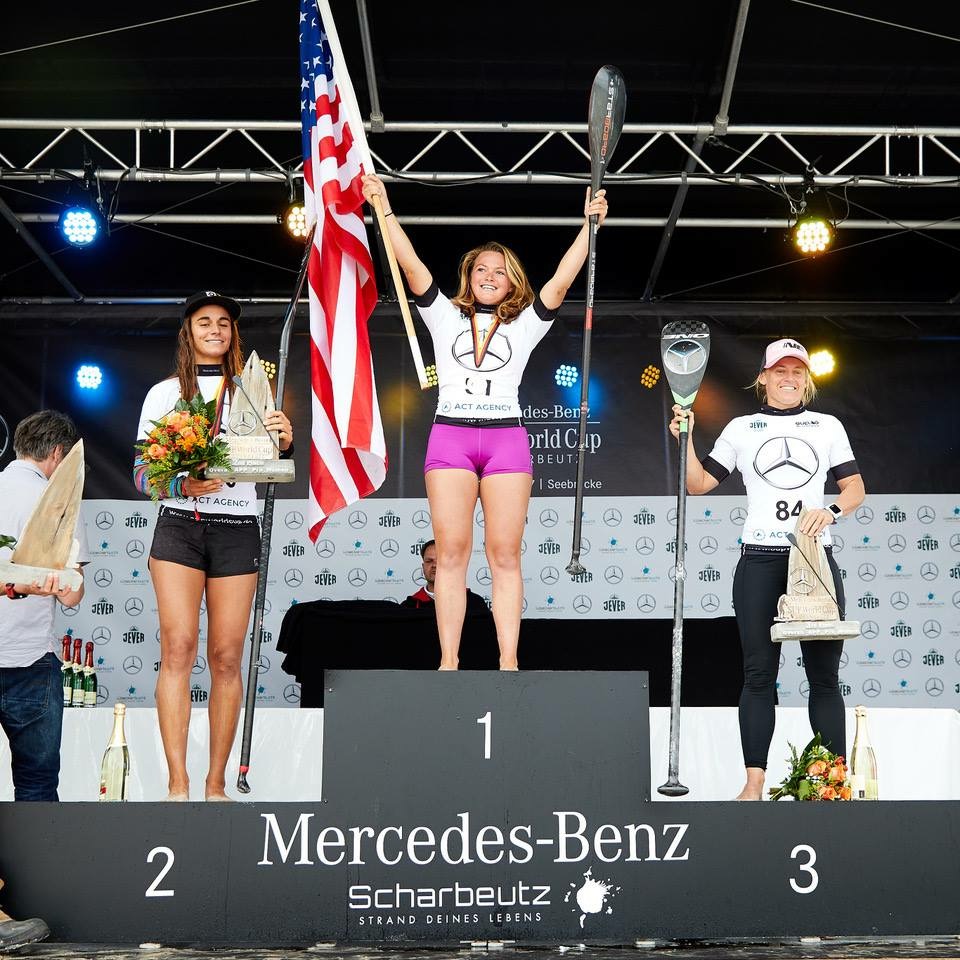 Fiona´s impressive results: 
-2016 Stand Up World Tour Race World Champion
-2019 Euro Tour SUP Champion
-5x Gorge Paddle Challenge Champion
-2019 APP World Tour Sunset Beach Champion (SUP Surfing)
-2019 SUP Nautica SUP Crossing Champion
-2019 ICF SUP World Cup, 1st place
-2018 Pacific Paddle Games Distance Race Champion
-2014 and 2015 2nd Place PWA Aloha Classic
-2014 PWA Women's Wave Youth Windsurfing World Champion