Pozo Izquierdo delivered more wind and waves for the final day of the aptly named Gran Canaria Wind & Waves Festival to deliver a fitting end to what has been an epic event. The last day was billed as Super Saturday with only the men's and women's finals left to run and it lived up to those expectations with winds in excess of 45 knots allowing Daida Moreno (Starboard / Severne / Maui Ultra Fins), Sarah-Quita Offringa (Starboard / NeilPryde / Maui Ultra Fins), Philip Köster (Starboard / Severne / Maui Ultra Fins) and Marcilio Browne (Goya Windsurfing) to launch into gravity-defying stunts one last time.
Wave – Women's
Daida Moreno admitted that she was feeling the pressure before the final with Sarah-Quita Offringa (Starboard / NeilPryde / Maui Ultra Fins) sailing brilliantly to reach the final and having nothing to lose, and everything to gain. However, by the way Daida sailed you would never have known she was feeling any pressure at all as she produced a faultless, world-class performance to claim an empathic victory.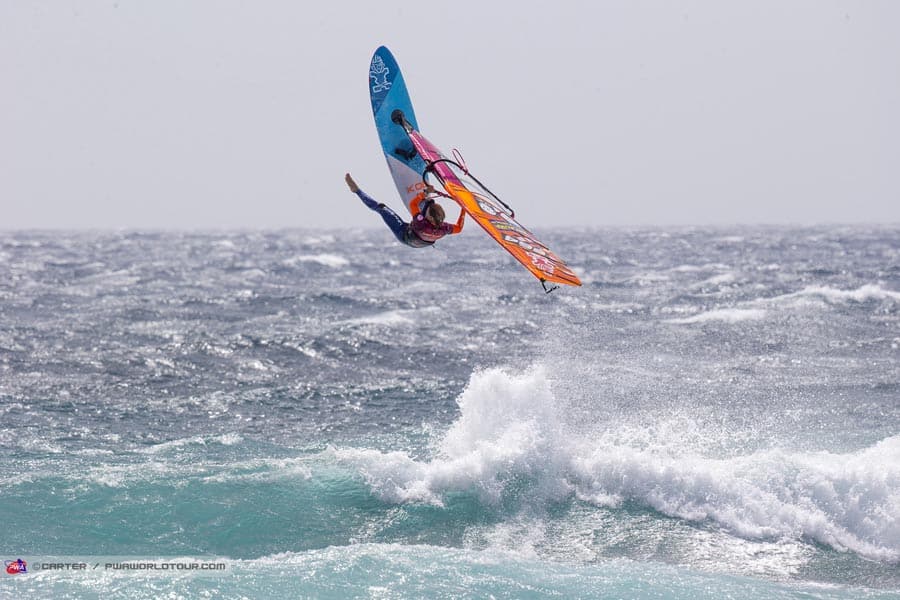 On her first run, the multiple-time world champion landed a one-handed backloop all the way, before launching in a massive regular backloop,  big stalled forward and a tweaked pushloop, but saved the best until last complete her jumping score sheet with a sick one-foot backloop to earn 8.62 points. Two wave scores of 7 and 7.62 points built her an unassailable lead as she once again demonstrated exactly why she is the Queen of Pozo – and on a different level here.
Offringa certainly didn't sail badly, and will still be delighted to walk away with second place, but she was powerless to stop Daida today. Offringa was still able to land a tweaked pushloop and a forward, while her best wave earned 6.38 points, but she never quite looked to be on the right sail size… underpowered on 3.0m and then overpowered on 3.3m as the crazy winds, which Pozo Izquierdo is famed for continued.
Wave – Men's
Philip Köster (Starboard / Severne / Maui Ultra Fins) produced a world-class jumping performance consisting of an insane 10 point stalled double forward, a pushloop forward and a planing one-hand, one-foot planing backloop with a double kick to earn 25.77 points out of a possible 30, while the 4-time world champion also pulled the trigger on the triple forward – the second time he has done so during the GCWWF – and wasn't a million miles away from landing it. That resulted in Köster slightly chipping his tooth and having a headache, but the victory should soften that pain and it was great to see Köster trying to drive the sport forward again.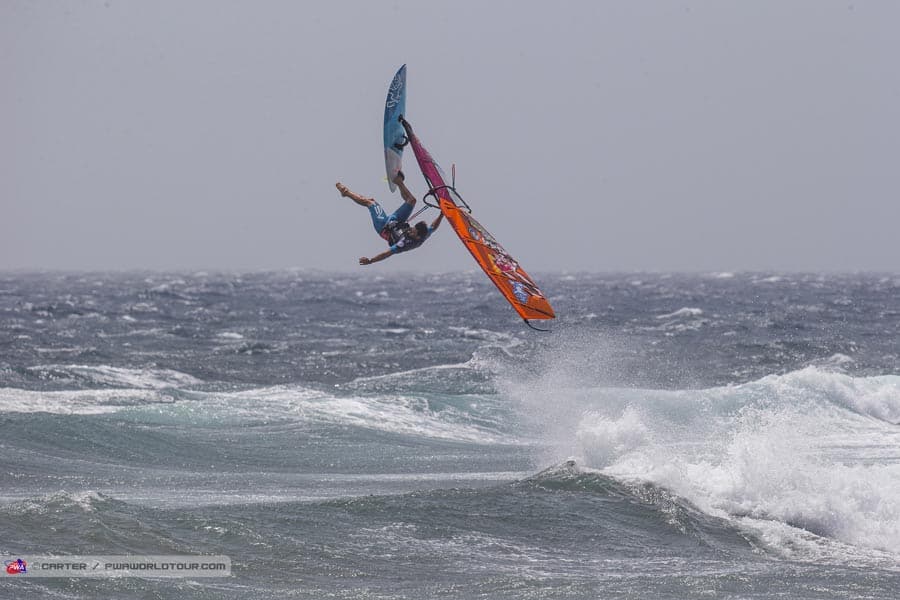 However, although he landed an amazing forward off the lip, Köster's highest scoring wave was a 6.5, which left him slightly vulnerable to Marcilio Browne (Goya Windsurfing), who also landed a perfect double forward and a high one-foot backloop, and the Brazilian very nearly produced the wave scores he required to force a Super Final as he earned 7.88 and 8.88 points with his last two waves – after landing both front and backside 360s. However, it wasn't quite enough as he lost by just 0.31 of a point.


Result 2018 Gran Canaria Wind & Waves Festival – Women's
1st Daida Moreno (ESP – Starboard / Severne / Maui Ultra Fins)
2nd Sarah-Quita Offringa (ARU – Starboard / NeilPryde / Maui Ultra Fins)
3rd Iballa Moreno (ESP – Starboard / Severne / Maui Ultra Fins)
Result 2018 Gran Canaria Wind & Waves Festival – Men's
1st Philip Köster (GER – Starboard / Severne / Maui Ultra Fins)
2nd Marcilio Browne (BRA – Goya Windsurfing)
3rd Ricardo Campello (VEN – Point-7)
– Words by Chris Yates, PWA