Former PWA Slalom Vice World Champion Lena Erdil has made a big change in her life. She moved to Germany, joined a German sailing club, and trains iQFOiL almost every day. We caught up with her and asked some questions about the life as a foiler with an Olympic dream.

Hi Lena! From being one of the best slalom sailors in the world, you have now moved to Germany to train iQFOiL full time. How is the Olympic training going? 
Wow yes, if someone had told me that this would happen, I would probably not believed them. But I always try to make the most out of every situation and somehow the circumstances pushed me in his direction. The iQFOiL and foiling equipment, in general, has been my windsurfing savour with conditions on and around Hamburg being so gusty and often light, getting more and more into foiling was the perfect new windsurfing challenge for me during these special times. 
I've been stepping up the training thanks to some help from the German federation who employed a trainer at the end of July which gave a lot more focus to my regular routine and the opportunity to learn sailing on a course while getting feedback, that's been great.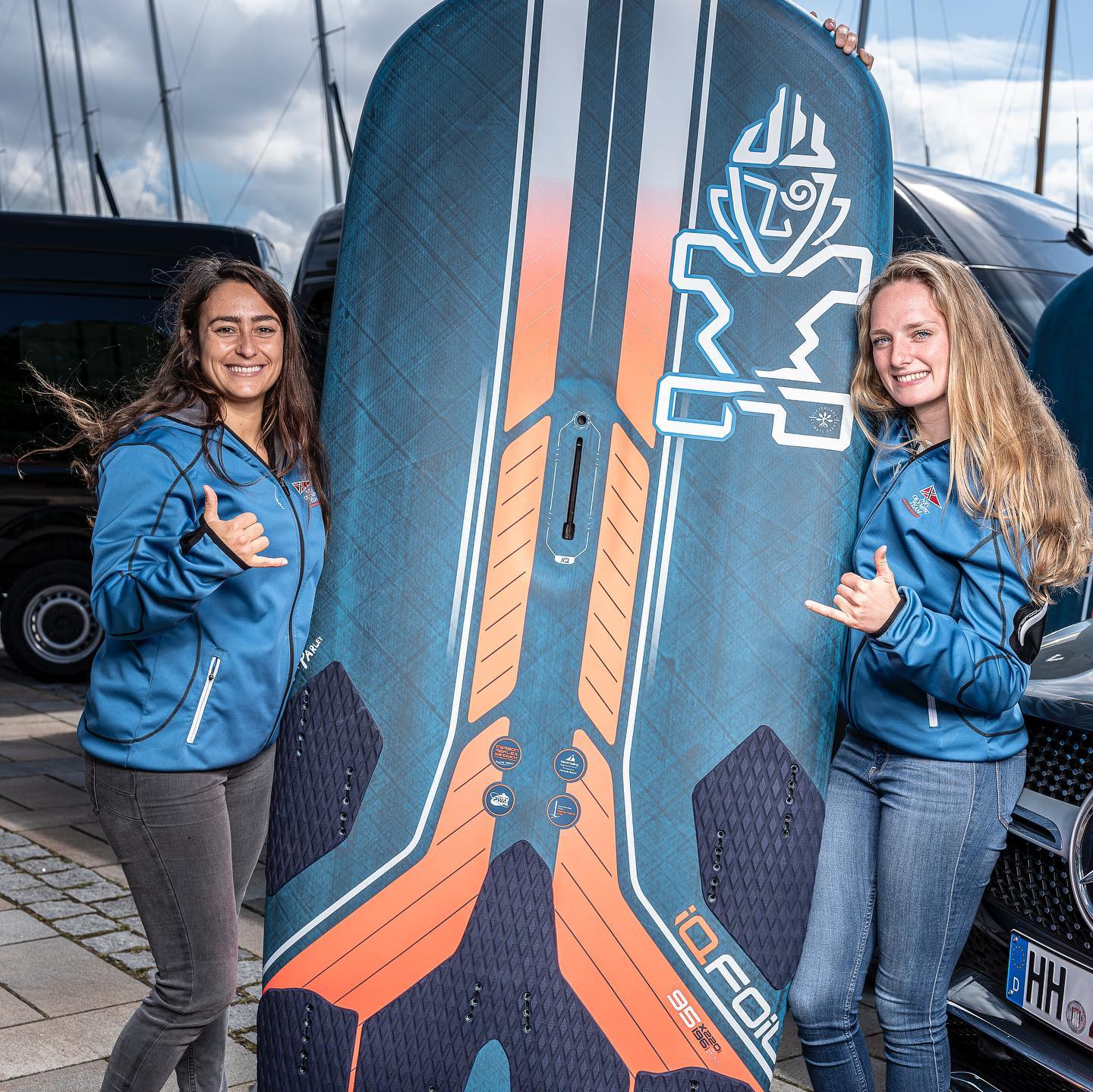 How will you compare foil training to your slalom training? Is it hard to do well in both/or hard to combine? 
In the beginning, I was learning to foil, not focusing on tactics and strategy. Now that I am more in control of the equipment that has, of course, been added. While slalom also involves a lot of tactics, the strategic component needed in course racing is new for me, so I've been reading some books on sailing strategy and weather systems as part of my training. I never did that for slalom sailing. While the pumping needed in foiling will involve the right fitness levels, I do think that slalom sailing is more physical than foiling. The fact that you have so little contact with the water means there is not as much impact as during slalom sailing, so I find it is a lot less straining for the body.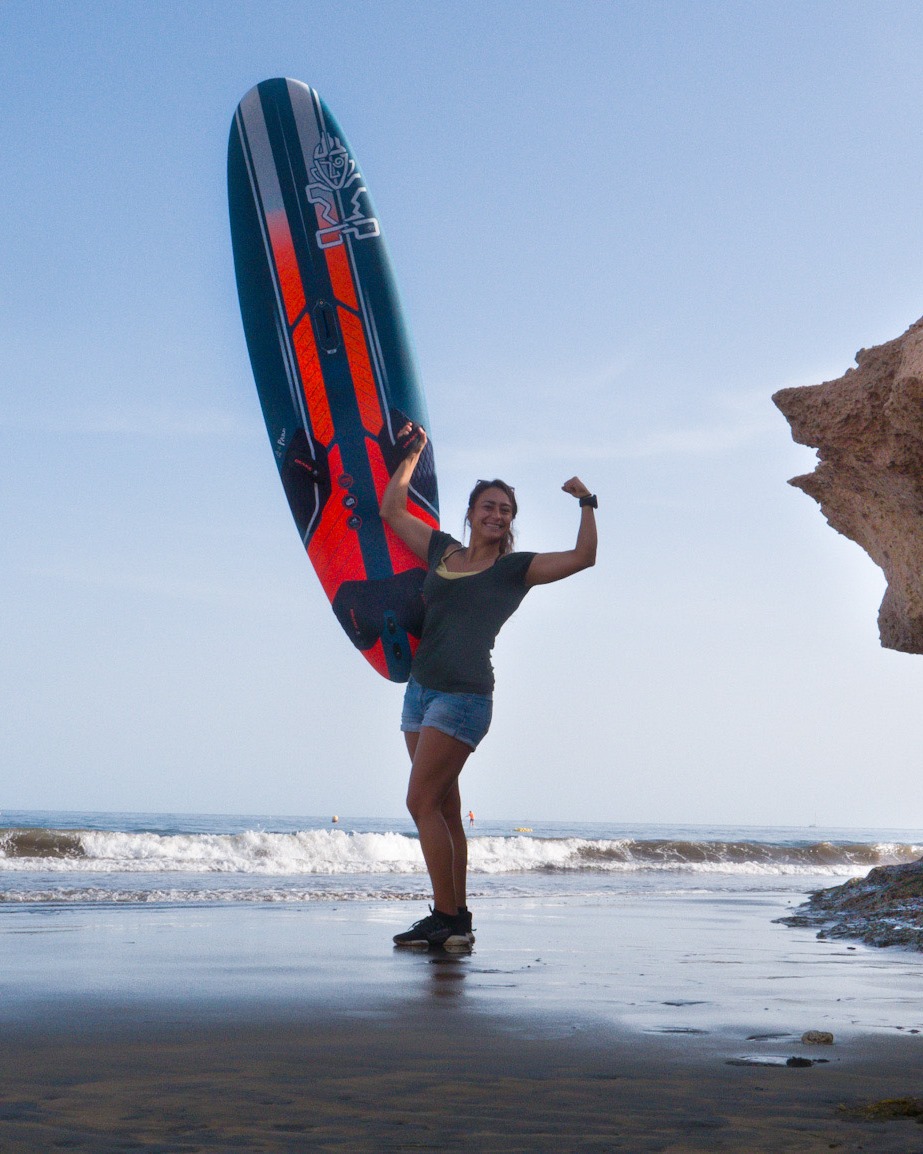 Are there more benefits to doing an Olympic class than competing on the PWA?
I was hoping that this would be the case, but in the case of the German Sailing federation, you only receive benefits if you make it into the top 8 in the world. If you manage this, you get financial support, coaches, and training covered by the state or federation etc. If not you get nothing, it's a pretty harsh system. Of course, there is no governing body that supports anything to do with the PWA, but at least you have industry sponsorships and price money that allow you to make a living. Ultimately professional sport is a very merits-based system; if you do well, you have the chance also to do well financially if not there are not many securities offered by this line of work. Both disciplines will require finding accurate outside industry sponsorship to allow living the life of a professional athlete focusing only on the sport. 

What are your main goals in windsurfing at the moment? 
Right now I will try and do my best in at the iQFOiL games in Garda, over the winter I want to train slalom, slalom foil and iQFOiL to compete in all two disciplines in 2021, let's see how Corona will develop and how many events we will have in each field. 

Hobbies next to windsurfing? 
I like to play the guitar, read and write and love any kind of outdoor sports! 
What is your favorite part of windsurfing?
There are many things that I love about windsurfing, for example, how versatile it is and all the different feelings that it has to offer. The feeling of winning a slalom race, making that perfect top turn on a challenging wave, or flying full speed in only 9 knots of wind with the foil equipment, all offer so much satisfaction and pleasure while making you feel powerful and in control over the elements. I guess that when things go right, the good feeling you get from enjoying your sessions is the reward for all the work you have to put in to get there. So I love how rewarding windsurfing is, and of course, I love the windsurfing community around the globe, who are always so welcoming and happy to connect with other windsurfers and share the stoke on and off the water. 

If you would have to choose only one discipline that you could do for the rest of your life, would it be foil, slalom or wave? 
This might come as a surprise, but no doubt it would be wave! Every wave is different and wavesailing for me is the most fun and challenging at the same time. The adrenaline of committing to a late turn or a high jump even though you are super scared is the best feeling I know. 
Do you have any role models you look up to or inspired you to follow your dream of becoming a professional windsurfer? 
Growing up and starting windsurfing Karin Jaggi was always a role model for me. I could identify with her as she also didn't grow up by the ocean and became a professional windsurfer and one of the best female windsurfers ever. The fact that she was doing all disciplines at a top-level also really fascinated me. Now my biggest competitors are also some of my biggest inspirations. When I see them working hard and improving it also motivates me to give everything and step up my game year after year. 
You have recently started MyWindstories. And girls camps, please tell us about that project.
Yes, I've been working on the MyWindstories project with my good friend and now business partner Katharina Seelack. Over the past year, we have created 
www.mywindstories.com
.
 We offer windsurfing camps for girls, as well as a Platform with a Blog and Forum to connect and grow the windsurf girls community. 
For me, MyWindstories is a way to give back to the community and the sport that I love. At the same time, I just want to see more girls on the water! I enjoy sailing with other girls and personally believe, that there is nothing more motivating than seeing other girls make the move you've been practicing! I would like to share this feeling with as many girls as possible.
For Kathi Seelack who is a physiotherapist and passionate windsurfer, My Windstories is a chance to connect both her passions while hopefully helping to strengthen the feeling of community and inspire more girls to be a part of it.