If you want to know the story behind Starboard, check out this exclusive interview with Starboard´s Chief Innovator Svein Rasmussen. He answers everything, from how he came up with the brand name, to who he would like to have as a dinner guest! He also tells us about his yearly 300 travel days as a professional windsurfer and some interesting travel stories from back in the day. We are left wondering whether today´s flight captains would ask passengers on board if they can move over so that they can strap down a 3-meter long windsurfing mast in the cabin!

Hi Svein! You are the owner of Starboard windsurfing and are still running it from Thailand today. How did you get introduced to windsurfing? 
In 1976 my father gave me a subscription to a National Geographic kids edition. It had an article about that new water sport called windsurfing. Matt Schweitzer was featured sailing at some gorgeous lakes. I was hooked from that moment!
At that time my sister was hanging out with this cool guy called Knut. He started a summer school for watersports, and I got on board. The first day I spent about 45 minutes to get that heavy rig out of the water. I was about 30 kg and the boom was made out of high-density wood. But I loved that tremendous feeling of holding the wind in my hands. I worked with delivering newspapers for a year, so I could save up to buy a used Ten Cate Windsurfer.
I sailed up to 10 hours a day. I sailed out from our harbor around all the islands in Arendal. It was such an amazing adventure! Even in the wintertime, I would sail pretty much every day. When it was snowing I would jump into my 3mm Long John. I used rain boots and I had a windproof jacket. Village people called the police several times to stop me when the weather was really bad and the ice flakes were building up. This was on the edge of insanity, but it was such an addiction that I had to get out every day.
Windsurfing was very popular all around the world when you became professional. What did a year of your life look like? 
I would attend up to 30 competition events globally per year. I would also compete in a few races back home in Norway. I had about 300 travel days a year, but I was home almost every Christmas Eve. My family was always super supportive, even though they probably would have liked to see me get an education too. But windsurfing was surely more important.
My favorite locations for training were San Francisco, New Caledonia, West Australia and of course Arendal in Norway, the center of the universe.
I was able to find sponsors in Norway to finance my professional career. I made sure to send reports back to the main Norwegian newspapers every time the results were good.
One year we calculated newspaper clips in the south of Norway. The communication work had paid off and I scored 4th in terms of overall articles of the year. There was however one soccer player ahead of me in the news picture.
What was the trick back in the days when you had to fly with a lot of gear? 
Flying with gear was exciting! I always had to make pre-arrangements with airlines. It was also important to keep good relations with airlines. I recall one flight from Oslo to Frankfurt, where my mast (a 550cm Serfiac Pro one-piece alloy mast), did not fit into the cargo department. The Lufthansa captain asked the passengers on board to move over so we could strap down the mast on the other side inside the cabin. My personal gear travel record was 347 kg. I went all the way from Oslo to Melbourne with all these kilos! Yes, perhaps it was more of an equipment race those days.
Do you remember your most memorable sessions?
My most memorable sessions were sailing with my friends in Arendal, around the island. We were stopping for ice cream and were just enjoying the freedom of windsurfing.
More memorable sessions soon to come; Hove Canvas in Arendal is becoming a developed windsurfing destination. It has a sauna anchored in the water, tents in the trees and a Micheline chef. If you read the Alchemist, you know where it all happens.
Which World Title do you remember as the best one? 
The first title was a surprise. The Mistral and Windsurfer class where the 2 most competitive classes. In December 1983 the Mistrals worlds were held in Barbados. This was ½ year before the Olympic games, so the last big test before Los Angeles, which was the first time for windsurfing to enter the Olympics. I was leading the event until the last race!
I had this amazing board speed, and I was reading the current well. I could predict the wind shifts with ease. However, coming into the last race, Stephan Van Den Berg, who was the favorite to win the Olympic Games, was just behind me. The wind was increasing and Stephan was gaining distance as he was faster in higher winds. I could not see who of us that crossed the line first. Stephan "looked like" he had won and I was so stoked to become second. What a dream!
However, the judges called it a photo finish, the first until then in competitive windsurfing! And this little blond kid from Arendal became the new World Champion! Yes, those were amazing days! Amazing food there also. We used to sail home from parties with our friends. What a time!
Have you been one of the first ones to land or invent a windsurfing move/maneuver? 
I´m a non-talented windsurfer. I just love the sport and I keep repeating stuff until I improve. I remember the days we were inventing double forward loops in Gran Canaria in the late '80s. One of those many terrible rotations may still count as an unspecific invention, the "backbreaker" landing!
What made you stop competing and start your own brand Starboard?
In 1993 I was passing 30 years. Back then I was the oldest rider on tour with the legendary Phil Mc Gain. So on my association membership card, it was printed grandfather. I realized that I had my share of awesome windsurfing exploration. Now it was time for a new chapter! But now as then, I never quite knew what that might turn out to be.
However looking at the gear I used to sell the end of the season, I realized that this type of equipment was not going to help grow our sport. It was all way to narrow and hard to handle. One of my few strengths is to put one and one together, so I connected with the most innovative shapers at the time Jean Louis Colmas from New Caledonia. Together we introduced his wood technology into windsurfing mass production. Boards that were stronger, lasting longer and up to 1 kg lighter than the competition.
After that, the wide GO board came and changed the world of windsurfing. Then the Formula came and that reinvented racing. And the iSonic literally turned slalom performance upside down. Just imagine a rider that had never won a PWA slalom final before suddenly wins 11 in a row. Antoine had some hidden talent until then.
The Evo wave board – Scotty McKercher sent a picture of a super short surfboard. The next thing that happened was that he became World champion on the shortest and widest windsurfing wave board.
The rest is a story of loads of great people working together making mad ideas! We set the benchmark for what now is the "new normal". Many people today do not realize that windsurfing gear was very different before the crazy Starboard designers were set on the loose.
As Picasso used to say: "Good taste is the enemy of creativity". We are not here to please a trend, but to look at what's next and how we can bring it into the market right away, while it still looks sort of odd and exciting.
Why did you choose STARBOARD as your board name? 
I was sitting one night under the spectacular Hawaiian sky. I was trying to figure out what name may portray the brand that was about to be created. I researched the meaning of each star. Yes, I like to think of the stars as influencing us earthlings beyond what we understand with our limited senses. The conclusion that night was that none of the stars individually aspired to what the brand wanted to represent in its journey, so the name was Star, plain and simple. Later, I again, put one and one together and it became Starboard. More closely linking the aspiration to the sport of my life.
The Tiki has always been Jean Louis's shape logo. The story grows when we think of the fact that the Tiki and his people coming from Peru may have introduced surfing to Polynesia.
It´s perhaps worth mentioning that the extraordinary Kon Tiki expedition, skippered by Thor Heyerdahl set out on a journey from Lima to Peru to prove the theory that Polynesian settlement partially is from South America and not all from Asia as previously. Then to later work with Thor's son, Bjoern Heyerdahl in the WIF Heyerdahl Climate park, makes me believe that this must have been written in the Polynesian sky back in 1993, but I could not see it then. And guess what, the full climate park ambition is to sequestrate 50 ton CO2 annually.
Which direction do you see the brand moving?
Starboard is all about bringing inspiration and innovation to the World of wind and water. Now as the brand has taken some shape and starts to become a global player, I start to see the power of the brand and the amazing people that have been waiting for us to mobilize our ability to another level.
Making boards is great fun! In the mirror, it's clear that we as an industry leader are main polluters through the plastic our boards are made from. Over 80% of boards raw mats are fossil fuel-based. The production of boards, all the transport, and basically running our business cause a negative effect on our ocean, our planet, and my 12-year-old daughter Mayar's future.
We simply emit way too much C02 and we make too many articles from fossil fuel. So again, I want to put one and one together so we can make some fundamental changes in our business and then share that with whomever that want to become proactive. We invited eco interns to stay with us at our lake in Thailand and I´m proud to see that they are running programs which governments, the UN and some of the world's larger cooperations are connected with us. We figured out that the world is a simple place, we just need to think simple, act simple and get a bit of work done.
We calculated our plastic footprint and created the World's first internal plastic tax. Now we pick up 50,0000 kg of beach plastic annually through our plastic offset program. Like that anyone who gets a Starboard will be what we call plastic balanced. In the last years, there was an average of 1,1 kg plastic entering the per person globally and we pick up 1,4 kg of beach plastic to make it possible for that person to have done contribution against ocean plastic pollution.
Concerning climate change, our idea goes back a couple of billion years ago when earth just had reduced the CO2 levels so that life could come out of water and breath. The same can happen again. When we plant enough trees around the world, stop deforestation and combat fires, the earth will again be able to capture C02 and store it back in its surface. This is a job we do for those who come next, it's our own DNA that drives us to secure the next future. What we found was that a Mangrove tree perhaps is the single most effective CO2 absorber on the planet, and it can sequestrate up to 1 ton CO2 over only 20 years. If someone wants to make a conscious choice, we plant a Mangrove tree per each board we produce. That absorbs about 10 x the CO2 emission and makes the board 10 x climate positive. It's all so simple! We hope to see more companies joining, and that's why we signed an MOU with Southeast Asia's largest CO2 emitter, SCG. We work with them not only to reduce the footprint but to see them change their own future turning from negative to positive. I could ramble on forever here, so please have a look at https://blue.star-board.com
How many people worked at Starboard the first years compared to now? 
The first year I was working alone in the smoking-room of our board producer. Then Joe came on board and then Nat. We are all still going strong and Joe has done a tremendous job over the years. A bit later superstars like Tiesda You, Remi Vila and more lately Albert Pijoan joined the crew. A new addition this year is our art man, George. He has flair which we will see in the 2022 collection. Today we are close to 100 people if we include finance dep, shipping, logistics, marketing, our 10 people in the board development workshop, our Cape Town set up for Airush and our Perth set up for Severne. It's been a joyful ride to see these brands start to flourish and now be industry leaders.
For those who are a bit new to windsurfing, it's worth mentioning that Jim Drake, the co-inventor of windsurfing (together with Hoyle Schweitzer) was working with us in our think thank development in Thailand. His technical contribution was amazing, but his spirit of what windsurfing should be keeps the flame alive. He used to say that Windsurfing is what windsurfers make it. That´s why we spend a lot of time on the water so we can find out what to make next. Jim, by the way, also created the  X 15. It became the world's fastest manned plane in 1967 and still holds the world record now in 2020.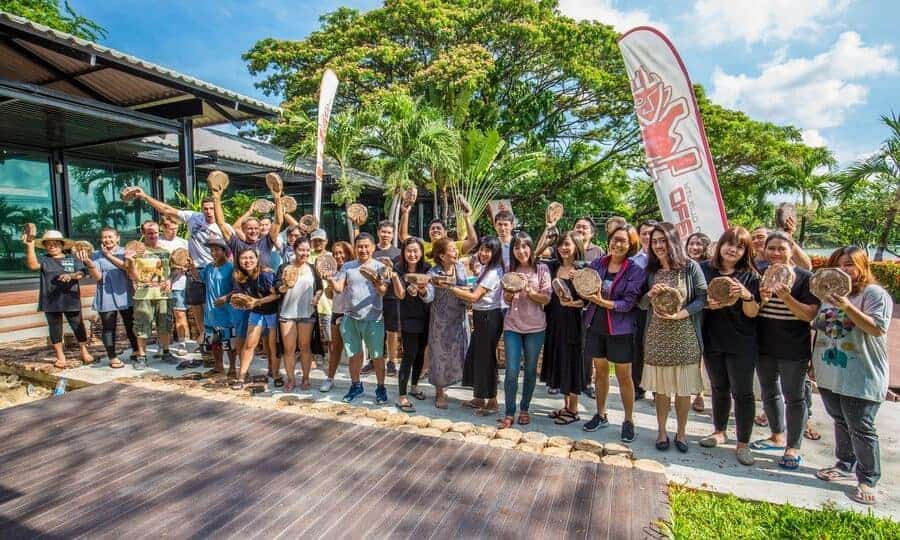 If you would have to choose only ONE board from the Starboard range, which board would you get?
Well, the new 2021 5'8" Wingboard is my new baby and I love the wing board style of Windsurfing. Just the way Jim Drake was playing with this concept back in 1982.
Dead or alive… Who would you like to have as dinner guests?
I come from a unique family. I guess I must have chosen them in some mysterious way to allow me to make my dreams come true.
So I would choose my father Arne, mother Tyra, my wife Jeab and my daughter Mayar. And if the table was big enough I would invite my siblings, the key crew at the office and some of those die-hard windsurfers from Arendal, Noumea, and Lofoten. Yes, life has given me an unfair amount of wonderful friends, some dead and some alive.
There were some interesting dinner gatherings throughout my days as a professional windsurfer. As I was quite active in fighting sports, I ended up at home with Muhammed Ali and his daughter during the LA Olympics.
Seeing how Muhammed Ali changed the world for millions of people, made me realize how influential sports personalities can become. Especially when they put their heart into important missions.
I look forward to seeing our Starboard Champions and weekend warriors fight for our oceans and win the planet over! I´m so proud of our Dream Team.
Thank you, Svein for this interview! If you want to check out a cool clip where Svein tries to destroy his own board, click on the video below!