After some intense and windy days on Fuerteventura, the 2018 freestyle tour is finished for the women, while the men will still compete in Sylt. Read what our freestyle Dream Team had to say after the World Cup.
Sarah-Quita Offringa
So after some wave sailing in mental conditions in Pozo, we were treated to some more mental conditions in Fuerteventura.
Making the switch from wave to freestyle took some time, but once I got used to my small fin, big foot straps and a bigger sail than a 3,3 I felt the love and stoke for freestyle again. Oda Johanne, Maaike Huvermann and Arrianne Aukes were pushing hard in Portugal, and I was looking forward to battling it out on the crystal blue waters of Fuerteventura!
Those turned out to be the windiest conditions I´ve competed in Fuerteventura. There was one heat, where I really had a hard time to put a proper performance together as I crashed 4 moves coming in. But I managed to reset for the final against Maaike, and sailed a heat I am really happy about, landing my first spock culo in competition. Too cool! Sadly, we were not able to finish the double elimination because of the lack of wind, so I am even more happy that I managed to perform when I had to.
By winning Fuerteventura I also won my 11th freestyle world title. And I think I still need to let that thought settle! Crazy how time has flown! After a three day clinic here in Fuerte I´m getting ready for some wavesailing in Tenerife. For once it´s really tight between the top 3 so I´m pumped to get that contest going and fight for the top spot!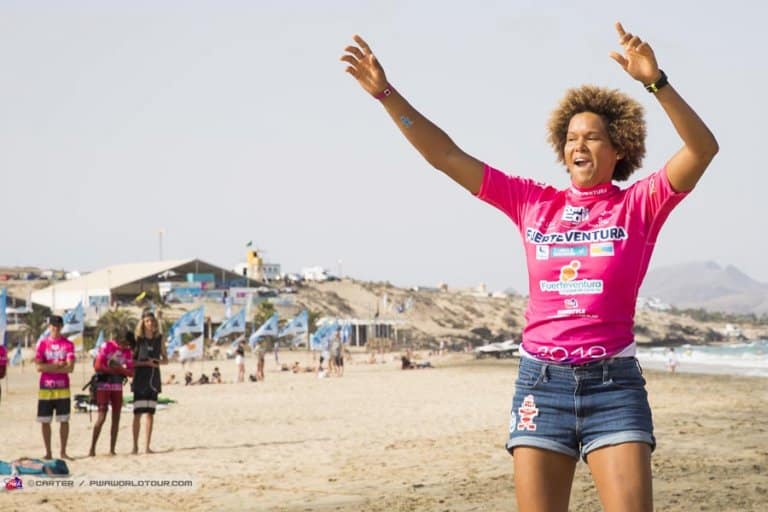 Maaike Huvermann
The event in Fuerteventura was really different from the other years. We only completed one single elimination, instead of the 2 full eliminations we normally do. I'm really happy with the result. I would have liked to get some more sailing in, but very stoked with a 2nd place and my 2nd place overall for 2018! Next up is to compete in the waves in Tenerife. It looks like it's not going to be windy until later in the week, so hopefully, we will get some sailing done!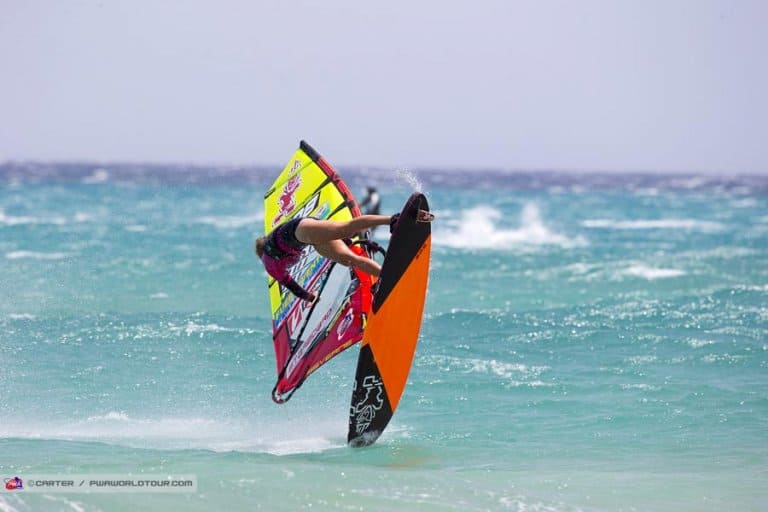 Oda Johanne
After some incredible windy days on Pozo, where I competed in my first port tack wave event, I was ready for my main thing, freestyle! As the women have already had a solid competition in Portugal, the first day was dedicated to the men. On day 2 we were finally sailing. I did not sail my best and ended up on a 3rd place in the single. Apparently, I lost the final spot just in the last seconds, but anyway it was not a very good heat. At that time I was almost happy to have the chance of first doing a heat to secure the 3rd place in the next double and then be ready and "warm" for the main heat and the battle for the 2nd place. Unfortunately, the wind never came back and we had to stay with the result of just one single elimination. Overall I finished 3rd place. It could not have been closer to 2nd place this year, but already excited for next year and my winter training. I´m on a mission!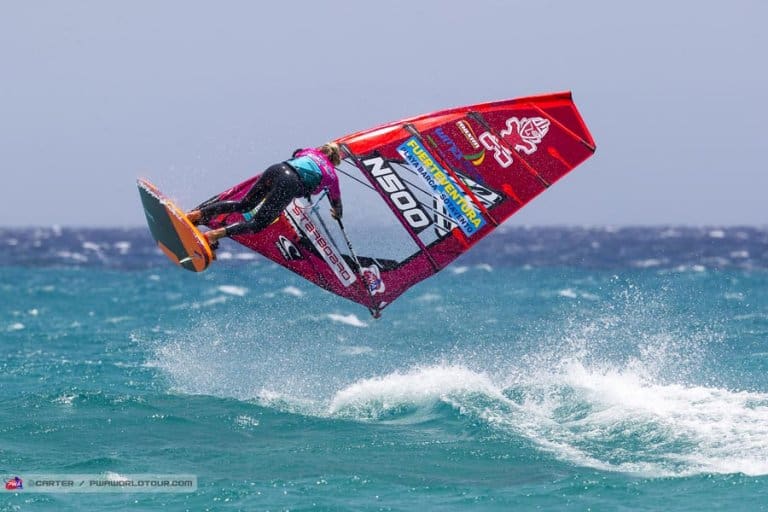 Taty Frans
This is the 15th year I have been competing in Fuerteventura and it's always nice to come to this windy location and battle it with the top riders. It's been one year since my accident, but I felt relaxed and had no fear in Fuerteventura. So in each heat I just enjoyed. Too bad I had a few heats that I missed a few moves. Other than that I could have been in the top 10 but it makes me realize like hey.., I am still competitive. My time before Fuerteventura I was in Bonaire. I am still having treatment for my hamstring and I did as much freestyle as I could during the 4 weeks combined with fitness.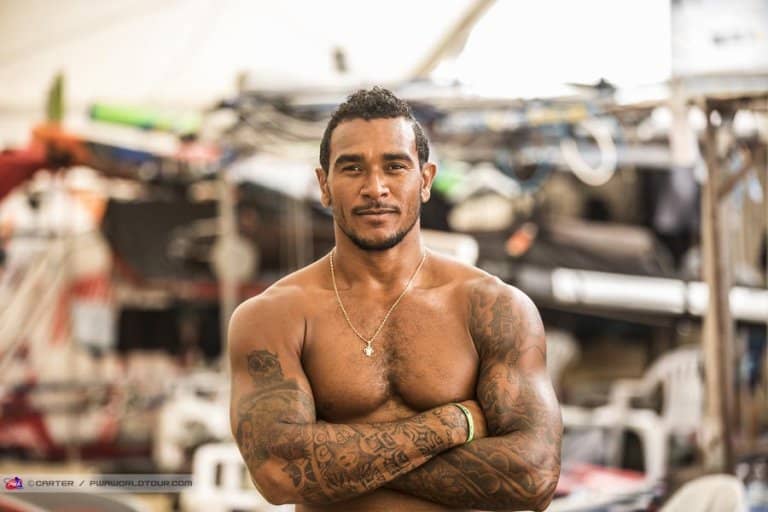 Phil Soltysiak
The 2018 PWA Fuerteventura Grand Slam was an event to remember! 4.0 conditions for 2 days straight kept the sailing on the edge, while 2 days of being the first heat on stand-by kept the mind on the edge! We arrived at the Rene Egli Center at Sotavento Beach a few days before the contest for a chance to get accustomed to the conditions. I was nursing an injured foot for the few weeks leading up to the contest, and it was not any better upon arrival in Fuerteventura, so I avoided any switch stance moves on starboard tack (windsurfing towards the beach). With a lower seeding than normal I started off the event on day 1 in the first round with the riders seeded 17th – 48th. I managed to advance that round sailing against the Brazilian Camocim and Jericoacoara local Jamilson de Souza, but then fell short to Youp Schmit from Bonaire. My only chance to fight into a higher position was to come back in the double elimination.
The double elimination began on day 2. I was in the first heat of the first round, and the loser gets an equal 33rd place. I knew my first opponent was going to come out firing on all cylinders. I´ve seen him sail before and knew he was a serious threat. He is leading the German freestyle windsurfing tour ahead of experienced German PWA riders. I took a few painkillers for my foot knowing that I needed to dig deep and pull out some of the moves I haven´t been doing for a month. I managed to squeak by winning my heat over Nicholas Nebelung. Most of the first round heats were scoring around 90 points, while in our heat I ended up advancing by just 0.3 points; 141.9 vs. 141.6.
My next heat was against Turkish rider Berk. The loser would end up in equal 25th place while the winner would continue on. I crashed a few times at the beginning of the heat, but by the end, I put together enough high scoring moves to move on to the 3rd round. It was already 6pm for my 3rd round heat vs. Taty Frans. I managed to leave him in equal 17th place and advance myself into the top 16, and wrap up the day with 3 wins in a row. Not a bad run for day 2, and potential to keep moving up in the future rounds. It turned out that was it for the day and for the contest, leaving me in an equal 9th place.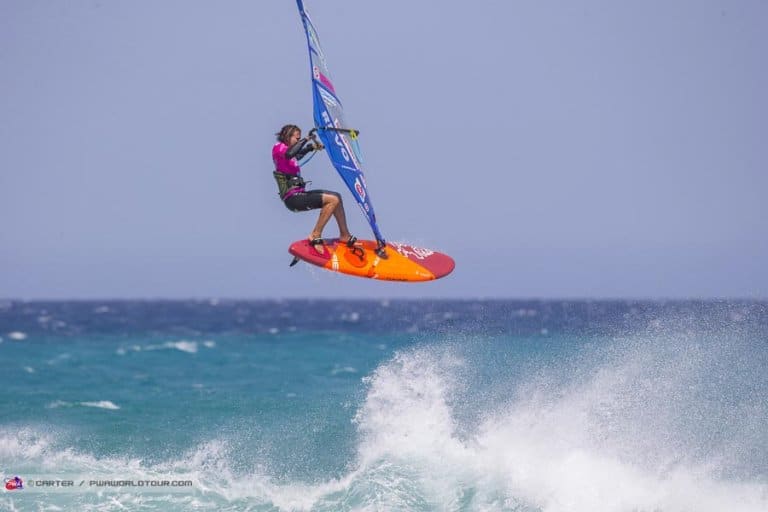 Lennart Neubauer
For me Fuerteventura was an amazing experience. I was training at my home spot really hard every day before I came here. I am happy about my sailing in the men´s fleet and happy to win the title for the junior under 15 years old. After Fuerte I will train mostly in Naxos. It´s the best time of the year for windsurfing there now. End of August I have a Greek slalom national contest and in Oktober EFPT Brouwerdam. I can say that the hard work paid off!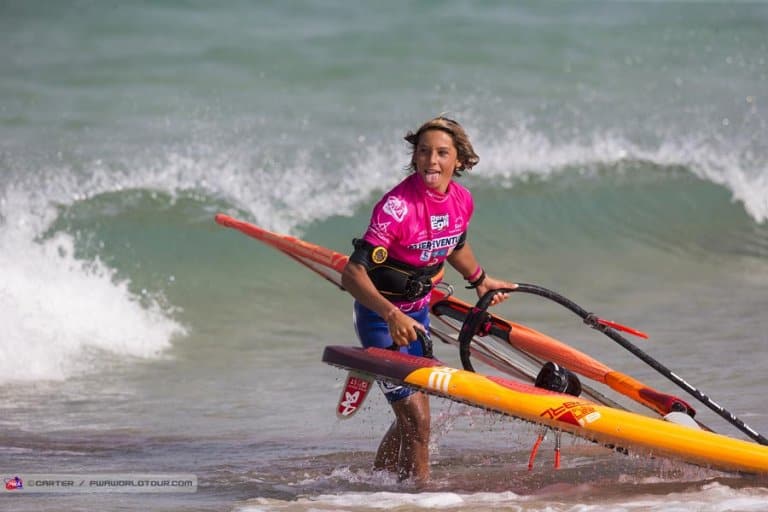 Corto Dumond
I am very happy to get the chance to compete in the men´s fleet in Fuerteventura. Fuerte is a hard place to sail, but it´s similar to my homespot, so I did not have much trouble adapting to the conditions. So I'm really happy to finish in 1st place in the under 17 years old, and 17th place in the pro´s fleet. Befor the World Cup on Fuerteventura I participated in the two EFPT events on Fuerte and Lanzarote. I also participated in Pozo in the category under 17 years old. Now I will go home to New Caledonia after this long trip. I need to go to school and windsurf at my homespot.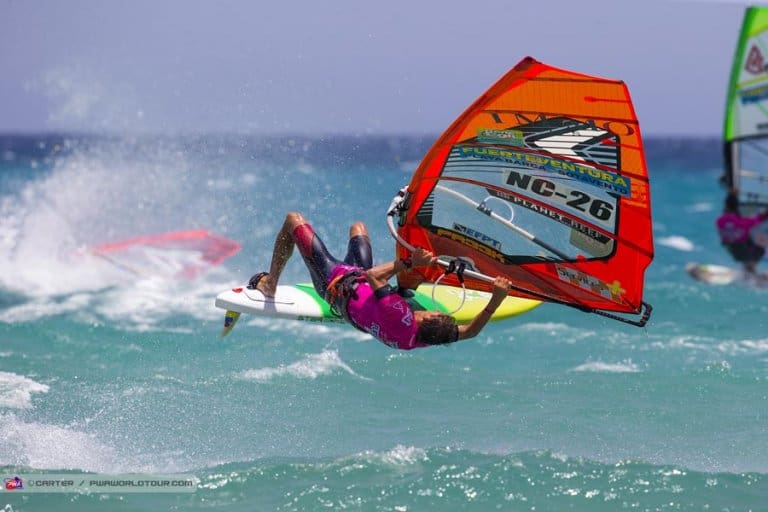 Julian Wiemar
I arrived on Fuerte two weeks before the World Cup kicked off,  because I like to get used to the conditions and tune in the gear. The 93 liter Flare was the perfect size for small sails like 4.0 or 4.4 as the wind is pretty strong most of the days at Sotavento beach. The day before the start I felt good and ready to compete! In the single elimination I managed to win my first heat against Antoine Martin, who is actually competing in the wave discipline but entered the freestyle competition here on Fuerteventura. He landed some good jumps on the outside and I knew I had to put a good heat together to win. I could land some jumps like a Pasko on port tack and ducking manoeuvres on the inside to advance and make it to the second round. But Jacopo Testa from Italy kicked me out. He was sailing super good and made it into the top five. The next day during the double elimination I could also win my first heat. I was pretty happy with my heat score and my plan was to repeat that heat in the second round against Mattia Fabrizi. But unfortunately, I crashed the Kabikuchi and the Pasko. So I was missing two moves and Mattia won with a solid performance. 25th is not the result I was hoping for, but it's always fun to compete in these crazy conditions and I can't wait for my next chance to do better in Sylt during the second stop of the world tour in September. See you there!