Sarah-Quita Offinga went to Japan to take part in the race at Defi Wind. Read her report: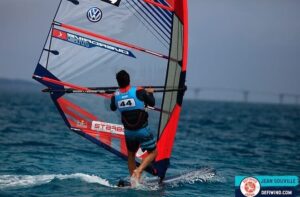 The first Défi Wind Japan was a success!
I'm really happy I was invited for this event in Miyako-Jima.
A lot of people will say they have been to Tokyo… But when will you ever get the chance to visit the tropical islands in the South?!
I said "Yes" straight away to this opportunity.
The Japanese riders are very passionate windsurfers and so friendly and welcoming.
I loved hanging out at the beach every day. It was also great to spend time with my teammates, Bjorn Dunkerbeck, Philip Köster and Boujma Guilloul.
Photo: Philip Köster gybing.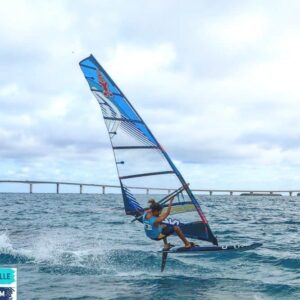 Photo: Boujmaa looking at the finish line.
On the final day a good breeze kicked in and we were able to do 3 official races. I sailed my favourite setup: 7,8 and 107L iSonic.
It was awesome to be back on the race course and mix all levels, men and women. I was shouting of excitement on the first leg in every race.
Getting the start right is pretty tricky when your watch says zero, but in fact, you need to wait for the boat to race past and open the line.
I had a couple of good starts and I always took a peek back just to see all the colorful sails behind, such a nice view.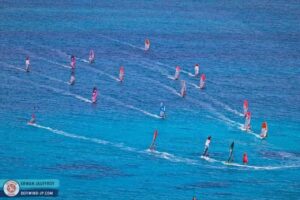 So I did really well and had some fun battles with the guys too. I would have finished 1st in the women´s and overall 8th, but I got really caught up in the racing, thinking about starting tactics, changing gear setup etc, and forgot to sign in for one of the races which are a safety requirement, and Defi's number one rule, so I got disqualified, and sadly we didn't have enough time to get a discard. Which put me somewhere in 30th I think. That's a real bummer, but I'll always remember to do that from now on.
It was really a grand week in Japan and I am really grateful to the locals for giving us such an open and warm welcome.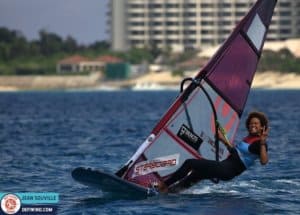 Photo: Jean Souville, DefiWind.