Hi Dudu Levi! 
Welcome to the team! Can you tell us about your windsurfing life? 
Thanks! I'm very happy to be part of the Starboard Team!
I started to windsurf when I was 16 years old, with some of my friends. I joined their summer vacation so I could try their coolest hobby!
By the time I finished school I was already addicted to it. I started with the basic freestyle tricks.
When I was 18 I joined the army for three years and I didn't have much time for this sport. When I finished my service, I went on a few windsurfing trips, and now that´s the main thing I do.
Last year I started competing in the EFPT (European Freestyle Pro Tour) and PWA World Tour.
How is the freestyle windsurfing community in Israel?
There are many guys doing freestyle in Israel and some of the riders have a very high level!
We have some super good freestyle spots where you can really improve your skills.
Israel is a small country so most of the guys who do freestyle know each other.
Which board is your favourite one?
I've been using the Flare 2019 87 liter recently, and I think it's the craziest freestyle board I've ever sailed on!
It is light and a short board that works great in strong wind conditions!
How was your competition season?
In 2018, all the events that I did, were new places for me. Each spot had different water and wind conditions.
I started my competition season in Sardinia during the EFPT, which unfortunately had no wind for high-level windsurfing.
Then EFPT in Fuerteventura and Lanzarote had conditions from flat water to waves and really strong wind.
In Fuerteventura, I also competed in my first PWA World Cup event. When I was there I saw how far windsurfers can take their level!
I finished the year with the EFPT competition in Brouwersdam in Holland.
What is your biggest motivation in windsurfing and why do you like it so much?
One of the things I like most about windsurfing are all the special places the sport takes me. I meet amazing people who like to do exactly what I do! It´s great to sail together and see how we are improving together. It gives me a lot of motivation!
Windsurfing is my way of living a good life, and I'm trying to push my level every session I have on the water.
What do you do besides windsurfing?
I spend most of my time in Israel working as a mechanic for small electric vehicles. It allows me to do some competitions and training trips around the world. My dream is to become a professional windsurfer and live from the sport.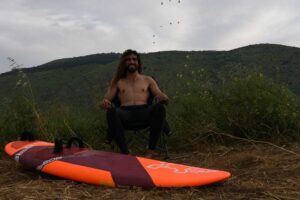 Is it true that your nickname is Jesus?
Yes, there are a few people who call me Jesus… Probably because of my look.
Can you walk on water?
Now I can do it! Because I have a Starboard Flare under my feet!