Text: Florian Jung
Photos: Pierre Bouras
Imagine a world without the ocean? We, as surfers wouldn't have waves to ride, that's for sure! But apart from that, there wouldn't be any life on this planet. I have been spending countless hours in the ocean. It's a place of joy, rejuvenation, and excitement. Being a professional windsurfer in this element means a lot to me and has become my second home.
I have seen a lot of surf spots around the world and some of them remind me of a trash dump. During a surf trip to Bali I had probably the most intense experience about polluted water. We had perfect waves that day but the water was dark brown with all kind of trash in it. After that session, I felt sick and decided to do something about it. As surfers, we use the ocean for our pleasure but in the end, it concerns all of us. We are depending on the oceans biodiversity. There are more than 5 trillion plastic particles floating around the sea, enough to cover every meter of coastline. In order to get peoples attention to be active, you have to show more than just problems.
The idea to realize a surf expedition across the Atlantic Ocean slowly developed. The combination of dynamic surf images, educational contents and scientific background information could inspire young people to learn more about the consequences of plastic pollution in order to avoid it. I found sponsors that wanted to be part of this mission and teamed up with people that shared the same ideology. The final crew consisted out of a marine biologist, an environmental expert, a skipper, a photographer, a filmer and other athletes like Boujma Guilloul and Camille Juban. We decided to sail from the Caribbean towards Europe to show the whole variety of the Atlantic Ocean. On each destination, we planned different environmental projects like beach clean-ups with kids, interviews with local environmental experts and water quality tests to show our experiences in weekly web episodes or daily reports.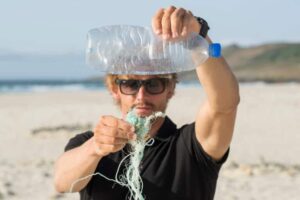 Scientific Research
This journey was more than just discovering new surf spots. We wanted to have an impact to really change things to the better. Our point of focus was the so-called "Atlantic Garbage Patch", an area of hundreds of miles in the North Atlantic, where marine debris tends to accumulate as bounded by oceanic currents. Trash that we throw in the ocean will sooner or later end up in one of these "Garbage patches". Because of the chemical composition of plastic, it will be there for up to 450 years. Small animals accidentally eat these microplastic particles. These smaller animals are eaten by bigger animals, which we then eat. Being at the end of this chain means that we consume the largest concentration of toxins. Moreover, millions of animals die from these microparticles, disturbing the balance of the ecosystem.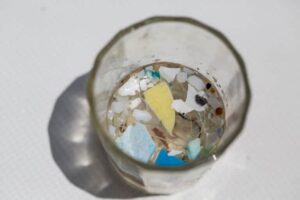 This pollution happens too fast for nature to adapt but too slow for us humans to notice. The biggest threat is that we cannot picture the destruction, but the consequences are accumulating, just like the little pieces of plastic in our diet.
To visualize the problem, we applied a scientific method called plankton trawling. A special net tied up behind the catamaran revealed a very concerning truth. In the middle of the Atlantic Ocean, hundreds of miles away from land, we took samples and all of them were full of tiny plastic particles.
Lets through off the bow lines!
After four intensive months of preparation we finally started the aqua power expedition at the end of March in Guadeloupe. A 50 ft. catamaran owned by a Norwegian captain was the perfect vessel for this kind of adventure. Equipped with a lot of boards, sails, diving equipment and provision for the next weeks, we set sails to discover the island.
To be honest, I felt a bit worried that everything worked out . My sailing experience was quite limited as I have never been on a boat for more than 3 days. I felt like an average hiker, trying to climb Mount Everest.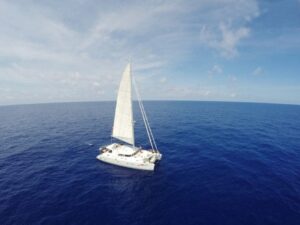 Guadeloupe showed great surf potential and we had a few really good days on spots called le Moule and St. Anne, where local boy Camille Juban, showed us why this is one of the most consistent places to windsurf in the Caribbean. Most of the waves are located on outside reefs with powerful sections to play around. Beside windsurfing and surfing we organized a beach clean up with the local kids on a remote island in front of this paradise island.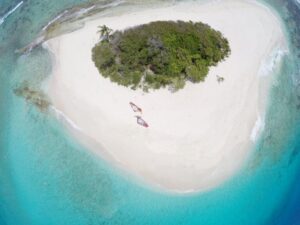 After a week in Guadeloupe, we sailed on a three days passage to the Virgin Islands and set up a watch schedule, where each crew member had certain responsibilities to take care of navigation, cooking or cleaning the boat. 3 hours on watch, 6 hours off.
The Virgin Islands are probably one of the most beautiful places you can imagine. Crystal clear waters, daily trade winds around 20 knots and a diverse underwater world full of life. The only thing that was missing was the waves. After a week of improving our freestyle skills in lagoons, snorkeling and recording interviews about coral reefs, we continued our journey to the Dominican Republic.
Shortly after our departure, I woke up from screaming noise. The fire alarm was on! A big flame came out of the oven and smoke covered the whole cabin. After some hectic moments, the turkey, that almost ended our journey, was soon after, safely stored in our stomachs.
Just in time, we reached the shores of the Dominican Republic with a big swell and finally found the long desired waves. On a reef break close to the surf village of Cabarete we scored a powerful righthand wave that delivered perfect conditions to surf and windsurf for the following days. We anchored the boat just next to it and enjoyed the best waves of the whole trip till one evening a furious mafia boss with a big gun was blaming us for using his beach without permission.
We decided it is time to leave in order to get rid of this crazy guy. The following 800 sea miles to Bermuda seemed to be loaded with surprises. No wind at all, rain squalls with strong winds up to 50 knots and thunderstorms followed by no wind at all.
After a solid week of sailing through the deep blue sea, we arrive in St. George, where the harbormaster welcomed us with a few shots of rum. It was time to connect with the cyber world, updating facebook pages, organizing provision, and preparing the boat for the upcoming weeks on the open ocean. In between we had a swim with humpback whales to capture these amazing creatures in one of our web episodes.
It was also time to say goodbye. Boujmaa, Camille and our experienced French camera crew had to leave the vessel for the annual photoshoot on Maui.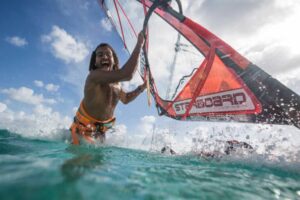 On a good forecast, we decided to leave Bermuda and head towards the east. Everything went according to schedule. We collected plankton samples in the most affected areas of the "Atlantic Garbage Patch" and share the data with our associated environmental partner organizations.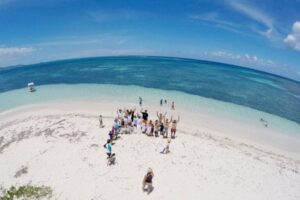 1000 sea miles away from the next coast, we came into a first big storm where I learned a lesson from Mother Nature. While battling against the waves I accidentally went too far downwind and got the wind from the other side. The catamaran suddenly did a 180-degree spin; the mainsail suddenly swung around and broke on a few spots. Even though we could manage to fix the sail, the damage series continued. A few hours later the headsails enrolled and ripped into several pieces, the engine stopped working and all of us were seasick and tired. With one sail left we made it to the Azores within 15 days and got welcomed by a perfect clean north swell that provided powerful waves. It felt really good to finally surf waves with a tiny board instead of a 22 tons catamaran. We learned more about the effects of climate change while doing an interview with a local scientist, restocked our water and food supplies and finally continued our journey towards Europe.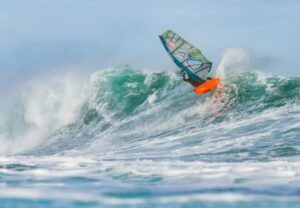 Followed by loads of dolphins we had to sail against the winds, which can be really frustrating. The catamaran was jumping up and down and being in bed felt like a boxing fight. Somehow we manage to reach Tarifa after another week on the big blue sea. Exhausted from the lack of sleep and happy at the same time we had a few days in the windsurfing capital of Europe.
5290 sea miles later, the 72 days adventure finally ended in Marseille. Journalists, sponsors, and friends welcome us "back on land" with a little surprise party.
Looking back I am really grateful for this experience. I am going to miss the constant battle with the elements, to see nothing but the vast horizon and being able to observe the marine life in their natural environment. It made me realize how small we are. There is so much more we don't know about the ocean and it is hard to understand that we leave our traces thousands of miles away from any civilization.
I hope this journey and the documentary will translate scientific findings and facts into a language, especially for young people to understand that this is a global problem where every one of us has a certain responsibility. We have to throw old habit overboard and reduce plastic waste in our daily life or at least find a way for better waste management so it doesn't end up in our oceans. In the end, we all sit in one boat that is called "earth" and surrounded by water.