Finally the PWA World Cup in Pozo was back on tour! Our Dream Team rider and 19 x World Champion Sarah-Quita Offringa wrote about her time training and competing in Pozo. Keep reading if you want to know what is going on behind the scenes from Sarah´s point of view. Also take a look at the video she released just before the World Cup started:

All words by Sarah-Quita:
Yes! We finally got a chance to battle it out again in Pozo Izquierdo!
After a 2-year hiatus I was so pleased to hear that Bjorn Dunkerbeck took up the organization side of things and that we'd be back competing in Gran Canaria. I think it's one of the most iconic events on tour and since a few years I'm honoured to be part of the top women competing here.
This is the contest I look forward to the most during the year because the conditions are extremely challenging. The wind is there, the ramps are there but it's up to you how high you want to jump and how far you want to push your limits.
When I compete I'm pretty calculated and know what the other riders are capable of, but during this event I need to focus more on my own mind game. Because pushing your boundaries in those conditions is scary!
Having said that, you'll see crazy things during this contest where riders will try about anything to win a heat. My self included. It's an incredible show. And by the end of the rollercoaster ride you come out a better windsurfer.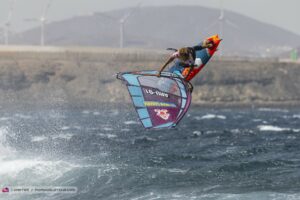 So, what were my goals for the events you may ask?
Well, I won the world title in 2019 which has been one of my proudest achievements in my windsurfing career. Time to relax? No, of course I immediately wanted more.
I want to be a better windsurfer. I want to be the best windsurfer I can be.
Besides the wave title, what I still really want to achieve on tour is winning Pozo!
Winning in Pozo would mean I pushed way passed my comfort zone and overcoming some fears.
Having said that, I got caught up with different projects and couldn't pass up the chance to fly back home for the Aruba hi winds so by the time I made it to Pozo there were only 3 weeks left before the event. Usually, I spend about 6 weeks there before the event. All I could do was make the best out of it and make every session count.
When the contest came around, I was pretty happy and confident in my jumping but not so confident in my wave riding, but all in all the most important thing was that we were competing again, and I was stoked about that.
The contest
The forecast for the event was terrible but somehow Pozo came through and in the end we even finished a double elimination. On day 4 when they called the ladies on to compete I was shocked to have to roll out my 4,7 and 4,5. I had only been sailing with my 3,3 up until then! Competing in Pozo in light conditions was strange! In the single elimination we competed in really light conditions which made it much more technical, but it was a rush to be out there again. I drew Daida in the semi finals and she had a flawless heat against me. So I finished in 3rd.
After that we played the waiting game and we didn't think we could do a double elimination. Gran Canaria was hit by "Calima" which means it's extra hot and the wind doesn't come through. But on the final day the temperature was finally cool enough and the Pozo machine was on. I found my self rushing to rig my 3,3 and 3,7.
Oh man I got the jitters, the wind was there, the ramps were there, and it was up to me to push myself to higher heights. If I wanted to make it to that top spot on the podium, I would first have to defend my 3rd place, and if I did that successfully, I would be up against Daida, and after that heat I'd just have to beat Iballa twice to win the whole event.
Easy. Well that's how I played it out in my mind a couple of times anyway.
Lina Erpenstein won 4 heats in a row to come up against me and she's the biggest daredevil of us all, I've never seen her go so high on stalled forwards before. Sailing against her is always motivating. I'm happy I held my own. In that heat I did a good stalled forward and landed a good back loop to defend my 3rd spot.
Then I was up against Daida, according to plan. But I didn't feel the same fire as I did in my heat before. The ramps came here and there but I couldn't pull the trigger and go extra high, which is what I needed against her, I saw her land a big wave 360, and it slowly settled in that it wasn't going to be the day I won Pozo.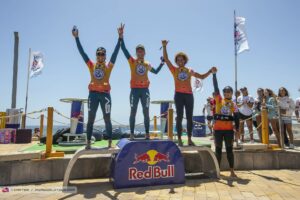 Experience and consistency is key
By the end of the heat, I did actually win on jumping but was far behind on my wave score.
I did not win the contest like I envisioned, and I did not have a heat where I magically landed big moves.
Daida went on to win the event and all I can learn from that, is that experience and consistency is key. I've seen her spend countless hours on the water the past weeks and then watched her display excellent heats against me every time. That excellence comes through preparation. I've sailed better than I ever have in Pozo, but it wasn't enough which fortunately has a very motivating effect on me. I'm beyond excited for more wave trips this year!
Thanks to my sponsors for having my back and letting me live out this windsurfing life. It was nice to have some time off, but I really really love competing and I can't wait for more.
Special thank you to Rafa soul art for the fun session shooting in and out of the water. Check the video on top made by Rafa soul art.
Photos by JC/PWA and Rafa soul art.