If you are planning a windsurfing trip in Texas, you need to read Phil Soltysiak´s travel story. What does the land of pick-up trucks, expansive ranches and oil wells have to offer to a Canadian in search of wind, water and adventure? Turns out the "Lone Star State" has more windsurfing ​"than you can shake a stick at!"
Words by Phil Soltysiak:
My girlfriend Kelsey and I began our Texas adventure landing in Austin, the live music capital of the world. We found our board bags among the instruments at the oversize belt, skipped the live music, and headed straight south to Corpus Christi. After all, it sounded like the wind and waves were ​"ready and rarin' to go".
Corpus Christi was our base for the week. The city sits on the south west side of Corpus Christi Bay, and is sheltered by Mustang and Padre islands. You're within a 45 minute drive of close to 10 windsurfing launches that work on all wind directions.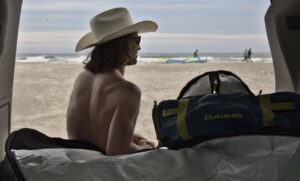 The city of 325,000 is also a base for the US military, and ​"Sure'nuff​", you can windsurf next to a decommissioned Essex-class aircraft carrier, the ​USS Lexington​. The ​Lexington​ spent 21 months in combat during World War II.The Japanese falsely reported her sunk on four separate occasions,earning her the nickname "Blue Ghost". The ​USS Lexington​ reached maximum speeds of over 30 knots, a range of over 4,000 miles and hosted a crew of 3,000.
The windsurf spot next to the ship is called North Beach and the carrier is at the west end. The size of the ​USS Lexington​ is astounding, and it didn't seem that anybody minded how close I got to the boat. At times it felt like I was under the runway!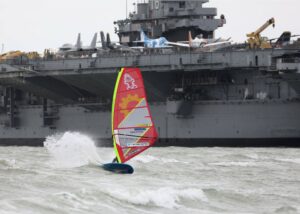 To launch at North Beach, drive down Golf Place to a gravel parking lot along the waterfront trail. There are a few grassy patches for rigging, and you need to be careful for burs if sitting or putting your wetsuit on. North Beach works well on a south or southeast wind, and offers small chop with a tiny manageable shorebreak. The main attractions nearby are the ​USS Lexington​, The Art Museum of South Texas and the Texas State Aquarium.
Another nearby windsurf spot includes Oleander Point at Cole Park, which is often windier than North Beach when there is south or southeast wind. However, it gets gusty if the wind is too south. Oleander Point offers grassy rigging, and a walk down to a pebble launch. There is an extended shallow area, which can be identified by looking at where the chop is breaking. Oleander Point offers windsurfing with the Corpus Christi cityscape as a backdrop.
Cole Park offers an extended waterfront walking trail along the Bay of Corpus Christi and Ocean Drive. As you walk along the waterfront trail you can ogle at multi-million dollar waterfront mansions across the road. The park also offers grills, a 10,000 square foot skate park, and an amphitheater.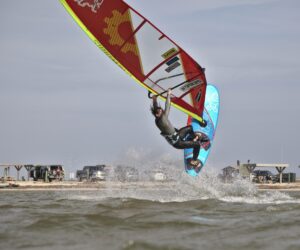 If the wind has a lot of south in it and Oleander Point is too gusty, drive east on Ocean Drive until you reach Texas A&M University Beach. Launch at the point just before Ocean Drive is closed to civilian access. Beyond the closure is the currently active Corpus Christi Naval Air Station. University Beach offers smaller chop and better exposure to south wind.
When we searched for the spot we drove up to an entry gate thinking the launch was within the air station. The soldiers at the gate confiscated our identification and called in our license plate before politely explaining there was no windsurfing on the base. Oops!
If you're looking for even flatter water, head over to Laguna Shores' Bluff's Landing Windsports Launch for easy and smooth flat water sailing on southeast winds. Timing with south wind is similar at all these spots, with the afternoon being the best. If there are frontal north winds, keep a close eye on the forecast to know when to go.
One of the most popular launches in the area is on Bird Island from the Worldwinds Windsurfing shop and rental center. There is camping right on the Laguna Madre, and with all the sandbars, islands, and flat land, any wind direction offers a steady breeze and flat water.
Bird Island is part of the Padre Island National Seashore separating the Gulf of Mexico from the Laguna Madre. This protected area is home to 380 bird species and is the longest stretch of undeveloped barrier islands in the world. Besides the incredible windsurfing, the area is popular for other water sports, fishing, camping, sea turtle watching and birdwatching. A day-use fee is required to enter the park. Beware of ranger speed traps on the straight road entering the park.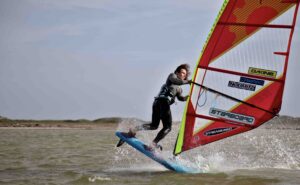 For those looking for more adventurous windsurf sessions, the Gulf of Mexico's swell can build to a fun size. Our first venture into the gulf was on a southeast wind day, where the north side of the Packery Channel produced side onshore conditions, fun for riding and jumping. A beach parking pass is required, and can be obtained at any local gas station. The Packery Channel beach is recognized by Corpus Christi as a watersports park. You drive directly onto the beach and park among a collection of pick-up trucks and RVs. You will find people enjoying the beach for all it's got to offer, from camping, fires and grilling, to surfing, kitesurfing, and of course windsurfing!
The cross-shore current can build up significantly, but if you hug the Packery Channel's pier to your south, you will avoid the worst of the current and not drift downwind. Watch for surfers here, as they hug the pier and use the rip to get out through the breaking waves.
If you continue a half hour to the north on Mustang Island, you end up in Port Aransas. The launch is immediately south of the Port Aransas Jetty. On a cold front with north wind, Port Aransas offers excellent port tack wave sailing. Our north wind day ended up veering a lot to the east, and Port Aransas still offered fun down-the-line mini aerial boosting conditions. The
channel has massive ocean going vessels entering and exiting, often with the excitement of dolphins jumping in their bow waves while pilot boats pull alongside for their duties.
For more Gulf of Mexico waves we dedicated a day trip to Boca Chica Beach. Bring your identification for this one! A three hour drive south to near the Mexican border, past the SpaceX launch facility from where they will send missions to Mars, through a border control checkpoint, and straight onto the sand. Our rental minivan did just fine driving the five miles north on the surprisingly narrow strip of sandy beach to the Boca Chica Jetty, just south of South Padre Island. Besides our group of four windsurfers there were only two fishermen with their big truck.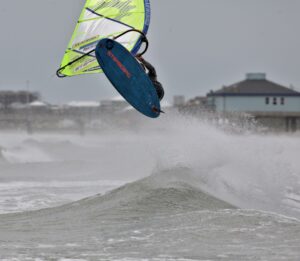 We rigged, caught some waves and hit some mini aerial sections. We took some photos, saw some dolphins, shared some more waves, and before we knew it, our minivan was the last vehicle at the spot. Not a situation that a dedicated windsurfer isn't accustomed to, but I sure didn't remember parking so close to the water.
Realizing that the incoming tide snuck up on us, we hastily de-rigged and drove off, worried that our window of opportunity to drive off the beach before high tide was narrowing. If we didn't make it out now, we would have no way out, no water, and no food, until low tide at six am the following morning.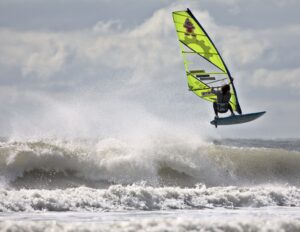 We made it through the soft sand of mile 1; we drove through shallow water in the backwash of waves past mile 2; we squeezed by a narrow section between deep water and the sand dunes at mile 3, and suddenly hit the brakes at mile 4. The waves were washing up to the dunes, eroding them ahead of us. We were trapped with one mile to go, no way to turn the car around, and the tide was rising. Reversing the way we came from was impossible, as we barely made it through to start! I quickly jumped out of the van, and looked for a safe spot to drive up a dune to hopefully wait out the tide, high and dry. I found the spot, put the van in reverse and fired the van up the soft sand as far as it would go.
We were stuck, but the van was safe – or so we thought.
As the tide continued to creep up, we started to plan our rations of remaining food and water for the night. The plan was to wait until the water was low enough to uncover the beach – our road – at six the following morning. As the hours ticked by, waves started washing up close to the car, too close for comfort. With nowhere to go, we resorted to scavenging in the dunes for something to build a wave break. With a few discarded tires and pallets we put up our wall. At the water's highest point a few waves washed up to the car before​—​to our relief​—​the water started to recede.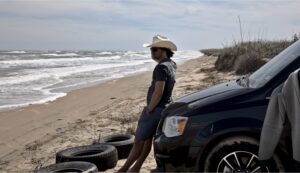 So at least we didn't drown our $40,000 rental car. With the tide receding and the sun starting to drop to the horizon, I didn't like the idea of staying overnight without food or water, and started to make an evening escape plan. I checked where the air intake was on the van, and researched how to drive through deep water without stalling a vehicle. Then, I walked the remaining part of the drive, often in water up to my knees, and started to remove any obstacles and marked the deepest sections. My plan was that knowing where the deepest water was, we could drive through those sections while the waves washed away. As the sun set, in the final light of dusk, we made a run for it. Before we knew it, talk changed from tides and car rental insurance policies to dinner. Freedom!
One of our favorite post session dinners was without a doubt a traditional Texas barbecue at Rudy's Bar-B-Q. Show up hungry after a day of windsurfing, and chase down your beef brisket, pork ribs and sausages with your favorite cold ​'merican​ beer.
Alternatively, check out the Executive Surf Club for a post-session Texas original – the hamburger! The Surf Club knows how to serve it, and they're conveniently located next to the Texas Surf Museum to keep your surf vibe on a high. Don't forget to browse the restaurant's walls. You'll find a collection of windsurfing history and memorabilia.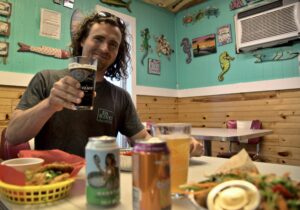 Statistically, between February and July you will windsurf at least half of your days in the Corpus Christi area. Most months during that season average 50% of days over 20mph, and 75% of days over 15mph. For your occasional day off the water there is more than enough to experience.
Just an hour's drive out of Corpus Christi is King's Ranch – the state's biggest ranch at 1,225,000 acres. The ranch itself is larger than the state of Rhode Island, so you can't tour the entire thing, but a guided tour is worthwhile to learn it's rich history. It was founded in 1853, and just recently was inducted into the Texas Cowboy Hall of Fame. Most of the ranch today is used for agribusiness. Plan on a half day for this adventure.
A full day trip from Corpus Christi is the Aransas National Wildlife Refuge. The park is designed mostly as a driving tour with short hikes. Here you can spot a variety of birds including the endangered whooping crane. Other interesting animals include armadillos, alligators and bobcats. Keep your eyes open and don't walk too close to the edge of the trails, the proximity and camouflage effectiveness of alligators spooked us! Our closest encounter was merely a couple feet from us and involved direct eye contact with the gator.
So if you're a windsurfer that isn't into raising cattle or pumping oil, you'll still feel right at home in the All-American state. Whether you're on a family trip looking to combine windsurfing with alternative activities or a lone dedicated windsurfer, you'll find plenty of entertainment and a welcoming surf culture. The state's southwest coast with its reliable winds, variety of conditions, plethora of activities, unique foods and a thriving surf culture ​"might could"​ be your next Texas-sized windsurfing adventure.
Texan expressions:
●  "More than you can shake a stick at." – "A lot."
●  "Ready and rarin' to go." – "Excitedly ready to go."
●  "Might could." – "Could."
●  "Sure'nuff." – "Sure enough."
●  "Y'all." – "You all."
●  "He's all hat and no cattle." – "He often speaks highly of himself, but does not followthrough with his actions."The windsurf spots:Map of windsurf launches and mentioned attractionsSeason:February – July
50% of days over 20mph 75% days over 15mphClosest Airports:Corpus Christi International Airport San Antonio International Airport Austin International AirportWhere to eat:Executive Surf Club – Burgers, bar food, draft Beer, live music, surf culture. Rudy's Bar-B-Q – Texan BBQ, quick food, beerWhataburger – Texan fast food chain originally from Corpus Christi serving burgers, fries and milkshakes.Where to stay:Hotels in Corpus Christi – There are many and all styles to choose from including quite a few beachfront options.

Vacation rentals rentals – Find them on AirBNB or VRBO.
Camping – There are many RV and tent camping options, mostly on the barrier islands.
Photos by Kelsey Cardwell