The PWA Wave World Cup in Pozo is just done! Our team riders sailed their hearts out and showed the world of windsurfing the highest level of jumping! Pozo was challenging this year without many days of typical Pozo days! But on the last day, we got some proper wind and ramps to complete the double elimination!
Two of our riders got on the podium! Congrats to Sarah-Quita Offringa for her 3rd place. The Queen of Windsurfing with her 19 World Titles showed some incredible jumping skills! The big rocket this week was Liam Dunkerbeck! He was on fire the whole week. He won the U20 and sailed into a top 7 in the men´s contest. Keep reading to know what the riders say about the event.

It was awesome for me to be back in Pozo and compete again. It's still one of my favorite places to train and compete because it's so challenging. The weeks before the event I scored a couple of good sessions so I got quite comfortable jumping and was pushing myself to go higher on stalled forwards and I was landing my backloops regularly and with more height as well. So I was quite excited to showcase that in the contest. I was stacked on my 3.3 for weeks but we sailed the single elimination in uncharacteristically light conditions.
I hadn't even rolled out my 4.7 and ended up competing with that. Even though those were not the conditions we expected for Pozo I thought it was quite fun and challenging to have to be more tactical and technical to ride in light onshore conditions. I was satisfied finishing 3rd.
But in the double elimination I wanted more and after a week of waiting the wind kicked in full force on the last day. I sailed my 3.3 and managed to defend my 3rd place against Lina who was just steamrolling through the double elimination. But in the heat against Daida, I could not put the heat together that I envisioned. And she had a great heat once again. I am happy about my jumping, but need to work on my wave riding. And the only way to get there is to do more of it 🙂
Can't wait to get in the jersey again at the next wave comp!
The event was definitely intense, a lot of mental game was part of it. We score pretty much every day, but not in epic conditions. It was important to stay steady no matter the time of the day. Unfortunately for me, I ended up 17th, which really ruin my season. I think I was missing something during the event that I need to work on. At the end of the day, we were able to complete the whole event so far so that's it and I'm looking forward to the next one.

The event was quite ok for me. I am happy to just compete again. With 17th place, there is space to improve but it's ok as I just came back from a knee injury. So it was good to finally have an event again and charge hard with the boys. I enjoyed being in Pozo with some great heats. It's a special place with a 100% focus on windsurfing!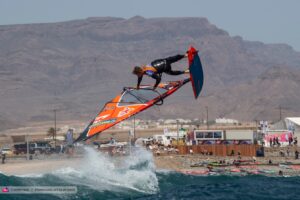 The PWA World cup in Pozo was really good! It is my home spot and I love to sail here! In the end, we managed to have a single and double elimination for a proper result. I was happy to win the Under 20 boy´s category. In the men's world cup I finished in 7th place! It was amazing and it gives me the motivation to keep on training hard for the next coming events!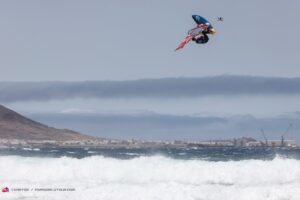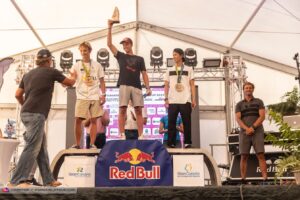 It was a real thrill to be back in competition mode. Especially in Pozo! I came here to train a few weeks before the event to get myself ready for the spot. During the competition, I felt really good. I would have liked to have gone further in the double elimination, but that's the game. It was a great competition, and I can't wait for the next one!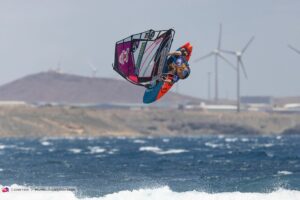 If you want to check out the UltraKode boards the team used at the contest, click here. 
Photos by JC/PWA