Welcome To The Starboard Family Federico Morisio
We are super excited to finally introduce to you the newest member of Starboard's Dream Team: Federico Morisio. Down the line wave riding, positivity and sharing the stoke is what Federico lives for. Unfortunately, Federico just injured his knee on a bad landing so he is currently in the middle of his rehab. We caught up with him in an interview so you guys can get to know Fede better.
Hi Federico welcome to Starboard's Dream Team! If you would have to describe yourself in 3 words, what would they be? 
They would be dreamer, determined, passionate!

Where are you from? How did you get into windsurfing and what drives you today?
I was born and raised in Torino, Italy, which is a city in the northwest part of Italy closer to the mountains than to the sea! I got into windsurfing thanks to my dad, a windsurfer himself. He taught me at 8 years old in Corsica and transmitted me this huge passion! As I lived in Torino until I was 19 years old, I never really had a homespot, but that didn't stop me from chasing my dream of becoming a pro. Today I'm still driven by the passion and love I have for the sport. The way it makes me feel, the adrenaline it gives me, the lifestyle it provides, the dream of riding the best waves on the planet and the desire to become the best athlete I can be. Besides this, thanks to our sport, I see this deep and powerful connection with the ocean as a strong motivation to bring awareness about the serious environmental issues we're facing as a society. I feel the need and urgency to educate people about climate change and inspire them to have more sustainable lifestyles. This really drives me.
Capetown, Chile, Maui, Pacasmayo are the Windsurfing spots all wave riders dreams are made of. For you, they have seemingly become like second homes and while we haven't seen that much of you on the PWA Worldtour yet, you certainly managed to impress the audiences with your radical wave riding videos and the Jury on the IWT. In fact, you won the event in Pacasmayo and finished the tour in 4th overall. Out of all these dream spots, which one is your favourite and why? 

Sincerely I love all these places, they're just incredible and each one of them is special in its own way. In the last years I felt a really deep connection with Maui and Chile. Maui is simply windsurfing's Mecca with one of the most difficult, challenging and high-level waves in the planet, the perfect playground for training at the highest level and a fully windsurfing lifestyle. Chile has some of the most amazing and enjoyable waves on Earth. This matched by an incredible vibe from the local people and a fantastic lifestyle, is what gave me the opportunity to make lifetime friendships and live unforgettable moments inside and outside the water!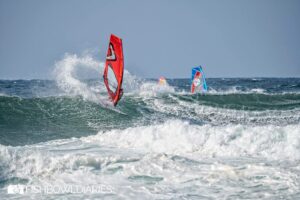 Are you planning to do the PWA World Tour? 
I started competing on the

PWA World Tour

as soon as I started training seriously in windsurfing, back in 2014 when I was 19, and I was completely committed to it. Once I discovered the

International Windsurfing Tour

events and had the chance to compete in those conditions. My mind completely changed as I realised how much I loved waveriding and what my real potential was.  Besides loving every second of being on tour, making great friends and travelling to amazing countries.
Federico, what made you want to join Starboard's Dream Team and what do you think about our 2022 wave boards?
I love Starboard's mission to promote windsurfing and work together for a healthier, better and more sustainable future. It's time to act also in our industry and make our sport more sustainable, especially considering how much happiness and joy nature provides us; it's our turn now to protect and respect it. I'm lucky enough that this great mission is also matched with an incredible drive to innovate and always improve our gear, which permits me to say that the

2022 UltraKode

is for sure one of the best production boards on the market! I can't wait to start riding with it again!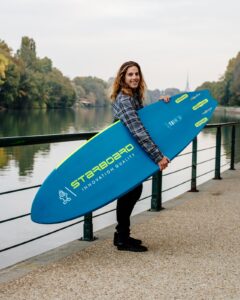 You are currently in recovery from a knee injury, what happened and how are you coping with the recovery process? 
Yes, I broke my anterior cruciate ligament and also got my meniscus sutured. It was pretty weird, as it simply happened landing from an aerial in Fuerteventura; but the way I landed put a lot of pressure on the back knee which couldn't resist and tore. I suffered a lot mentally for the first few days, but then I saw it as a huge opportunity to work super hard on my body in these months. It's also nice to focus on other tasks and activities that I'm passionate about such as sustainability and content creation. I'm 100% sure that I will be back from this stronger than ever and that both my life and windsurfing career will benefit a lot from it. What doesn't kill you makes you stronger, right?!
When will you be back on the water? 
It's a tough and long injury, but my rehabilitation is going great, I'm working hard with the physio, eating super well and staying positive; I think I will be able to get back on the water around January-February and then be back attacking waves around March-April; hopefully in time for the first IWT events.
How can we follow you on your journey? Anything else you would like to add? 
You can follow me on Instagram through daily updates, on YouTube through my Vlogs, on Facebook and TikTok for other types of content as well!

I would just like to say that I'm really proud and glad to start working with Starboard because of our shared values and goals; and finally tell the Tiki community that if you're looking for windsurfing inspiring content, tips, tutorials, good vibes and good fun you should follow me on my platforms!

Thank you so much for the interview! Wishing great wind and waves to everyone! Epic times ahead!
Here's how you can follow Federico and his new Starboard's on social media: