Sharing the passion of windsurfing with your partner is helpful, when alarms regularly go off at 06:00 am to catch the early wind at Lake Garda – in winter… When it comes to those cold European windsurfing sessions, there are a few characters out there, who stand out. Two of them are Meiky Wieczorek and his girlfriend Linda Mankova. We talked about motivation, support and how they never miss a session – even if it's 06:00 am and temperatures around zero degrees.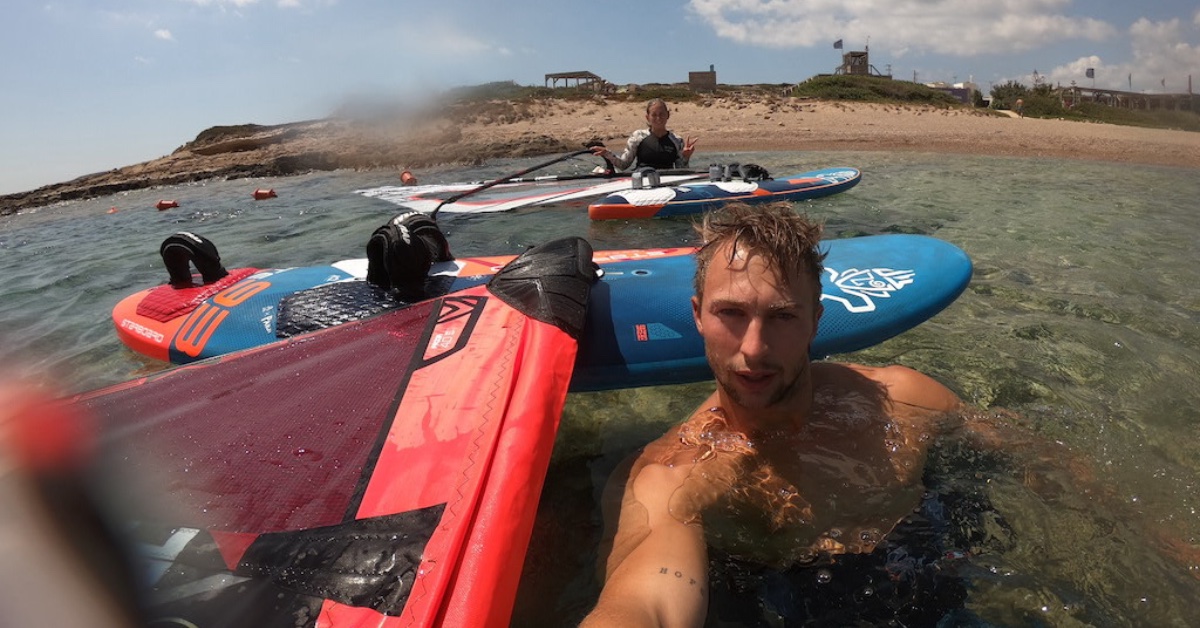 Please tell us a little bit about yourselves first!
Linda: I come from Slovakia, and I'll turn 27 soon. Meiky is from Germany and is officially 29 years old, but he is convinced that it's a mistake, so he pretends to be 24.
We live together in Malcesine at Lake Garda and in summer, we spend a few months together in Karpathos, Greece. We first met each other in Karpathos, when I started to work there at the Meltemi Windsurfing Centre.
You spend a lot of time at Lake Garda together. How does a day there look for you?
Meiky: In the best case our day starts with a session in the morning. Alarm between 6 and 7 o'clock, no breakfast and straight to the beach to hit the water. If this is not the case, we wait for the South wind in the afternoon and catch it if the work allows it. In the evening we go to the gym if there is energy left. During the rest of the day, we do home office together. On the weekend we mix up the activities and go biking or hiking.
Linda: Lake Garda is like a paradise for people that like to do outdoor activities. It never gets boring and there is always something to do. Not so good for the household haha, since we are always out doing sports.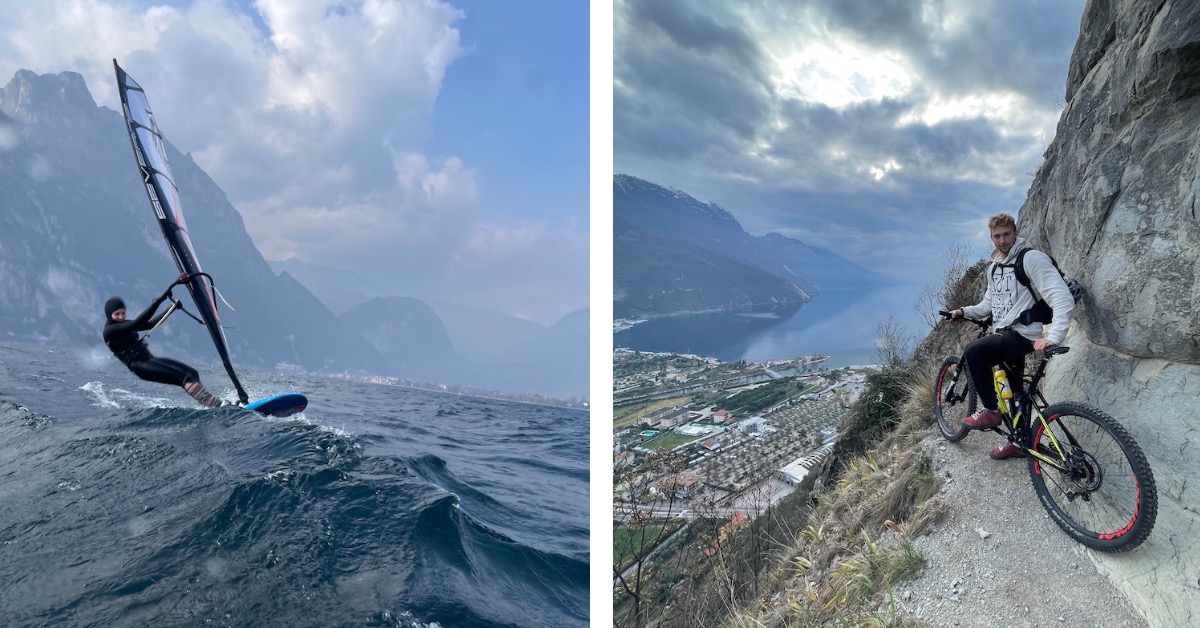 How important is it for you that you can share your passion with your partner?
Meiky: For us it's very important as the wind here at Lake Garda comes mostly early in the morning and requires an alarm at 6-7am. When the alarm rings at 6 in the morning on a Sunday, it's definitely an advantage that it is for both of us. In general it's just nice to share your biggest passion with your partner. It's great to watch each other progress and also to get the appreciation from the other one, when you do something good.
When did you each start to windsurf and what is your motivation?
Meiky: I started windsurfing at the age of 5 and learned basically everything here at the Lake. My motivation is simply windsurfing itself. Trying to push hard and to figure out how far I can get is what motivates me.
Linda: I started windsurfing when I was a kid but actually, I did not like it so much, so I changed for sailing. Three years ago, I came back to windsurfing and for sure Meiky was one of the people who inspired me to try freestyle. What motivates me is, that when you put hard work into windsurfing, you start to see the results. It is a patience game though.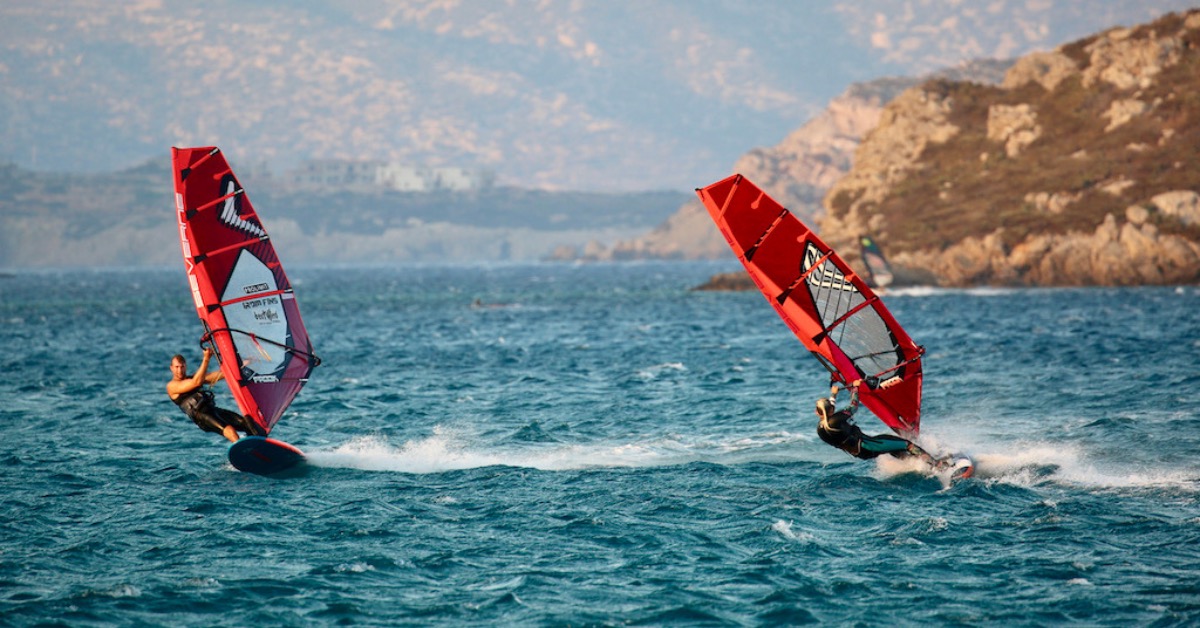 Who spends more time on the water?
Linda: We always go for the sessions together. I was not used to go windsurfing during winter, so sometimes it was a challenge to go out in 5 degrees early in the morning haha. Meiky definitely can handle the cold better, so he usually stays out on the water longer.
What moves are each of you working on?
Linda: The ultimate goal is to land the forward loop. I am quite close already, so fingers crossed! I also want to get more consistent with landing the airjibe and later for sure the spock.
Meiky: I want to go for all the latest radical moves, but the biggest challenge is to overcome my fear. That's the plan for this year!
How do you support each other?
Linda: In the morning I am not super fast, as I am not such a morning person in general haha. So often while I change into a wetsuit in the car, Meiky rigs my sail so we can start together. He also prepares me coffee every morning which is a biiiiig help. My "job" is to make sure that he has enough content from the water. We have so much fun filming as we try to find the best ways on how to deliver high quality and creative content of windsurfing.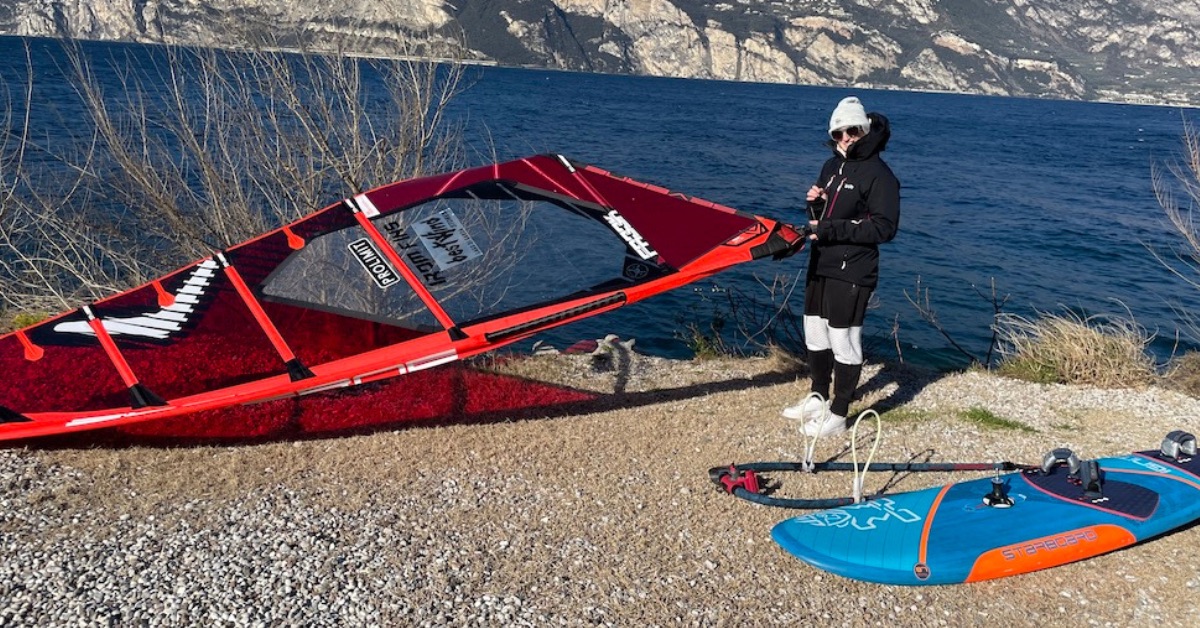 What is the best place to windsurf?
Lake Garda and Karpathos.
Where do you want to travel to together?
Linda: I would like to go to Dahab next winter, but Meiky doesn't want to travel anywhere and wants to stay all winter at Lake Garda.
Is there something that you like, but your partner hates?
Linda: Getting into a wet wetsuit. Meiky sees it as a challenge and for me it is pure suffering haha. I think in general he is used to push his limits regarding the cold – I would even say he enjoys it. For me one of the most difficult moments is to change after the session from the wetsuit on a parking lot in the wind and cold brrrrr haha. Meiky likes it.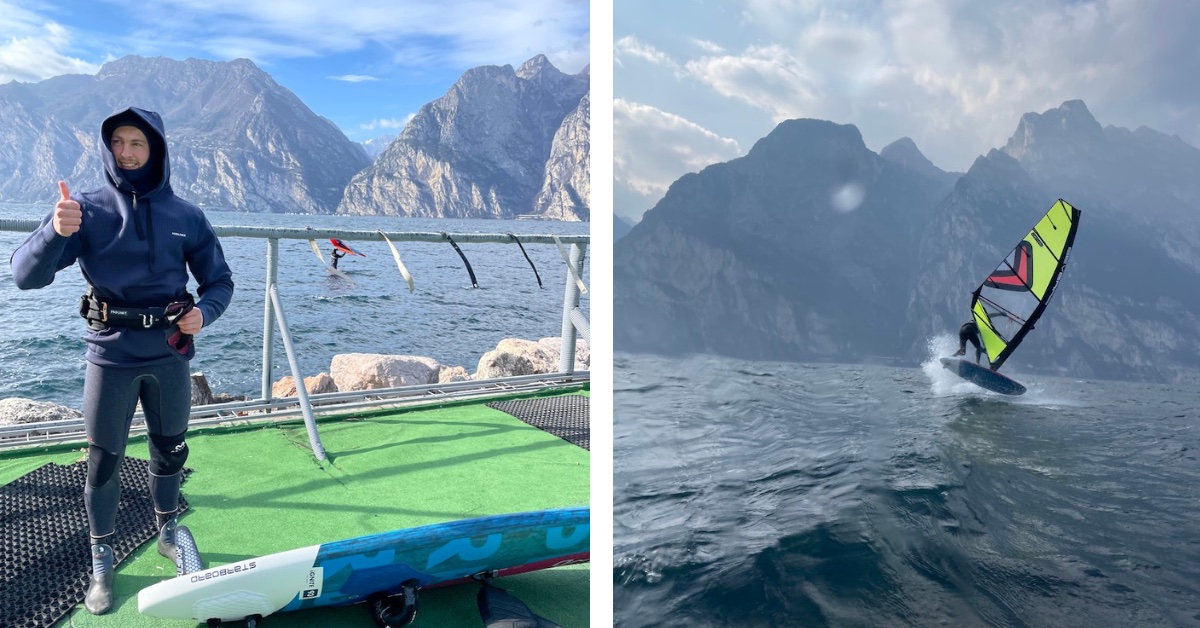 Linda: What is the best thing about Meiky? What is the worst thing?
Linda: Meiky has no mercy regarding windsurfing, no matter the weather, temperature or other circumstances – when there is wind we go. That is really the best thing. He is never tired of windsurfing or too lazy to go. The sessions when I was not so motivated, because it was cold and raining, turned out to be the best ones thanks to him.
The worst thing is that he doesn't want to give up his old socks with big holes haha. I cannot throw them out. I think he really loves them a lot.
Meiky: What is the best thing about Linda? What is the worst thing?
Meiky: What I like the most about Linda is that she is open for new things. Also windsurfing in winter, with temperatures close to zero, was something completely new to her and it is not easy at all. But she is never complaining and just pushes through it and I like to support her in that.
I was trying to figure out something bad about her, but when I wanted to write it I got a slap so I didn't. 😀
Your plans together for 2023?
Meiky: Get as many hours on the water as possible, no injuries and enjoying life. We will be on Karpathos during summer and then back to Lake Garda.