Last days our Team riders posted some new clips!
DREAM PLACE FOR FOILING
Let´s start with our slalom rider Tristan Algret. He went to Corsica with some friends and the Defi wind crew!
Judging from this video, Corsica looks like one of the best spots for foiling! Tristan is currently preparing for competing in the Defi Wind starting the 29th of October. After that he will head over to the next PWA World Cup The SOMWR 10 x Marignane PWA Grand Slam, Presented by Greentech Festival starting 12th of November.
Tristan did not compete in the last PWA slalom world cup in Israel, so it will be very interesting to see how well he will do in the upcoming events! In this video Tristan is foiling on the Foil Slalom 91.
Edited by @lifeof_bru
LOVELY HOLIDAY Ep. 7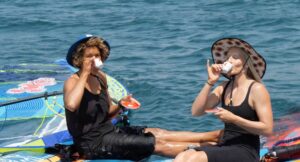 Next video up is the comedy series of Lovely Holiday, made by Sarah-Quita and Oda Johanne. This time they are foiling in Garda and inbetween taking some coffee breaks!
They promise even more terrible acting! In the end windsurfing is all about having fun sailing together!
Click here to watch their new episode.