Another successful Defi Wind event has come to an end! Our top slalom racer Matteo Iachino was racing on the same starting line as 1300 other windsurfers. The world´s biggest windsurfing event got pretty extreme conditions with gusts over 40 knots! Read what Matteo says after the event below.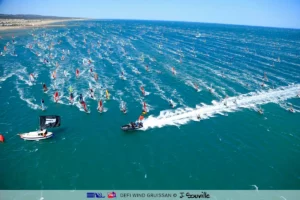 Words by Matteo Iachino
The Defi Wind was awesome! It was almost 1300 people on the starting line! I have not seen anything like that before. I did the DEFI superstars last year, but this was different as we were 1000 more than last year. The level was higher and we had really good battles. We did 5 heats of long-distance racing. I did 3 races on the fin and 2 on the foil. The foil is getting more and more competitive in the strong wind now. Not sure if I am happy about it or not, but I am feeling ready to use the foil more in strong wind as well. I am getting ready for that! When it was more than 40 knots I was on the fin. I got 4th place in that first race. I used the 5.5 and I was super overpowered. On the second day I did 2 more races on the fin with the 6.2. I did a big mistake as I should have been on 5.0 or 5.5 in that strong wind. But I managed to handle the conditions. Later the wind dropped and I should have been on the foil. The other days I used my foil only. It was a good choice as one side was a bit upwind. The best result was 3rd place with the Foil Slalom board. Overall I had good speed on the fin and on the foil. The most important was that I had a good time on and off the water. The event had really good vibes. 
Overall I got 6th place, only 4 points from the podium. But my gear change mistake was a result of getting 6th place. The race is really tricky as you need to learn how to place yourself at the starting line and among all the other 1300 riders.