Windsurfing in South Africa during the winter is popular among wave sailors from all over the world. It´s time to get some behind the scenes on a photoshoot from a rider´s perspective! Our wave rider Flo Jung from Germany loves to spend the wintertime in South Africa. The waves around Cape Town and the consistent winds makes him feel at home there. He sent us some of his favorite photos from a photoshoot he did there together with photographer Samuel Tome. Keep on reading Flo´s story about the photos below.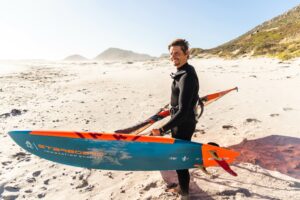 I´m ready to rock. All the tourists are gone, so I got the playground for myself! It´s always an exciting feeling to walk down to the water and I always hope the waves are as good as they look!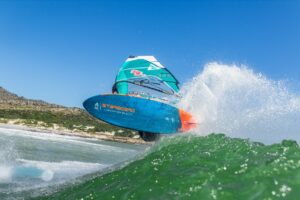 I really like this shot as it tells the story of the cat and the mouse game. Waveriding is all about timing. On this wave, I´m going for a late off the top in the pocket of a clean wall.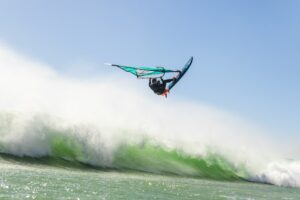 Going big is pretty easy! There are not a lot of waves that have such a projection as the inside of Platboom beach in Cape Town. You better hit the lip or the lip will hit you!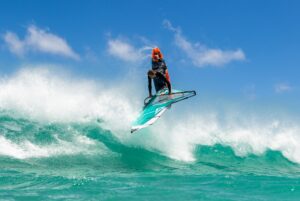 This day was special. Beautiful water color, good size waves and I was stoked with how my gear worked in these conditions. I had some pretty fun waves with powerful smacks like this goiter in front of Sam Tome's camera.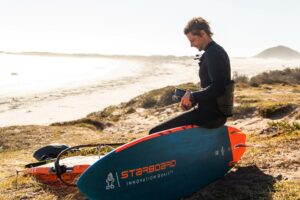 On some days the wind only comes into the bay of Witsands in the late afternoon. You can see the white caps, but you better wait at the beach till the wind really fills in.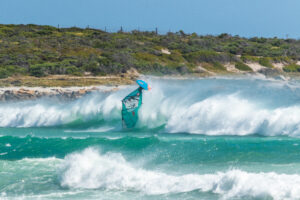 The waves are pumping and I´m ready to send it! Knowing that the photographer is watching me, I want to give it my all! This goiter trick felt really good. I got good forward momentum and landed in front of the white water. But suddenly the rail caught and I got washed. The risk is high in these strong waves, resulting in a broken sail and meniscus tear. I had to do surgery and 2 months off the water. Sometimes you have to pay to have so much fun!
If you want to check out the board Flo is using, check out the new UltraKode, click here.