Our Dream Team rider Sebastian Kördel from Germany just won the iQFOiL World Championship! It was a week full of racing, and he impressed us all with his consistent sailing. He was winning race after race like a true champion! We could all see that he has really put in the hard work towards the world championship in Brest. We asked the new World Champion a few questions after his victory.
Hi Sebastian! Congratulation on winning your first World Title! How did it feel to win? 🏆🏆🏆
Well, what can I say…..it was just amazing! Crossing the finish line. It felt like someone took a massive weight off my shoulders. All that pressure released and I just let go of my equipment. It was not planned or anything, it just happened. When I got to the surface again I started to realize that I'm the new World Champion and I was filled with simple, overwhelming joy!
How was it to switch focus from recently racing at the PWA slalom in Sylt to iQFOiL?
Actually it was quite an easy switch. I had trained in Brest before and had the same accommodation so it was a bit like coming home. Gear wise I needed to adjust a bit, but even with the PWA gear being faster and easier to control, foiling is still foiling so nothing too different.
How did you prepare for the Worlds?
The German team had a training camp in Brest just before the world cup on Sylt so I spend quite a bit of time racing in the venue. Other than that, all the training we did started on the Canaries in January. Then Palma, Hyeres, Garda, Kiel, Marseille, Den Haag. All these places and training sessions led up to the worlds in Brest. Actually it was a lot of preparation now that I look at it, but I guess you don't win titles without preparation.
How is the level and what is your tip to stay at the top?
I just made it to the top so I can't tell you anything about how to stay there, but the level is insane. There are a lot of nations that have people working full time to make their athletes faster on the race course. To win, everything has to come together. Your training has to be good, you need the right mindset for racing, good gear and a bit of luck.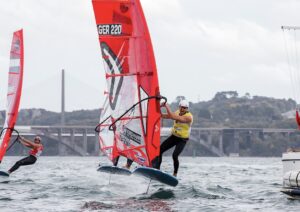 How do you like the iQFOiL format?
I love the iQFOiL class, although I have to say that the medal race format we have is pure torture for the athletes that have done good in fleet racing the days before. No doubt it creates tension and excitement beyond anything that was known in sailing before. But it also leads to weird results and I believe if someone is the best all week he should take the victory.
How has your past helped you in this new Olympic discipline?
My past with course racing and PWA slalom racing has helped me tremendously. It´s the same for every other athlete in the fleet. Windsurfing is a sport where you need a lot of experience to do well. Only with experience comes good tactics, calmness in the high pressure moments and the right feeling to set up your gear for your needs.
Knowing you had a good lead, but then in the final it's easy to drop to 3rd place. How did you handle that pressure?
The week of racing was amazing. I came into the medal race with a 26 point lead. In any other Olympic sailing class (except kiting) nobody would have been able to challenge me for gold. That created huge amounts of pressure and mental stress. I just tried to stop my mind from thinking about that and just see the medal race as just another race I wanted to win.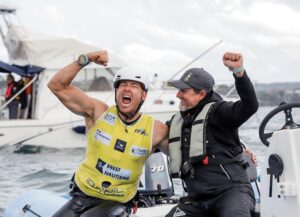 Thank you Sebastian! Enjoy your win and good luck for the upcoming PWA slalom World Cup in Japan that is just around the corner.
If you want to check out the gear that Sebastian and all the other iQFOiL athletes are racing on, click here.
Photos by Clement Quibel/iQFOiL