THE EASE OF FREESTYLE
Foil styling – made simple! Our Foil Freestyle offers the easiest way to play in the air. This ultra-compact concept helps you fly through foil jibes and makes those first jumps easy. Minimum board size, minimum sail size. Maximum air time. And maximum fun.
THE FOIL FREESTYLE IN DETAIL
Flying onto the foil  as quickly as possible was a primary Foil Freestyle design criteria. Deep cut-aways running down the rail encourage the board to glide faster, while reduced tail volume enhances foil activation. The result: you're onto the foil early in light wind with little effort. Touchdowns can always get tricky, so we paid extra attention to ensure you fly confidently. The wide nose outline and foil-specific rocker line provide security and recovery. Progress is into the centre foot strap to practice your first jumps and freestyle moves is natural. As is the super stable stance while up hauling the sail. An exciting, versatile board with a compact, balanced shape.
On Land:
On land, the Foil Freestyle stands out with its portability. This board will fit in the smallest of spaces.
Extended length US-Box foil tracks allow foil tuning to suit experience, ride style and conditions.
Fully forward for more advanced, dynamic freestyle tricks, or tuning further to the back for a steady, smooth  freeride feeling. All to play for.
FREESTYLE
FREERIDE
EASE OF USE
TAKE OFF
CENTER FOOTSTRAP POSITION
The middle back footstrap on the 105  makes this board totally freestyle-friendly and easier if you're a first time foil user. By keeping the back foot over the centre line and your front foot closer to the rail, it's easier to stay in control and to keep the board from rolling side to side.
ENDLESS WINDRANGE
Even with the wind picking up from 15 to 25 knots or more and you switching to smaller sails, the Foil X keeps a steady path in the air.
This opens up a new world with a foiling style about freedom of flight.
YULEX NEOPRENE
The Drake foot straps are made from Yulex foam with the smoothest fabric for a comfortable feel. Under your feet, the 4mm footpads with a diamond grooving pattern will provide a connected feel while ensuring enough grip.
WHAT ARE THE RECOMMENDED FOILS FOR THE FOIL X?
The Foil Freestyle is a compact foil board designed to foil with smaller, lighter sails.
You'll get the most out of this board with more lifty and manoeuvrable foils like the Starboard Foil Freeride Evolution.
THE FLAGSHIP CONSTRUCTION
Premium ultralight weight lamination. It is tuned to perfection. An entire underside laminate in T700 unidirectional flat-woven carbon ensures maximum stiffness, while the deck is T700 total biax carbon aligned around 30 degrees for racing and 45 degrees for Foil freestyle boards. An optimum combination of responsiveness, stiffness and vibration damping
| Model | Volume | Length | Width | Tail Width | Thickness | Shape | Foil Boxes | Foils | Sail Range | Weight CRS |
| --- | --- | --- | --- | --- | --- | --- | --- | --- | --- | --- |
| Foil Freestyle | 105 | 185 | 63 | 56.1 | 12 | Flat Vee to Double Concave | US Box 10"x2 | TBA | 3.0-6.0 | 7.2 Kg |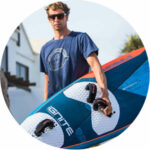 "This board is fantastic! The track system allowing you to move the foil forward and backwards is a real advantage for foil freestyle (foil style). Moving the foil forward gives you more pop and better rotation. Moving the foil forward also helps a lot when foiling in lighter winds. In strong wind, or if you want to tune it more in freeride mode, you can adjust the foil further back. The Carbon Reflex construction is solid and light and gives an excellent riding feeling. The bottom shape makes the board fly in the super light wind; it's straightforward to pump up to get going. All these changes on the board are significant improvements for foil freestyle."
Get your dose of windsurfing
directly to your inbox
Subscribe to be the first to know about product releases, receive windsurfing tips or read about exclusive insights right in your inbox.
For every board sold, Starboard plants 3 mangrove trees with Worldview International Foundation. Each Mighty Mangrove sinks down 673kg of VCS certified CO2 during its first 25 years.
Together, our 3 mangroves offset the boards Carbon Emissions 10 X over and fund local livelihoods projects in Myanmar.
The Ultra has an average carbon footprint of 78 kg per board.
Buy a board & we pick up 1.1kg of beach/ ocean plastic trash – equivalent to the amount of plastic trash entering the ocean, per person, per year.
The Ultra has an average plastic content of 4 kg per board.