The German and Italian freestyle world knows Meiky Wieczorek with his elegant style on the latest power and double moves! He just started sailing the Starboard iGnite and we could not wait to ask Meiky for an interview about his return to Starboard boards, his love for freestyle, why he is not competing, and how he is combining work with windsurfing.
Hi Meiky! Awesome to see you back on Starboard! We saw a photo that you started your freestyle career as a kid on the Starboard ProKids Flare 60L. Tell us about your windsurfing journey and how it all started.
I started windsurfing at quite a young age as my parents took me from the beginning to Lake Garda. We went nearly every weekend. Lake Garda has always been a windsurfing hot spot. You have to get into windsurfing when you spend a lot of time there. Additionally, Lake Garda is a symbol of the spirit and birth of freestyle windsurfing. We had the famous King of the Lake contests where freestyle pioneers like Josh Stone or Jason Polakow competed. Back in the days when a Spock was the winning move.
I experienced these events at the Lake as a small kid. This got me into freestyle. I was chasing the dream to be King of the Lake one day. The 60L ProKids Flare from Starboard was then my first own freestyle board. In 2007 I took part in the Young Gun camp in Greece where Ricardo Campello was our coach. There I met also Julian Wiemar for the first time. It´s cool to see that we both sticked to our passion for windsurfing. Now, many years later we are Starboard/Severne teammates. Cool story!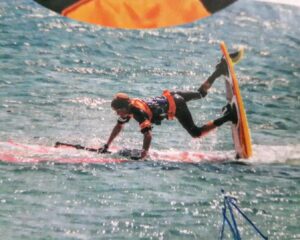 We see that you are sailing a lot in Garda. Tell us about the spots there and why you love this lake so much. Is there also a freestyle community there?
The amazing thing at Lake Garda is that we have wind from two different directions. In the main season, there is wind from the north in the morning and then at noon it´s turning around and comes from the south. It´s a very reliable system and therefore you have every day twice the chance of wind. To catch it in the best way you have to know a bit where to go at the lake. For every wind direction, there are some hotspots where the thermical wind accelerates a bit more and that work slightly better than other parts. But if you know when to be where, Lake Garda can be an incredible wind machine. My favorite spots at the Lake are in Malcesine with the north wind in the morning, there you have a really big and crazy chop, or Limone, where it can be sometimes even a bit flat, why we call it Limonaire (Limone + Bonaire). With south wind, I prefer to surf directly at the Pier Watersports center at the also very famous, so-called "Schweinebucht". Everybody who has a connection to Lake Garda and windsurfing knows that place. And then there is of course the panorama here which you should not underestimate. Even people who travelled already half of the world and come here for the first time are stunned to sail on the lake surrounded by the beautiful mountains. Especially in wintertime when they are covered with snow on the top and the colors are super intense it´s every time again a real pleasure. The windsurfing community here is probably one of the most passionate ones you can find. When many people come together at 7 in the morning independent from the temperature, you can really say that we are talking about windsurfing lovers, who just want to live their passion here daily and won´t be stopped by any kind of weather or even snow. We always go!
In general, I would say I love the place so much because of its variety. Any second everything can happen. Sometimes we have sunshine followed by a massive thunderstorm and 20 minutes later sunshine again with strong wind. It´s full of surprises and never gets boring.

What makes a session a DREAM session for you?
I think the best sessions and therefore dream sessions are the unexpected ones. Out of nothing and without any plan sharing a good hour on the water with some people and everybody super stoked afterward, there´s nothing better.
What is your first impression of the board after trying it the first time? Will you use the iGnite 87L,  93L or 103L?
I anticipated already that the compactness of the board due to its shortness and width will have a super good effect. And on the water, I realized that it´s exactly like that. It´s spinning and sliding super fast and it just feels very compact and agile on the feet. I used a board with the same shape for 3 years in a row so of course my movements are very adapted to that board and it will take me a few sessions to understand 100% how to behave during the moves on the iGnite. But in the first sessions, it worked already super good and I am super stoked and sure I will have a lot of fun with it. I think the 93L will be my mainboard and only size. I like to keep it as simple as possible and use one size for all kinds of conditions. Also, I love the graphics of the ´22 iGnite. I think it´s really beautiful and especially in darker light the colors are so bright and shining a lot.
If you could make one dream trip happen, where would you fly to with your windsurfing gear?
My dream windsurfing trip doesn´t even include a flight. My dream would be to have 2 months of time, pack the van (which I don´t have haha) and just go to all the places around. Sardinia, France, Tarifa and so on. Experiencing different European countries and different spots and living the complete freedom of van life and windsurfing. Maybe and hopefully one day.
You are spending months in Karpathos every year. What makes that island so special to you?
I went to Karpathos for the first time in 2013 and since then I have been there six times. Besides Lake Garda, this is the main place where I got my windsurfing skills. It´s connected with many good memories and when I come to the Meltemi Windsurfing Karpathos center I find there kind of a family with people who I know for many years. It´s like a second home. I just had so many good sessions there in Devils Bay in my life and it´s every time again a joy. My work there at the station is really cool as I know also most of the customers for many years, with many of them I am in contact all year long and when you meet the people there again in summer everybody is super happy and just enjoying the time. Who comes to Karpathos once will for sure come another time and so you always meet familiar faces and it´s like a big reunion of windsurfing friends. Being able to share my knowledge there and to help the customers to have their best time on the water makes me really happy. So I hope to be able in the future to spend a part of the summer on Karpathos regularly. In general, Greece delivers a vibe that is hard to explain, you have to experience it and it stays with you forever.
Which freestyle move was the hardest for you to learn?
Regular Chachoo. If you stick to the original version where you let the sail fly it is such a hard move. One day it just magically works every time, the next day for some reason you simply don´t manage to get the sail back in your hands. It´s incredibly hard to get consistency in that move but when it works it feels amazing and you don´t see it that much nowadays which makes it also special.
If people are new to freestyle, how would you motivate them to start freestyling?
I know the beginning is super hard and often very frustrating. Freestyle windsurfing means one thing at the beginning and that´s to crash. You are just crashing all the time. It takes a super super long time to reach the first moments of success. But to go through all that and to keep on trying and practicing is worth so much. Because the moment of landing a new move can really change your life. It is really hard to find other moments which are comparable to the ones of landing a move for the first time. I have seen super introverted people landing their first Airjibe and shouting around like crazy in a way they probably never did before. And they will remember this moment forever and take energy from that. The way is so hard but it all pays off.
Also, I see nowadays a bit the tendency that people skip the basics and start directly training the power moves. Stepping into switch, ducking the sail, and jumping for Konos. I can understand that because it´s very attractive. But anyway my tip is not to ignore the basic moves like Grubby, Eslider, Puneta and so on. These things are teaching you a lot of board control, sail control, and balance and will help you later to learn every kind of move faster.
In general training in the lighter wind is so helpful. As a kid, I spent hours and hours playing around in 5-10 knots of wind, ducking the sail, going back and forth in switch, and just trying all different kinds of stuff with the gear. The sail control you win from that is worth so much later when it comes to serious freestyle moves.
Will you do any windsurfing clinics in 2022?
I want to be on Karpathos in August and September this year and we plan to organize some kind of camp. If not an organized camp, I will be available for any kind of individual lessons.
So just come to Karpathos in summer and together we will work on whatever you are going for! We have there such a consistent wind and a big variety of conditions so it´s guaranteed to progress and if you push together with somebody on the water it goes even faster.
With your high-level freestyle, will we see you compete in the FPT or the PWA Tour in the future? What stopped you from competing these years and what would make you start competing?
That´s a difficult question to answer. I have to say that getting into this competitive world for young people is not an easy thing. You cannot sign up for a club like in football for example. All the challenges, especially financially, have to be managed completely by yourself. I was always very focused on my education, trying to get a good degree, just having a safe base in general. And somehow this competition door never really got opened for me. I think it´s such a financial challenge and I never really saw a way in that. Also now I am trying in the best possible way to combine work, a regulated life and windsurfing. Which is not always easy as everything requires time. So to travel from event to event, doing long training camps in winter and so on is somehow far away from my reality and is therefore still no option. But I have to be honest that this is a quite sad side of my personality, that I didn´t manage to make more out of windsurfing. Because it is an immense passion and I know that I had/have a lot of potentials. And that I never had the chance to make something bigger out of it is a thought that is sometimes difficult to handle for me. But I accepted it and unfortunately, windsurfing is not a sport that gives you a big perspective, especially when you come from the South of Germany. So I am anyway super happy about the support of my sponsors and I will just go on shredding like this and represent the sport in the way I always did.
And general I am very proud of the level I reached because I learned many things in hard conditions. Lake Garda can be one of the most difficult spots with its chop and it was really hard to learn the power moves here from the beginning. Everybody who ever surfed in Malcesine knows what I mean. But I managed to do it also thanks to my ambition. Which was sometimes even a bit too much and especially my colleagues on Karpathos had to deal with my really bad mood after a session which didn´t go the way I wanted it to. Then I was sometimes not motivated to talk for hours, just thinking about why the moves didn´t work out. Today I am much calmer and I am sorry for that haha.
Now I take it easier and enjoy it simply more. And sometimes I think that the competition thing can also destroy a bit the joy as you have pressure to learn some stuff. So maybe in the end it was also better that I never really did it. But I think the basics and requirements to become one of the best I would have had.
What is your ultimate windsurfing dream/goal?
Just to have a way of life that allows me to go windsurfing. The imagination to be so limited in time because of daily duties to not have time to do my sport anymore regularly is my nightmare. So if I manage to have a safe life and still be able to get on the water on the weekends and also sometimes during the week, I am satisfied. Also, I hope to be always able to deliver some content so my sponsors stick to me. Just a general life balance with windsurfing as a regular part of it, that´s the dream. Sounds very simple but it´s not.