Welcome to the Team Helle! We are happy to have you on board. How do you feel about being a part of the Starboard family?
I'm am super excited!! I have never been on an international team before, so I'm super excited to see how it is. I also think that the Starboard Team seems like a very good, including and supportive team. I'm looking forward to getting to know everyone and becoming a part of the dream team.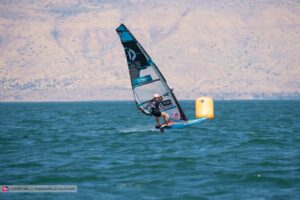 Please tell us your windsurfing story and how you discovered this awesome sport!
I started windsurfing when I was 7 years old. I found my dad's old windsurfing equipment under our terrace. He was the one that thought me about windsurfing and eventually lent me his gear for a session. I would love to be able to say that I fell in love with windsurfing instantly, that it was something that just clicked, and that I wanted to go windsurfing all the time, but that would not be true. I did not hate windsurfing or anything, but it was just not a passion for me. However I did love to spend time at the sea, but I was keener on bathing and playing around rather than windsurf.
In 2013 I went to Israel to compete in the BIC Techno Europeans. I went with a wave sail (since I was not strong enough to sail with the 5.8) and I did not finish all of the races. I only finished a few of the races, but every time I managed to cross the finish line before the time had expired I was overwhelmed with joy. This was when I fell in love with racing. I fell in love with having a whole project (in my case; becoming the best in the world) and then doing everything in my power to make it happen. This became the start of a 6 year BIC Techno career. I managed to get a lot of top 10 positions, and the best result was 7th in the Worlds. I also went to the Youth Olympic Games (which was a REALLY big deal for me), it was the coolest experience ever!! The whole concept was just like the real Olympics, but the twist was that everyone was a teenager. I remember after getting home all I wanted was to do it again, I wanted to go to another opening ceremony, experience the Olympic village and represent my country once again.
The next step for me would be to go to RS:X to continue an Olympic campaign towards 2020, but there was one thing in the way; foiling. I tried foiling first time in 2018 and I loved it!! I did. Until now I did not love windsurfing, I thought it was cool, but I did not get the WOW experience which I got with foiling. At this point, it was not certain if it would be RS:X or Foiling in the Olympics, but for me, it did not matter because I wanted to foil, no matter if it was in the PWA or the Olympics.
Luckily everything fell into place, foiling got into the Olympics and PWA so I decided that I wanted to do it all. I was worried that doing both would make me perform average in both disciplines, but actually, it made me better in both the PWA and iQ. In 2021 I Became 8th in the iQ World Championship and Vice World Champion Youth. And Vice World Championship in the PWA foil discipline and World Champion Youth.
The most valuable lesson I learned from my windsurfing journey is that the secret behind success is to do what you love. I think that when you experience good things and feel good, success will follow.
What makes you most excited about the board sponsor change?
I am excited to represent Starboard because I think that there is a lot of good value in the brand. The environment is one of the things Starboard values the most, and I think as a windsurfer and as a person who loves nature and especially the sea, it is super important to be more aware of what we can do for the environment. I am just incredibly excited to learn from Starboard and to get a better understanding of how to be a better person for the climate.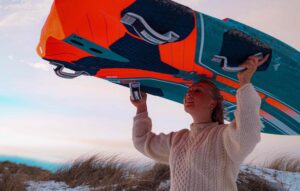 We have followed your foil journey the last few years and we have only seen you on a foil. Do you ever use a fin? Tell us more about the plan behind it now as slalom and foil will be combined for women's racing.
I used to be a slalom sailor, I did my first PWA event in 2016. In addition to BIC Techno, I also did slalom, but when foiling came around I fell in love with the feeling of flying above the water. I planned to do foiling when the wind was light and to do slalom when it was strong. However when the wind was strong I found myself still wanting to go with the foil, so I did. I loved pushing the foil in more and more wind and getting faster and faster.
Since I strongly believe that you will get good at what you love I want to keep foiling. So next year when the women's class will be mixed fin and foil, I will still choose to go with the foil. After seeing the boys doing the mixed class this year I have even stronger believes that the foil will be performing well even when it is super windy.
Tell us the story behind Team Oppedal🤙 We have seen that you are 3 sisters foiling?
So the story behind Team Oppedal is that my mom met my dad, I came along, and suddenly I had three younger sisters. We are just a family that is a bit above the average interested in windsurfing.
My dad is our coach and my mom is our forever support, I and my sisters are athletes. My sister Tuva started when she was 5 years old, but when she was 13 she started getting a passion for windsurfing and became good quickly. This year she became Vice World Champion in iQFOiL jr. My sister Thea only started in 2020 when covid just hit. She used to be a gymnast, but when all the gyms closed because of the corona, she started to join our windsurfing training. She did the same amount of training that we did, so she became good quickly and competed in both the World Championships and the European Championships in iQFOiL jr this year.
Are there any fun facts about you?
I don't feel like an athlete. Even tho I'm performing well in the biggest windsurfing competitions in the world, I am just a girl that is really into windsurfing, and does what I love.
Where will you be training in the winter?
I am going to Tenerife to join the TWS training in January, February and March. This year they will do both slalom and iQFOiL training, that makes this the perfect place to train for the olympic discipline and for the PWA. There are still some spots left, so you should defiantly join!!