2021 has been a challenging year for our riders who are competing in the PWA World Cup. But our Starboard Dream Team has performed really well! At the last World Cup in France; SOMWR Movement 10 x Marignane PWA Grand Slam, the wind did not play ball, but luckily the freestyle sailors got to compete two days. With a Slalom result from Israel, Youth Wave event in Klitmøller and Freestyle in France, our team did amazing!
We are proud of the team we have in the Starboard family! First of all we want to congratulate the Queen of Windsurfing, Sarah-Quita Offringa with the 2021 World Title in Slalom and Freestyle. With overall 13 Freestyle titles, 5 Slalom titles and 1 wave title she is outstanding with her competition results. Keep reading if you want to know how it´s been for Sarah-Quita, Oda Johanne, Blanca Alabau, Lennart, Helle and Liam!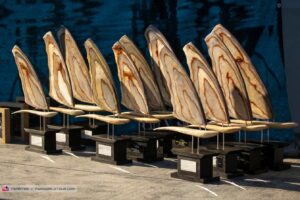 SARAH-QUITA OFFRINGA
It's been another strange year, but fortunately we had some contests!

I'm back from France now and flying to Aruba and it's sinking in now that I won 2 new titles!

Unfortunately we didn't have enough wind to do slalom in France but I'm very happy with my performance in Israël where I won 5 out of 7 races. Taking the slalom title again after some years feels awesome!

As for freestyle, we had super tricky conditions and it was more of a tactical game, which is also a big part of competition. On the final day I think I actually made a mistake! In the semi finals I was on my 5,2 but then for the final I grabbed my 4,8 because I felt the wind picking up, and then right as my heat began it started dropping and dropping. Oh no!!  In the final I didn't do my highest scoring moves, but I made sure to fill up the scoresheet as quick as possible as it was only getting lighter, towards the end I got a gust that was enough to do a burner, which must have given me the win for that heat!

With more time off than usual the past 1,5 year, I have been able to sail and train a lot, but I'm looking forward to battle it out in competition much more again next year!
Congrats Sarah-Quita for your great performance!

BLANCA ALABAU
With the overall trophies being handed out we have Blanca Alabau from Spain who claims 3rd overall in Foil. She has been one to watch and she is incredible fast on the foil!
I´m back home in Tarifa now! To come home with a PWA trophy is every windsurfers dream! Since we did not have wind to compete in France I don´t think my emotions came out. But as soon as I got home they came! It´s special to me as I have been training a lot of foiling and I have had proper battles on the water with the girls! It was a great feeling to take 3rd overall in a PWA season! I would love to compete more as I have never trained as much as I have done this year! I was in Tenerife for 3 months, in Garda for 2 months, then Tarifa for another 2 months again. It was hard training, but if paid off! I made a new plan with my coach for the workout in the gym as well. I am very happy for all the girls!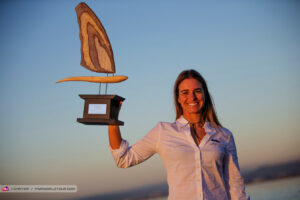 ODA JOHANNE
Oda Johanne from Norway takes 3rd place in the Freestyle 2021 and has not missed out on the podium since 2014.
I´m stoked we got to compete in France! My goal was the podium! I wish we had stronger wind so I could show all the new tricks that I have been working on for the last two years, but that will have to wait for next time! I was training in Brazil before coming to France. When I drove down from Norway my van was packed to compete in slalom, wave and freestyle! So when we only got two days of wind, I am very happy that they went for a result in my favorite discipline freestyle. I was doing the best I could using the iGnite as my weapon! The heats very exciting as you had to focus on getting enough speed to do the tricks. I can´t wait for more action in 2022!

LENNART NEUBAUER
In the Youth we have another Freestyle World Champion! Lennart Neubauer from Greece takes the title again! Lennart is one of the biggest freestyle talents with a dedication of a true athlete. He ends up on 9th place in the contest in France, but unfortunately for him he had to re-sail a heat he actually won against Yentel Caers who took 3rd place. Sometimes it´s bad luck and small margines between winning and loosing. But being only 17 years old, he has a long future career where we are sure he will be in the men´s top very soon!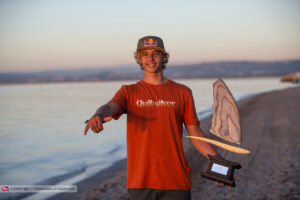 LIAM DUNKERBECK
The big wave talent Liam, from the famous spot Pozo in Gran Canaria, takes 2nd place in the Youth Wave! There were no waves for the 10 day event in France, so the counting event is from the PWA Youth world cup in Klitmøller in September. In that contest Liam had a match against his Pozo friend – Marino Gil Gherardi. This heat showed to be another exceptional one with two contrasting styles battling it out on the water. Gil took the more aerial approach, whilst Dunkerbeck stuck to his surfing guns on his UltraKode, which turned out to be the right decision with the 17-year-old earning the win and sailing the next final heat. Congrats Liam for a great season!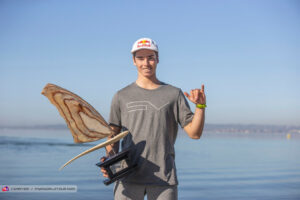 HELLE OPPEDAL
We want to congratulate the 2021 Foil Vice World Champion and Youth World Champion Helle Oppedal from Norway with a great result! For 2022 Helle will be foiling for Starboard and we can´t wait to welcome her to our Dream Team – next week you will get more info about that! She is an interesting rider that will go all-in with fast foil gear for the upcoming 2022 season. Can the foil beat the fin in the women´s racing? She aims to prove just that!
I am super excited to be a part of the Starboard Team. It seems like an amazing team where there is incredible opportunities to grow as an athlete and as a person. I can't wait for next season to get started so that I can race on the best boards there is!!!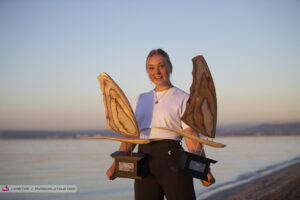 Photos by John Carter/PWA